THE 9 HIGHLIGHTS OF THE SERIES HP (TIER 3)
15/10/2020
The 6 highlights of the series 311: operator's platform, operator control, spinkling, tyres, compaction, visibility, service, drive, ballasting.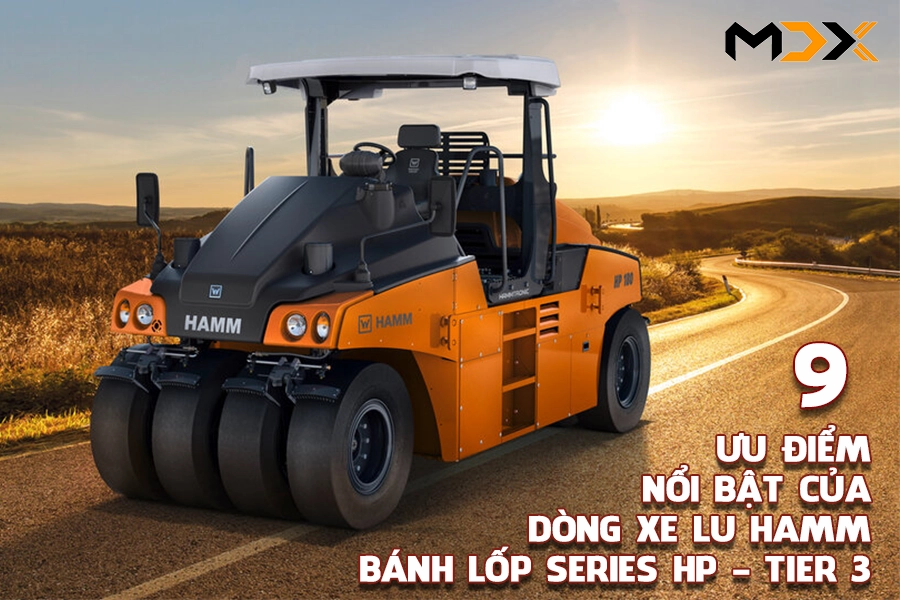 MODEL OVERVIEW: HP 180 AND HP 280 (TIER 3)

*Optionally including preparation for self-ballasting **Optionally including additional water tank
See more about series HP:
- HP 180: HERE
- HP 280: HERE
COMMON FEATURES AND DIFFERENCES BETWEEN HP 180 AND HP 280
HP 280
HP 180
Engine
Deutz TCD 2012 L 04 2V
Engine output
85 kW
55 kW
Exhaust emission category
EPA Tier 3
Weight width
2084 mm
Operation weight max.
28 tons
18 tons
Weight variants
10 tons to 28 tons
8 tons to 18 tons
Drive
hydrostatic drive
Brake system front axle
From 20 tons, disc brake configured
No disk brakes
Brake system rear axle
Multi-disc brake

Wheel suspension system

Swing arm
Lifting tube
Construction for heavier weight classes allowed
Construction for lighter weight classes allowed
THE 9 HIGHLIGHTS OF THE SERIES HP (TIER 3)
HIGHLIGHT 1 - OPERATOR'S PLATFORM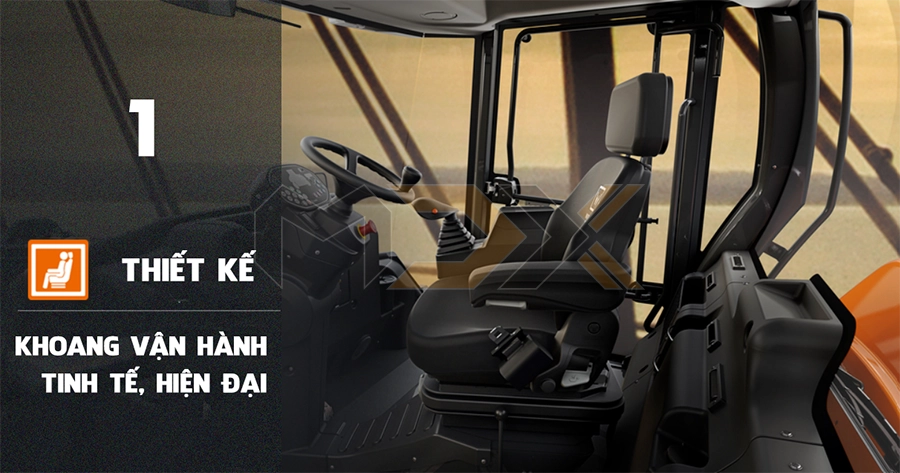 GENERAL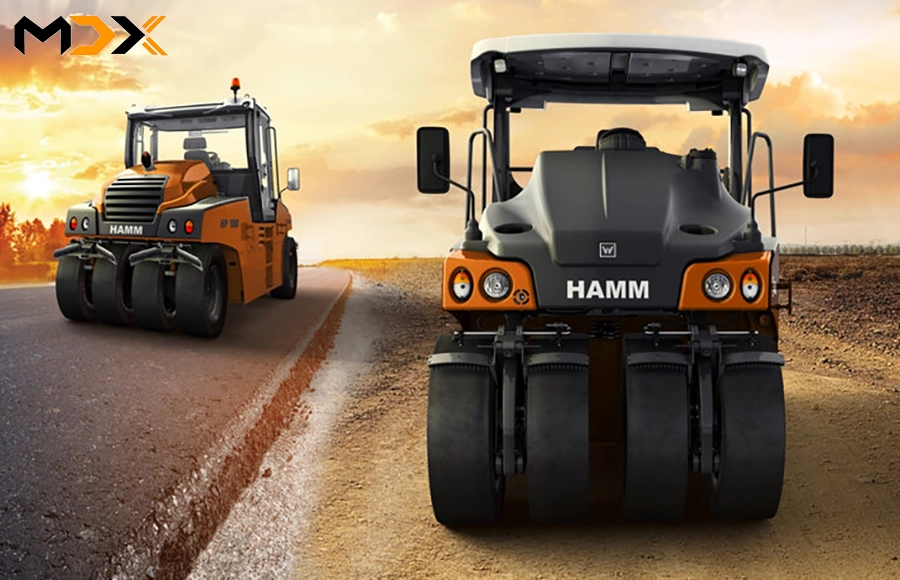 The operator's platform provides many additional attachments and variants, and easy operation.
- Compact dimensions
- Optimum all-round view
- Spacious operator's platform
- Ergonomic design
- Optimum visibility
- Lots of storage facilities
- Controls and displays always in view, wherever the operator is
OPERATOR'S PLATFORM VARIANTS
The various platform types enable the operator to drive and control the machine with comfort and convenience.
ROPS CABIN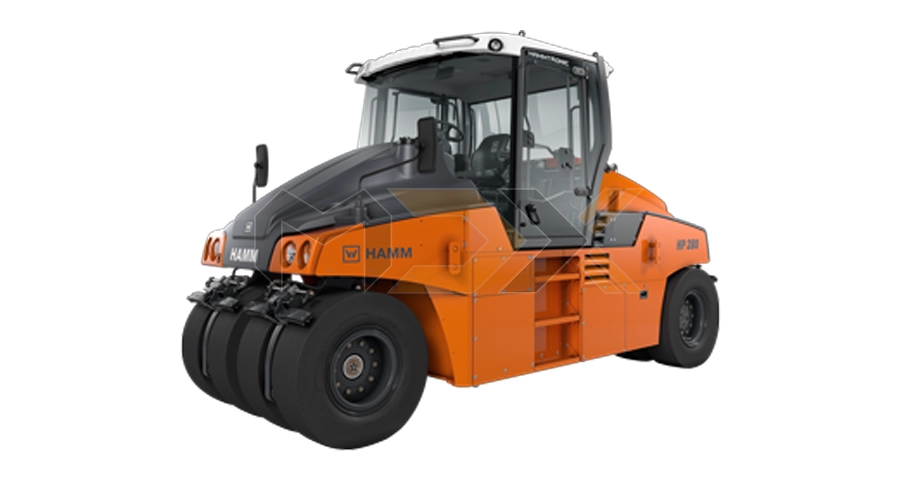 - Large-capacity cabin (glazed down to the floor)
- Comfortable and quiet
- Intelligently positioned vents provide for a pleasant climate and keep windows clear
- Numerous options including heater, air conditioner, radio, split doors, etc.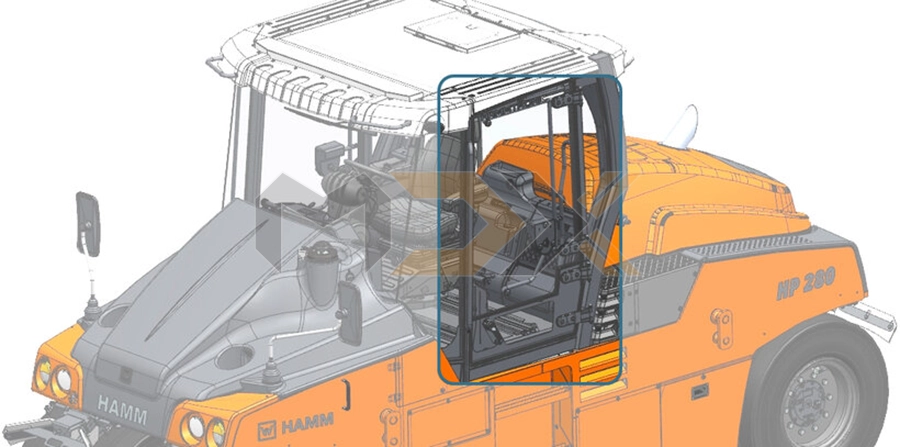 Option: Cabin with split door
ROPS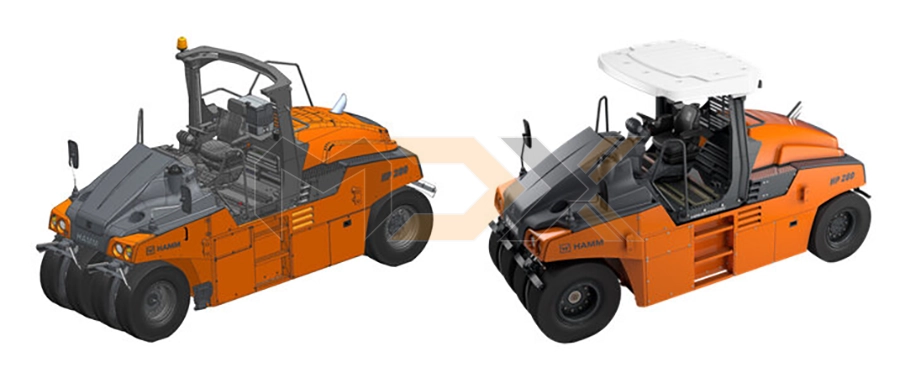 The plastic protective roof on ROPS option also comes in an FOPS-tested variant.
.
- Optional variants: Plastic protective roof or tarpaulin protective roof on ROPS
- Numerous options including working lights (halogen or LED), rotating beacon, working light preparation, etc.
HANDRAILS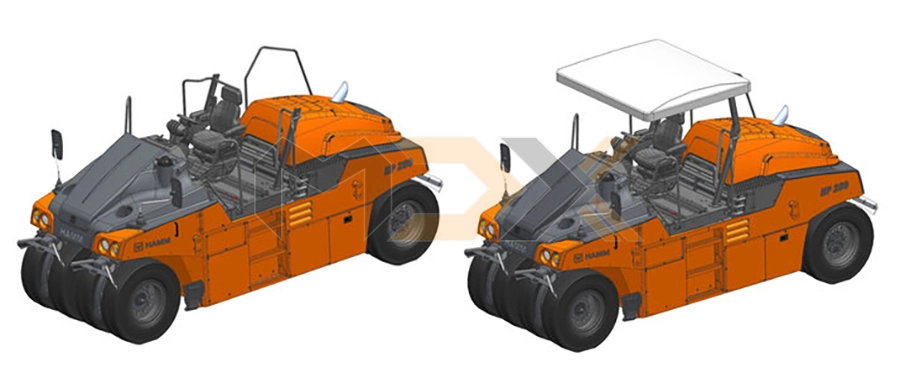 - Also optionally available with tarpaulin and plastic protective roof.
- Numerous options including working lights (halogen or LED), rotating beacon, working light preparation, etc.
SEAT CONSOLE
Flexible seat operating unit:
- Seat operating unit can be adjusted sideways to the right and left across the full platform width
- Seat operating unit optimally swivels 90° to both sides (option)
- Dashboard and multifunction armrest follow the seat in whatever position
- Plenty of legroom across the full width of the machine
- Seat adjustment
- Seat sideways adjustment and rotation (option)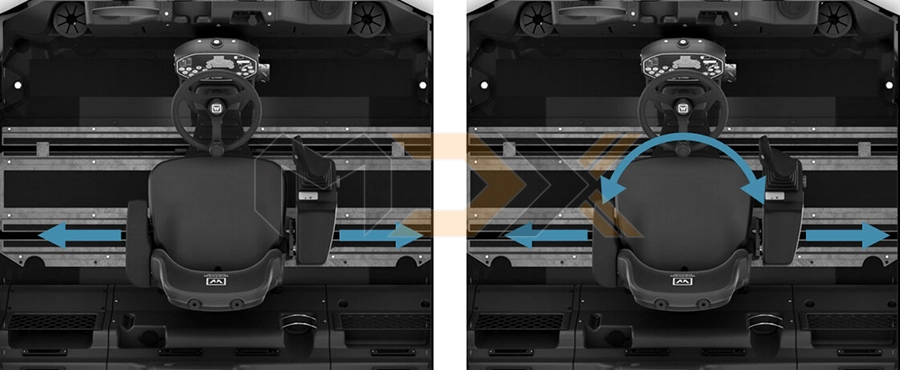 1. Movable seat console - 2. Seat console sideways adjustable and rotating (option)
HIGHLIGHT 2 - OPERATOR CONTROL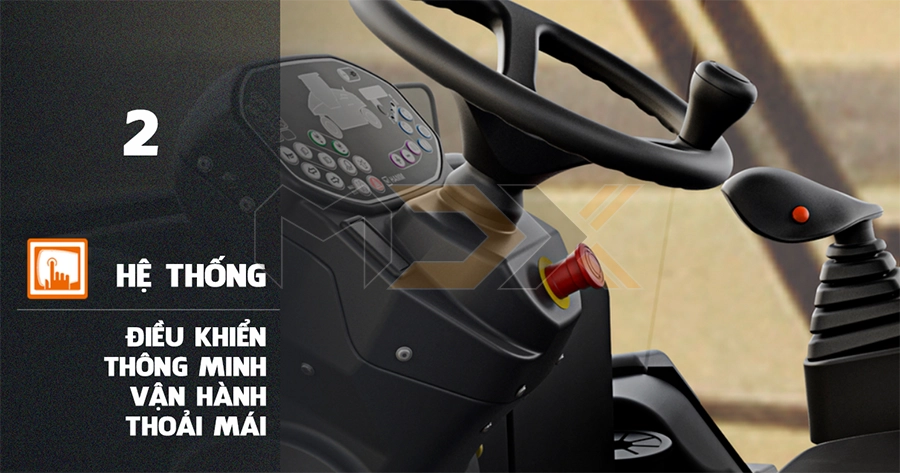 CONTROLS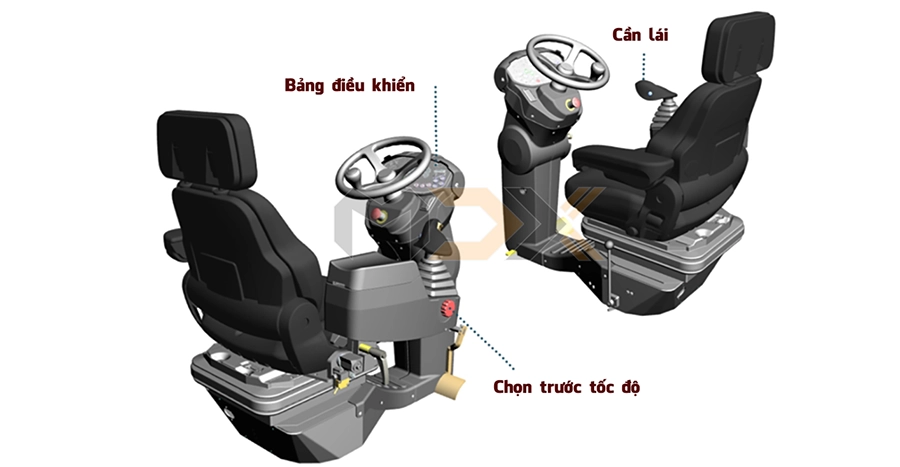 The HP series pneumatic-tyre rollers are easy and intuitive to operate. This means operator can be deployed flexibly, without a great deal of induction time.
DASHBOARD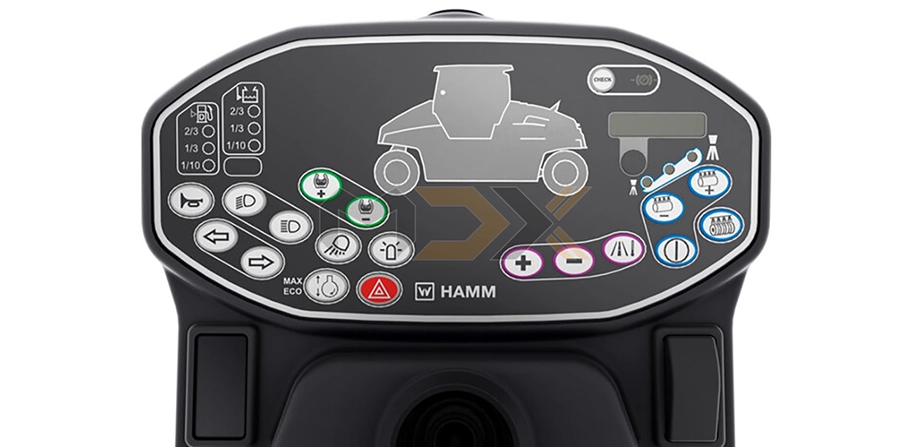 The dashboard cover is an option for the ROPS variant.
Features:
- Displays, selecting key functions, operating states and warnings
- Illuminated display screen
- Emergency stop button
- Easily understandable pictograms

Operating display: 1. Fuel gauge, 2. Parking brake control button, 3. System info display*, 4. System info button (move display on to next screen), 5. Engine management button (unlit: ECO mode ; lit RED: MAX mode), 6. Horn button


Water sprinkling system display: 7. Water sprinkling system level gauge, 8. Sprinkling level indicator lamp, 9. Sprinkling level button, 10. Water sprinkling button

Additive sprinkling system display: 11. Additive sprinkling button (option), 12. Additive sprinkling indicator lamp, 13. Additive sprinkling level gauge, 14. Info display
Select mix level: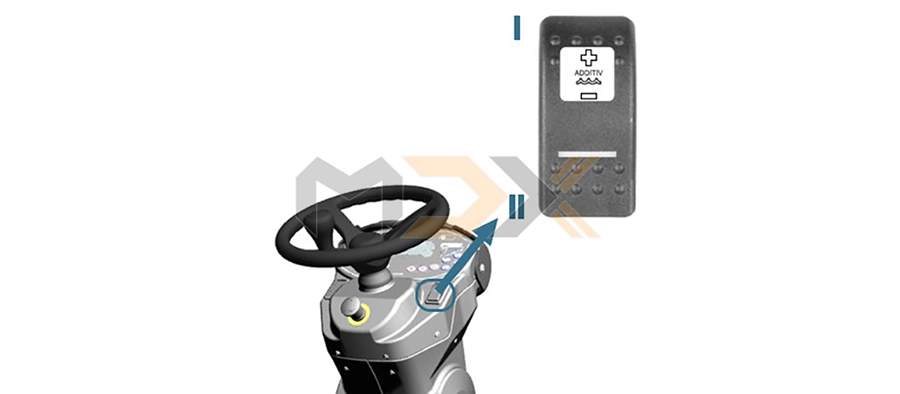 - Push button briefly to position I (+) or II (-). Concentrate mix rate is increased or reduced 1 level. The info display (#14) shows the set mix level for 5 seconds. Prerequisite: additive sprinkling active!
JOYSTICK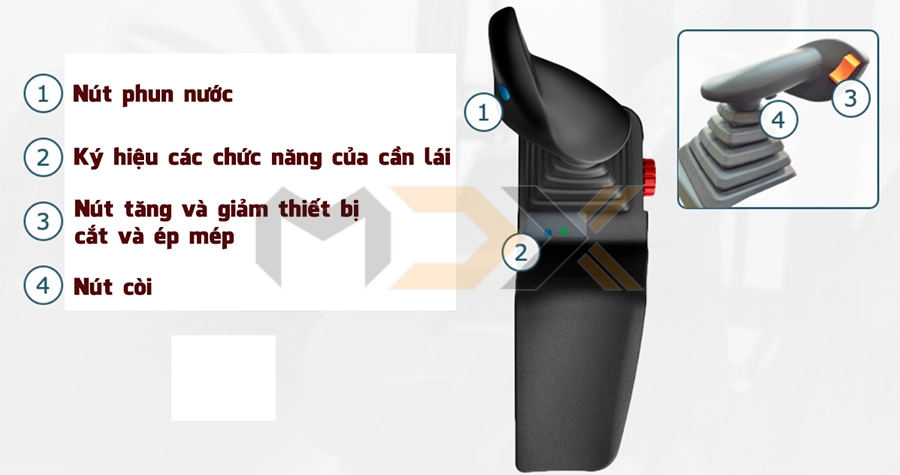 The joystick is ergonomically shaped.
SPEED PRE-SELECTION
Speed pre-selection wheel: Speed setting, i.e. with the joystick at maximum extension the pre-selected speed is reached. Indicated on info display (pre-set and current actual speed).
- Cruise control system
- Quick and easy setting
- Constant speed
- Adherence to compaction requirements (work instructions)
COMFORM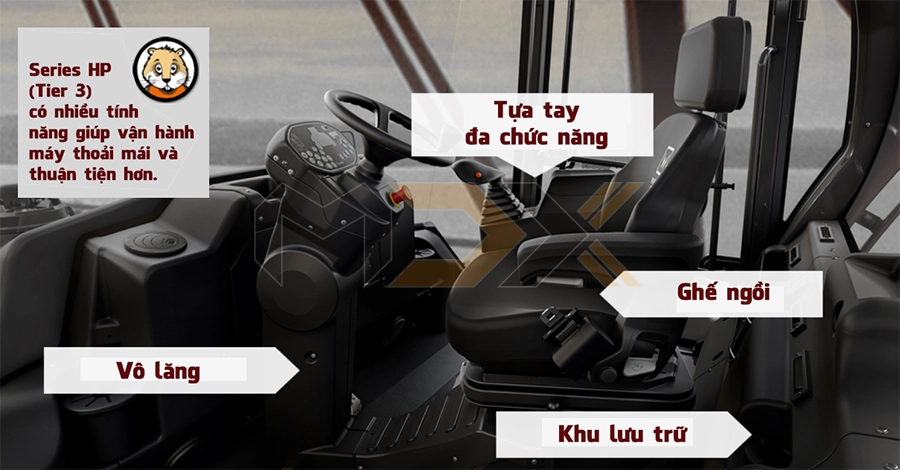 SEAT OPERATING UNIT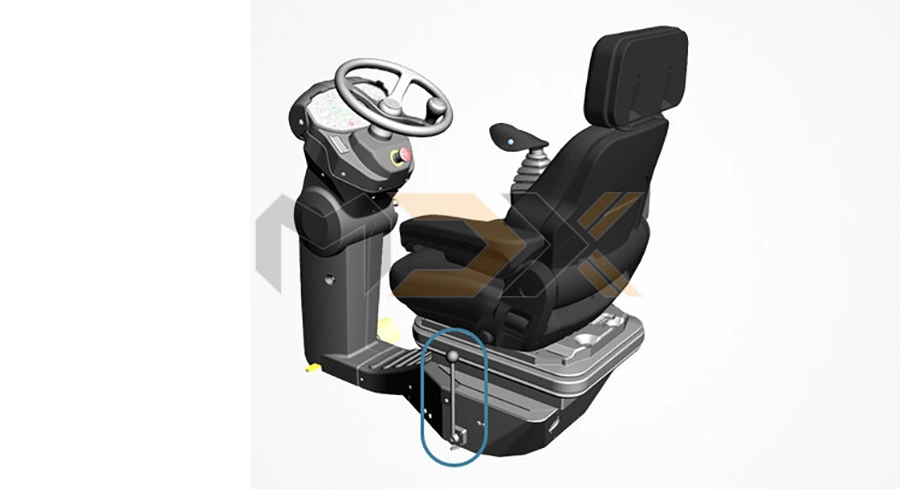 The seat is optionally available in synthetic leather or anthracite fabric.
- Seat longitudinal adjustment (option).
- Seat vertical adjustment.
- Seat backrest rake
- Mechanically sideways adjustable seat operating unit
- Mechanically sideways adjustable and rotating seat operating unit (option)
- Safety belt with roll-up mechanism
- Backrest extension (option)
- Seat belt buckle monitoring device (optional)

- Longitudinal adjustment Mandatory for CE! Seat adjustment to front or rear (option)
- Seat rotation and sideways adjustment: Move lever forward - Rotate seat. Move lever back - adjust seat to left and right
STEERING COLUMN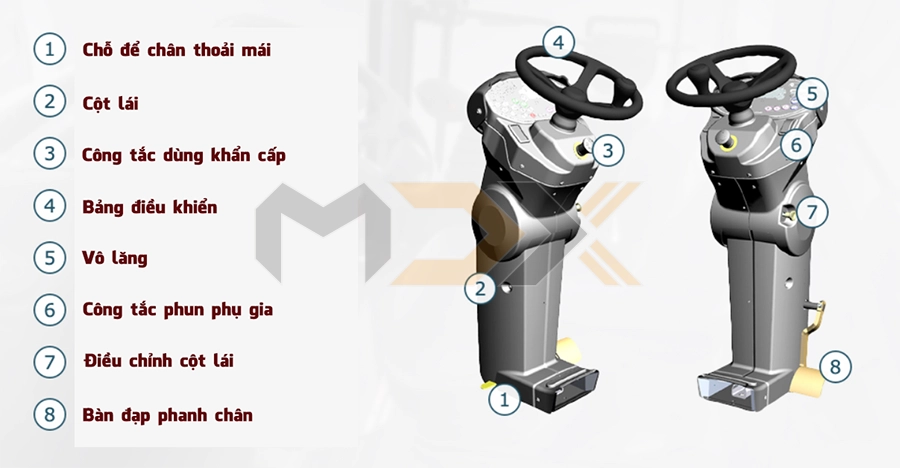 The HP series (Tier 3) has lots of features which make operating the machine more comfortable and convenient.
MULTIFUNTION ARMREST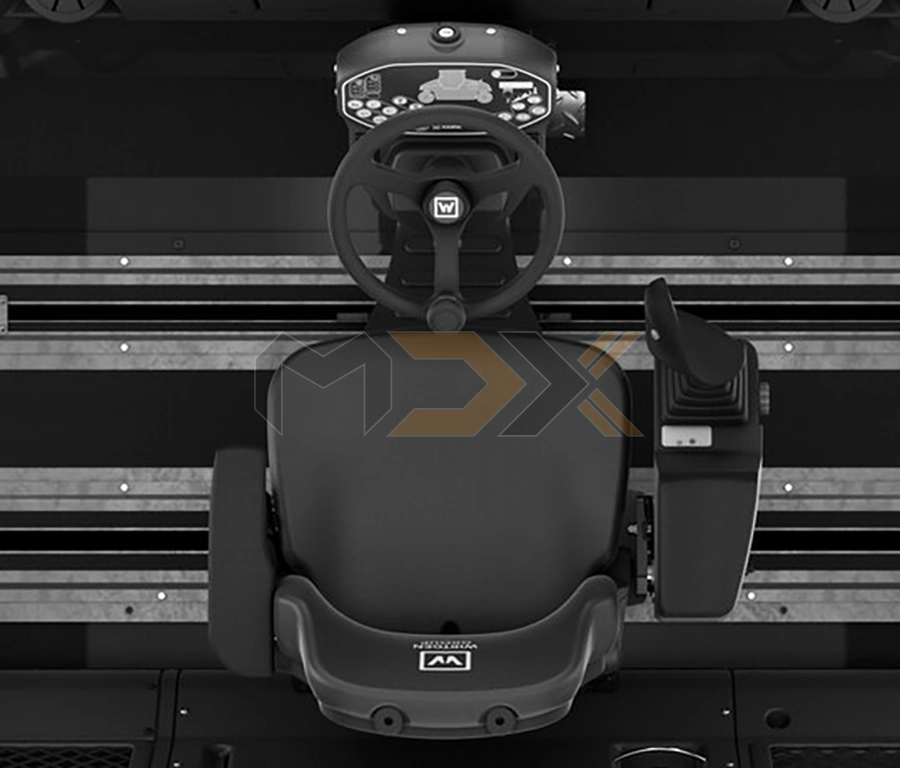 The multifunction armrest offers various adjustment options, enabling every operator to find the optimum position.
- Foldable (option)
- Comfort setting of left armrest (option)
- Height/lateral position adjustable
STOGAGE FACILITIES
ROPS cabin

1. Storage bin for small items

2. Cupholders

3. Storage bin for small items / 12V power socket

4. Storage nets

5. Cupholders (Option)

6. 12V socket

ROPS

1. Storage bin for small items

2. Cupholders

3. Storage bin for small items / 12V power socket

4. 12V socket

5. Lunchbox holder/ coolbox (option)

6. Cupholders (Option)
OPTIONAL COOLBOX

HIGHLIGHT 3 - BALLASTING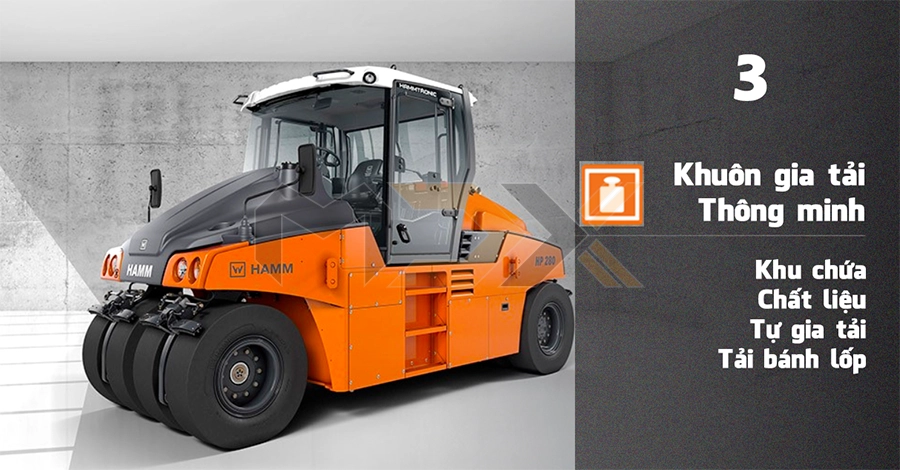 GENERAL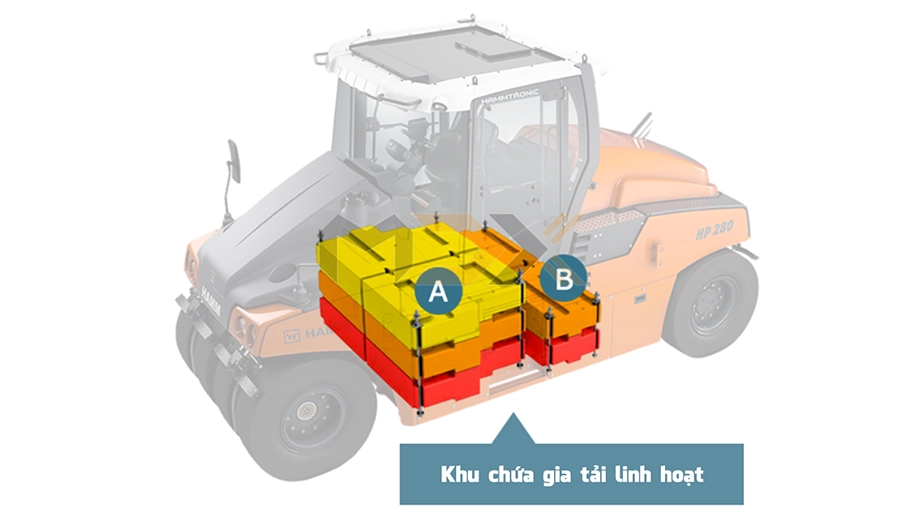 Special highlights of the machine are its many ballasting options. Supreme flexibility and safety:
- Ideal weight distribution
- No fixed ballast
- The operating weight can be quickly and easily modified by as much as 16.8 t / 37,038 lbs (HP 280) or 10 t / 22,046 lbs (HP 180)
- Additional disk brakes as from 20 t / 44,092 lbs (HP 280)
BALLASTING CHAMBERS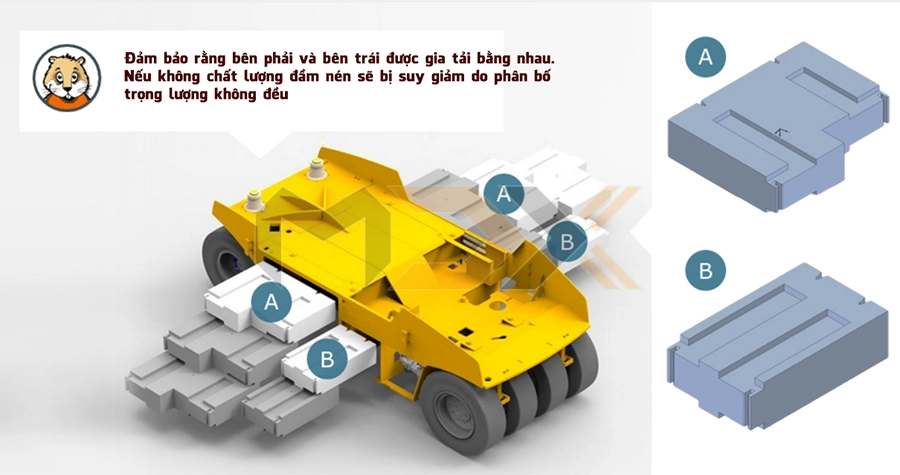 MATERIAL AND WEIGHT VARIANTS
The weight of the machine can also be flexibly varied using a variety of different materials. So-called ballast kits are configured using the different materials. Here at the example of HP 280: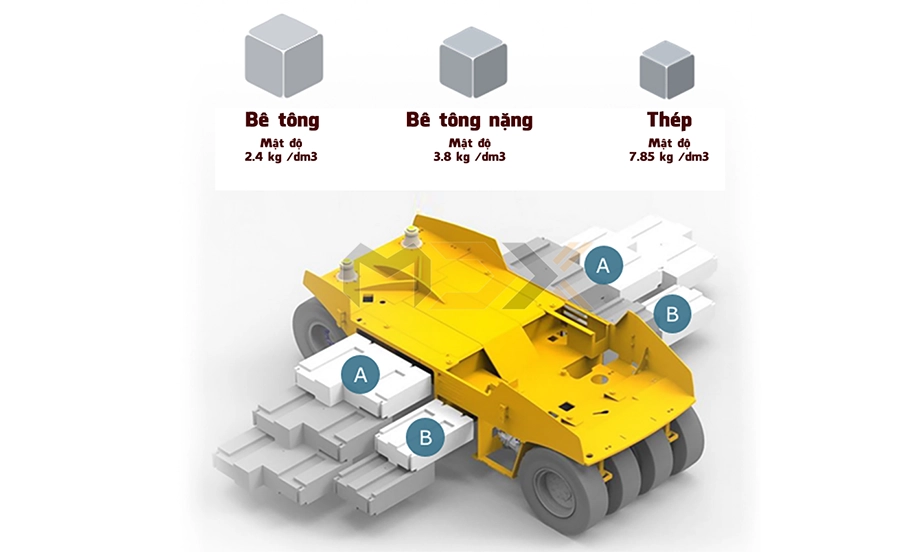 Champer
Material
kg / plate

A

Metal
2 100
Heavy concrete
1 010
Concrete
640

B

Metal
1 050
Heavy concrete
485
SELF-BALLASTING (OPTION)

With the optional self-ballasting feature there is an additional ballast (magnetite or steel) at the rear.
Ballast chamber A with a 2 m3 size also be used for self-ballasting, meaning the champer is closed off at the bottom by a plate so that customers can increase the machine's weight by packing in other material such as scrap metal, sand, etc. There are fill openings on the right and left sides of the machine. When using packed with sand, for example, about 4.2 tons of additional operating weight can be gained.
ADDITIONAL WATER TANK (OPTION)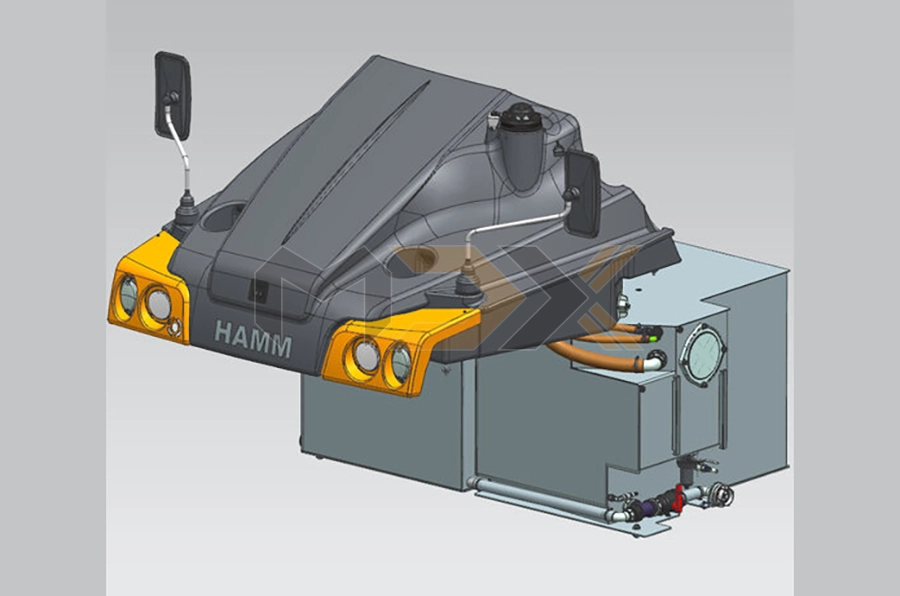 In addition to its own ballast, an additional water tank (HP 180 with 10 t / 22,046 lbs or HP 280 with 12 t / 26,456 lbs) is optionally available. This allows an additional useful volume of 1,500 l (396,3 gal lqd) in total for sprinkling, water extraction on construction sites or as additional weight. With the optional additional water tank there is an additional ballast (magnetite or steel) at the rear. Please note: The weight of the HP 280 can be increased by up to 16.8 t (37,038 lbs) in total or by up to 14 t (30,865 lbs) for the HP 180.
2 water tanks (connected to basic water tank)

C-pipe connection for convenient quick filling. The tanks have two further functions alongside their additional ballasting:

- Increase water supply

- Supply other rollers with water (quick draining by pump)
WHEEL LOAD
The wheel load on each tyre is a key factor in relation to pneumatic-tyre rollers. Due to flexible ballasting, the wheel load can be easily increased or decreased. You can see the wheel loads of the different possible operating weights based on the example of the HP 280. The compaction force (wheel load) can be configured by way of ballast kits:
| | |
| --- | --- |
| Operation weight | Wheel load (nominal values) |
| 10 tons | 1.25 tons |
| 12 tons | 1.5 tons |
| 16 tons | 2 tons |
| 18 tons | 2.25 tons |
| 20 tons | 2.5 tons |
| 24 tons | 3 tons |
| 28 tons | 3.5 tons |
The compaction force (wheel load) can be configured by way of ballast kits:
- 6 kits available ex factory or through Parts Service
- Optimum weight distribution guaranteed
- The tyre pressure should be adapted to the configured weight.
HIGHLIGHT 4 - DRIVE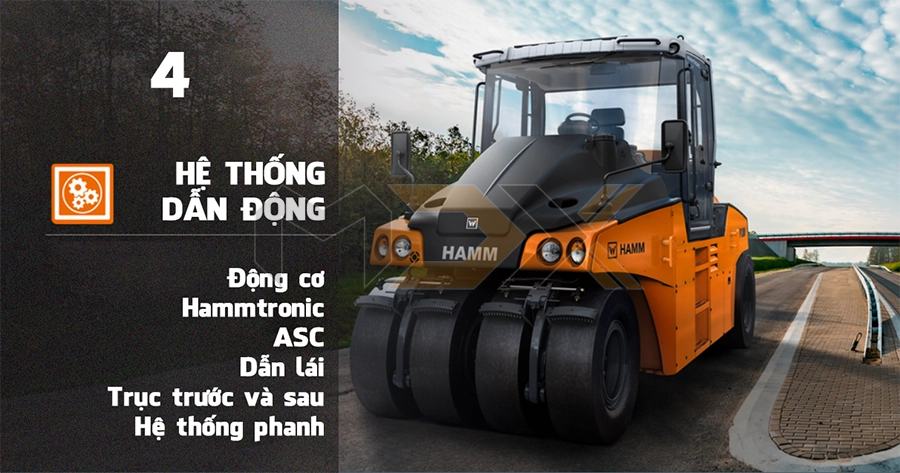 GENERAL
HYDROSTATIC DRIVE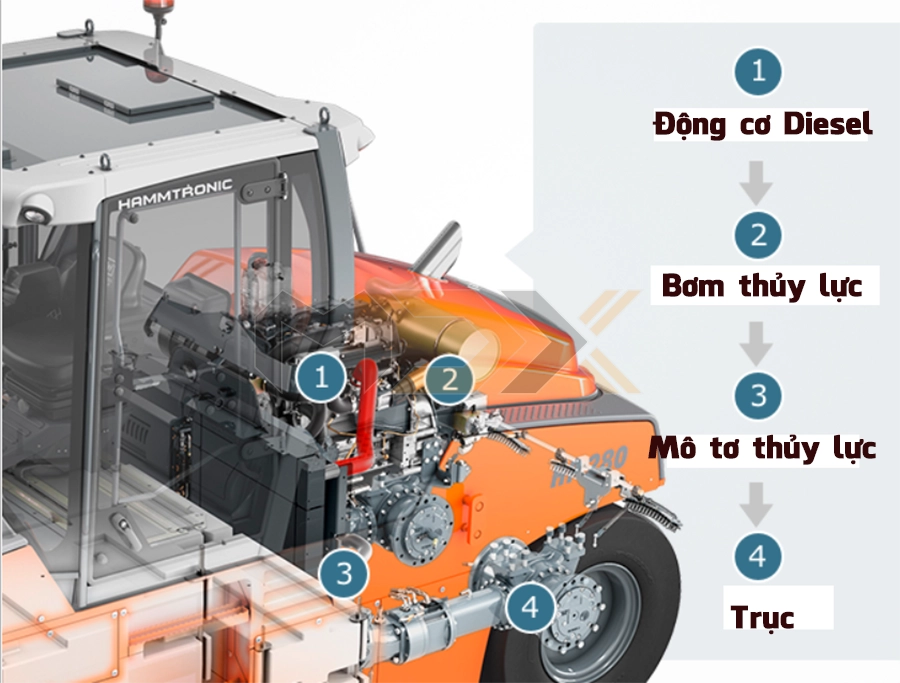 The hydrostatic drive permits responsive driving and braking of the machine.
ENGINE DEUTZ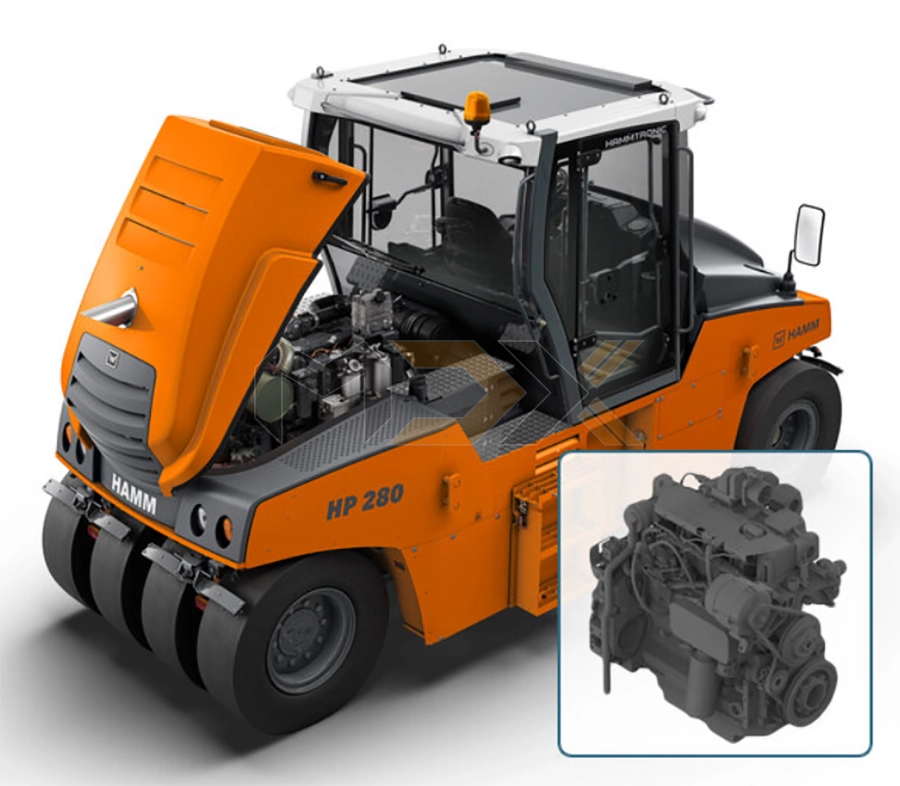 The machines of the HP series have Deutz engines.
| | |
| --- | --- |
| | HP 180 / HP 280 |
| Engine | Deutz TCD 2012 L 04 2V |
| Power | 85.0 kW / 115.6 PS |
| Exhaust emissions category | EU IIIA / Tier 3 |
ASC (OPTION)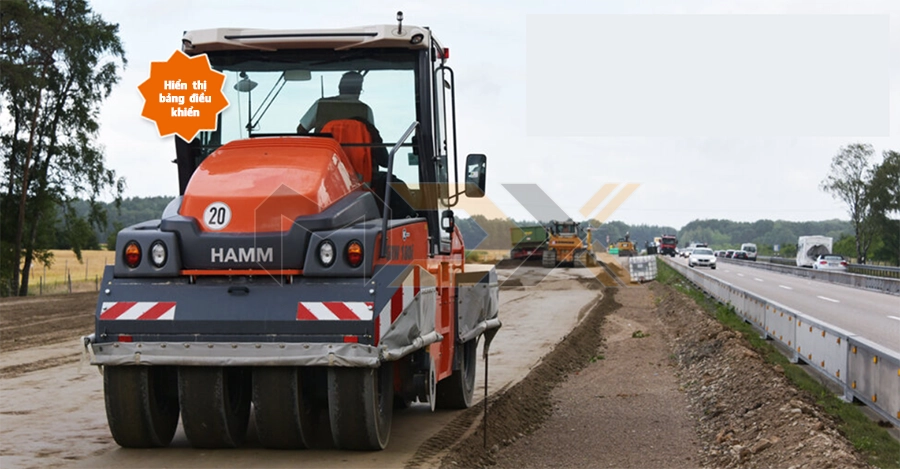 - The ASC (Anti Slip Control) feature provides improved traction to the driven (rear) wheels on rough terrain and prevents wheel spinning. ASC is available as an option.
HAMMTRONIC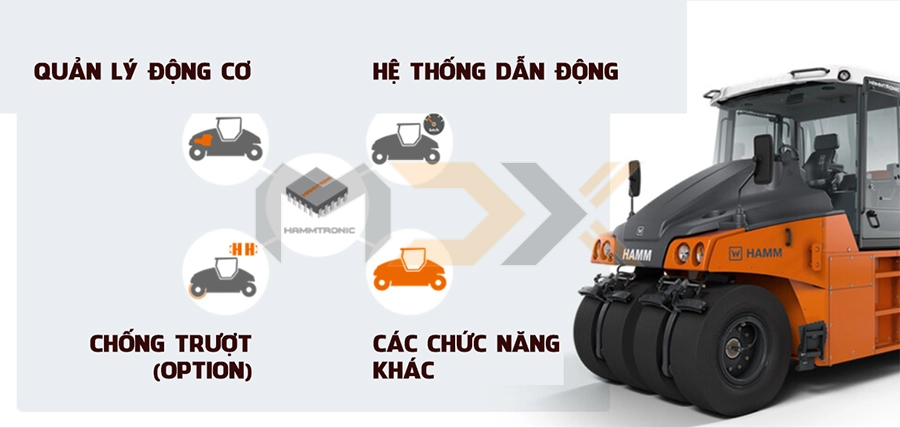 See more about HAMMTRONIC at: HERE
Engine management: Load-dependent engine speed, Protection function, engine
Drive unit: Reversing assist for smooth acceleration and braking, Cruise control system
Anti-slip control (option): Improved traction on rough terrain
Other functions: Water sprinkling / additive sprinkling, Tyre inflation system (optional), Automatic engine stop (optional)

indicator lamp (option)
STEERING
2-point steering with level compensation:
- Uniform weight distribution on bends
- Outstanding straight-ahead running
- Compensation on profile runs
- Generous tyre overlap permits full coverage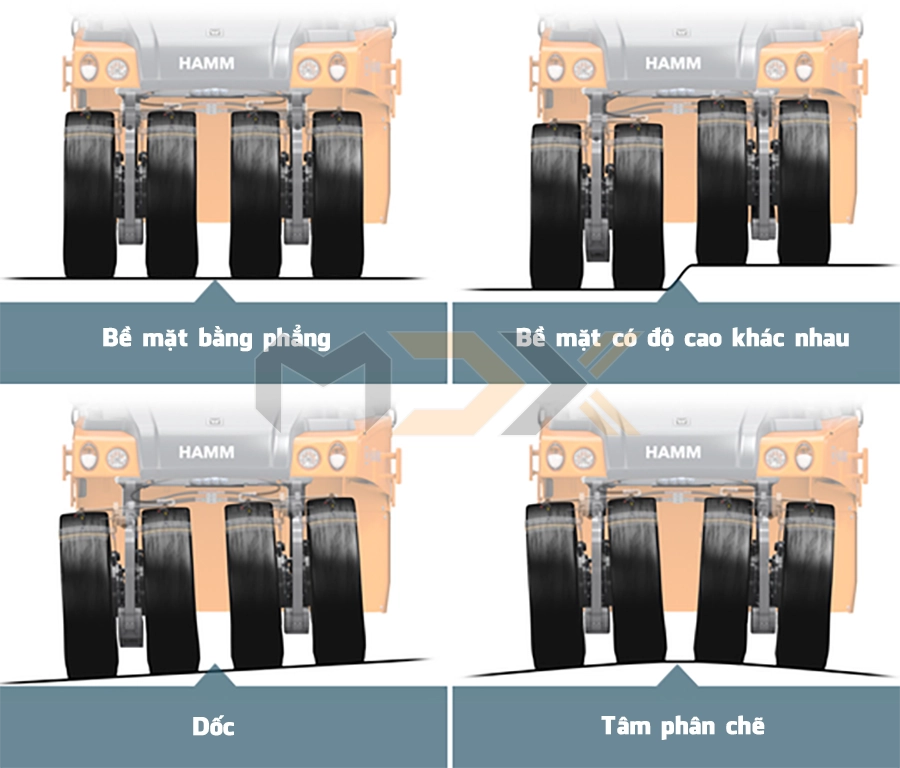 Levelling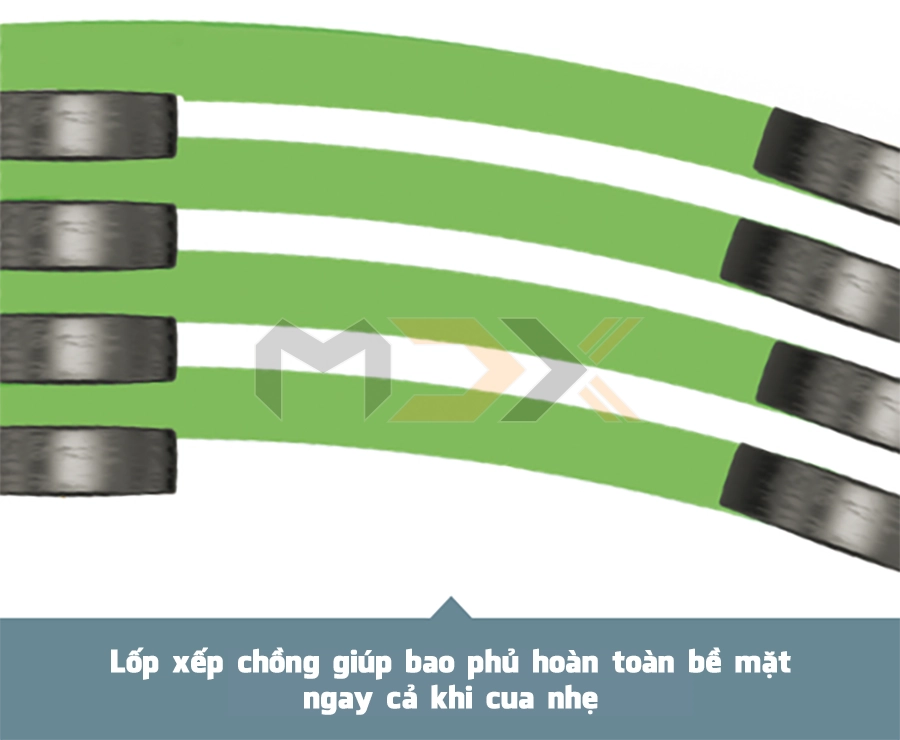 Type overlap
FRONT-AXEL STEERING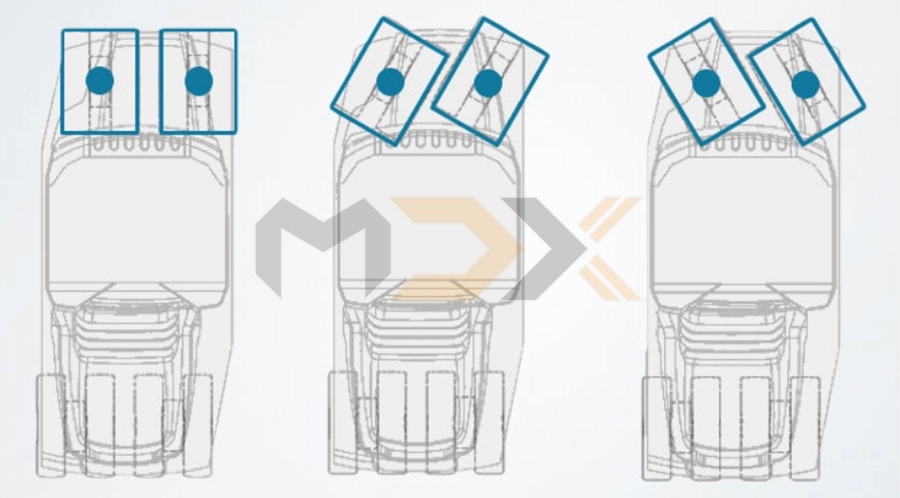 All front wheel steering (like a car). Independent steering (two-point): More stability, as the wheel pairs always stay under the frame. 8 wheels (4 front + 4 rear), overlapping
FRONT AXEL/ REAR AXEL (HP 280)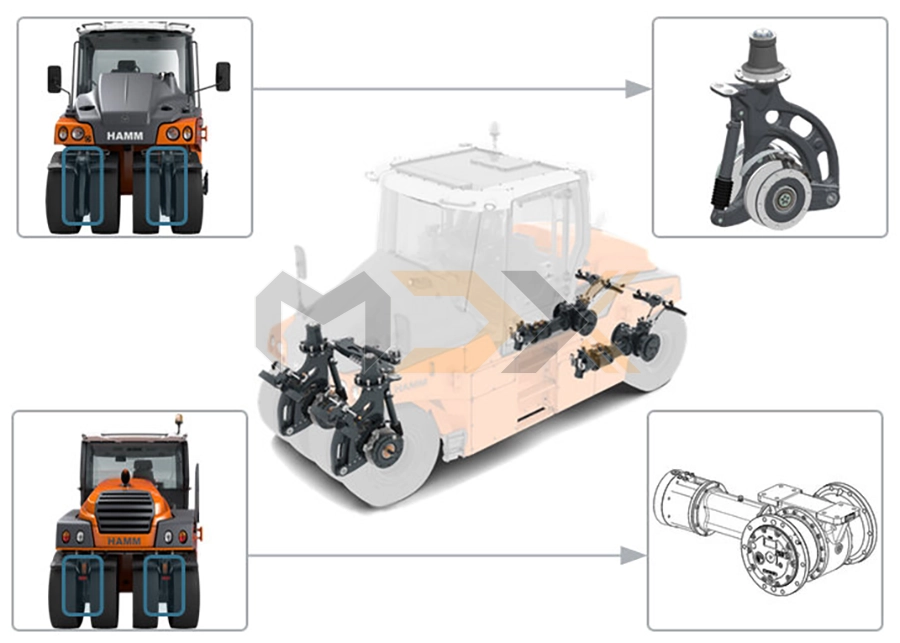 Front axle
- Levelling of both pairs of tyres (dampers)
- Adaption to different soil conditions
Rear axle
- Hydrostatic drive
- Responsive, smooth driving
CONNECTING THE DAMPERS

The dampers are connected to each other by a hydraulic hose. This permits smooth level compensation.
BRAKE SYSTEMS (HP 280 ONLY)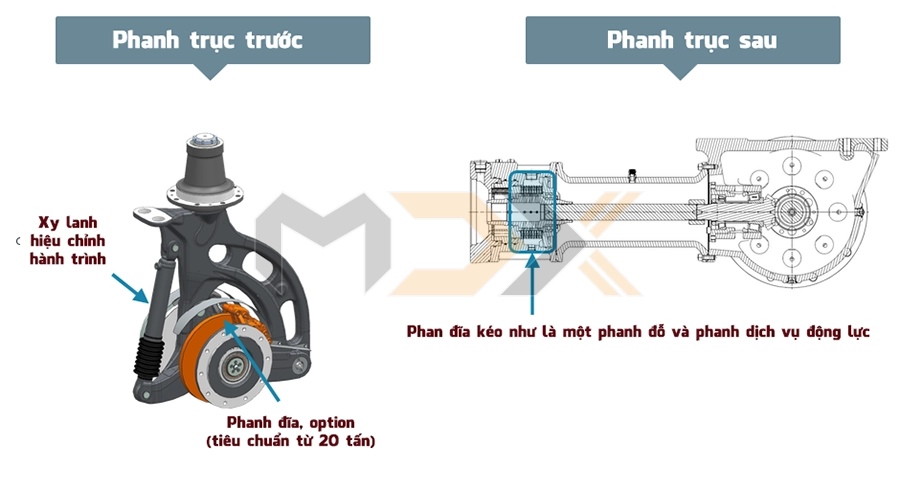 No other competitor offers a second brake system.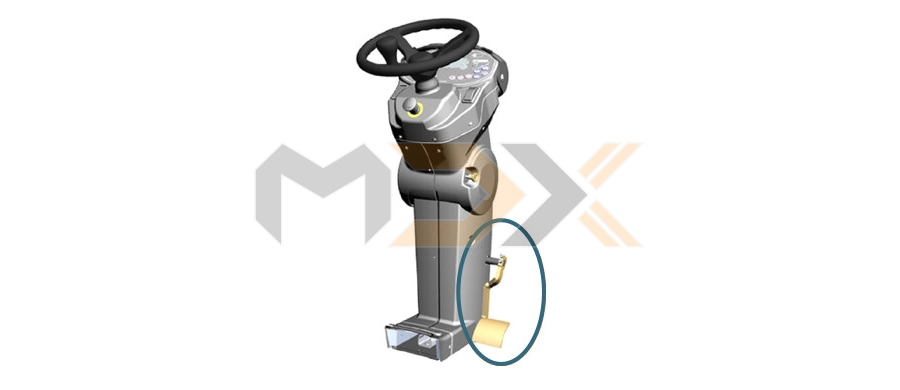 The brake pedal for the rear and front axle brakes (required as from 20 t / 44,092 lbs operating weight) is always fixed on the seat operating unit. This means the ultra-high-performance brake is always quickly and easily accessible for the operator (whatever the seat position).
FRONT AXEL (HP 180)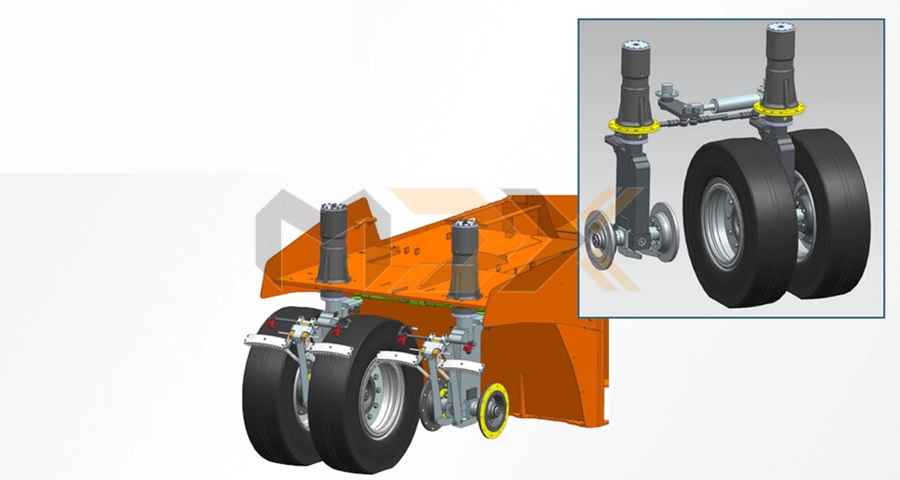 Front axle suspension - HP 180:
- Systematic design: Lifting tube
- This model series has no brakes on the front axle
- Permissible for machine with operating weight < 18 t (39,683 lbs)
HIGHLIGHT 5 - TYRES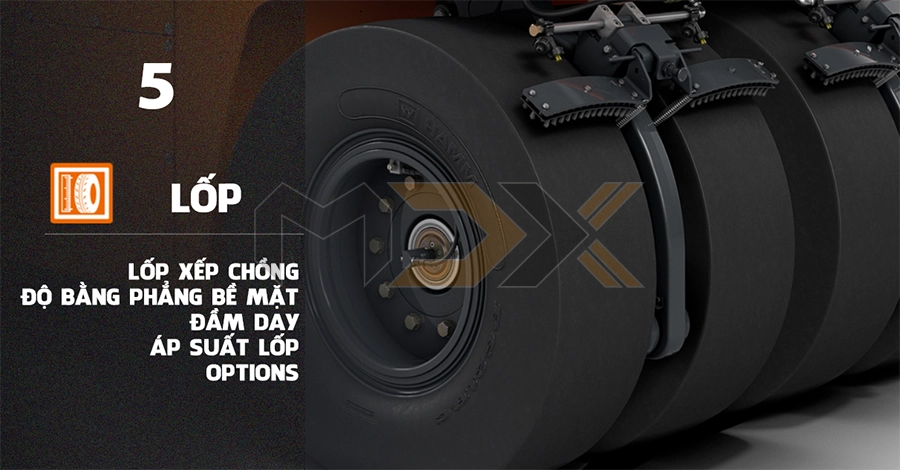 GENERAL
Naturally, the tyres play an important role in a pneumatic tyre roller. Subsequently, we consider some features and application-technical aspects. We use tyres from: HAMM, Dunlop, Michelin
TYRE OVERLAP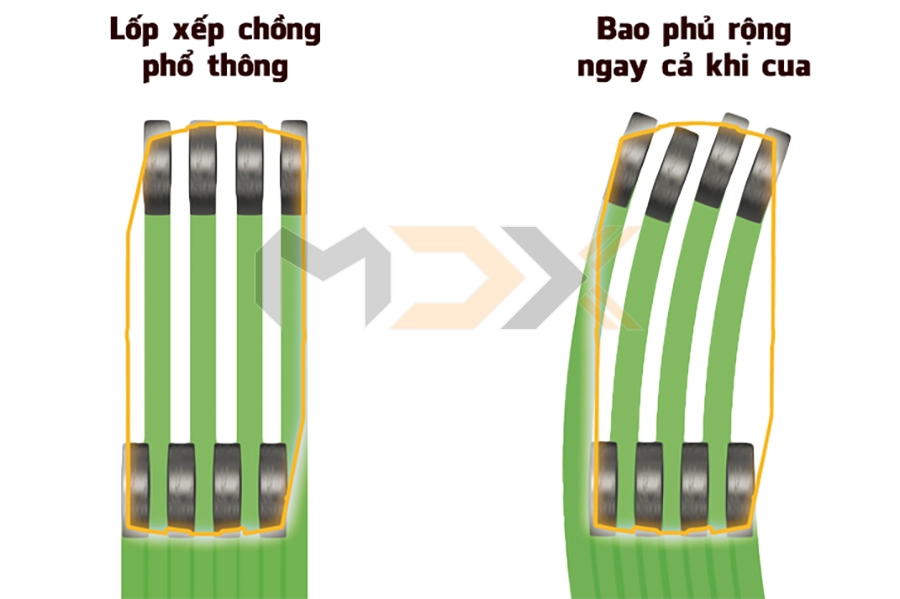 The generous tyre overlap permits full coverage of the area being compacted, even on bends
FRONT AXEL LEVEL COMPENSATION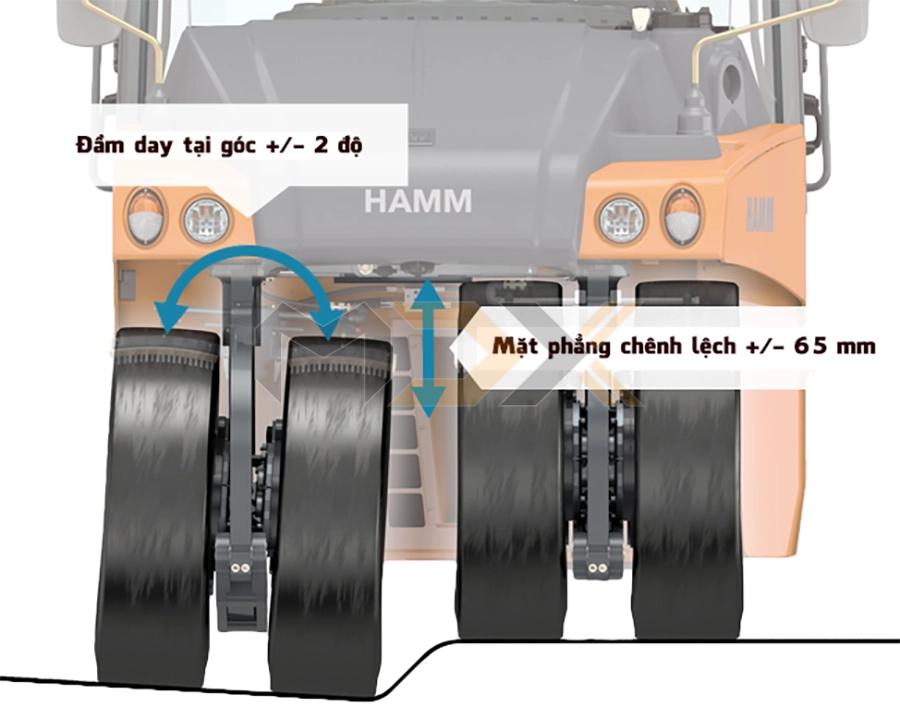 The front wheel suspension is by self-aligning bearings and springs. Optimal adjustment to particular ground conditions, such as straight crossfall or offset
TYRE PRESURE - TYRE FOOTPRINT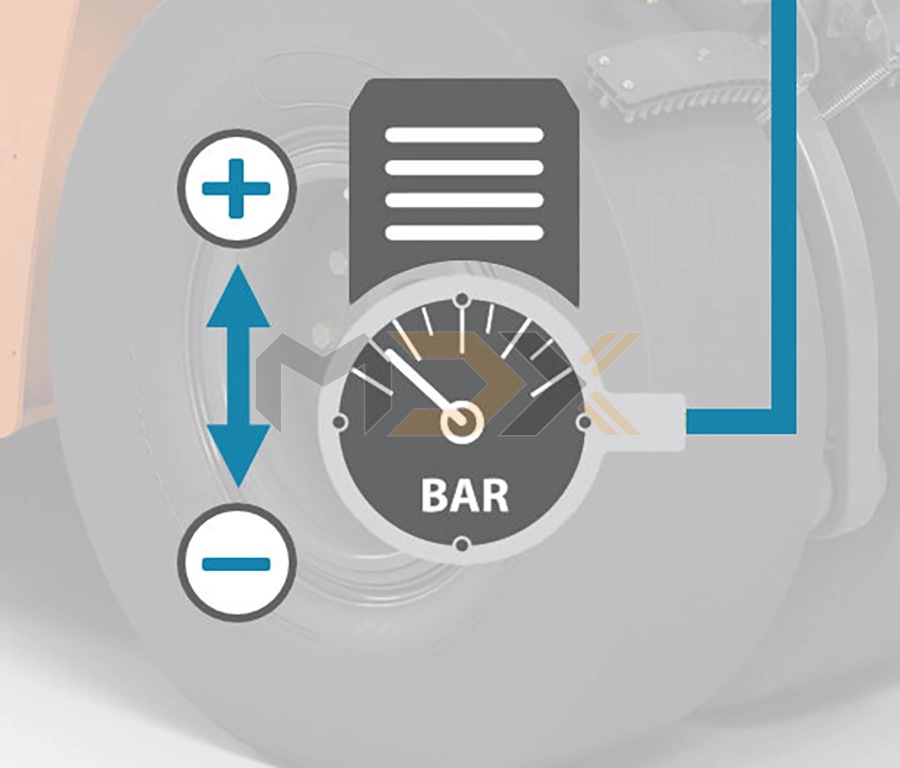 Adding or removing ballast: If the operating weight is modified by adding or removing ballast, the tyre pressure must be checked and adjusted as necessary.
The compaction effect and depth of a pneumatic-tyre roller depend on the wheel load, the internal tyre pressure and the roller speed. So the tyre pressure and wheel footprint are crucial.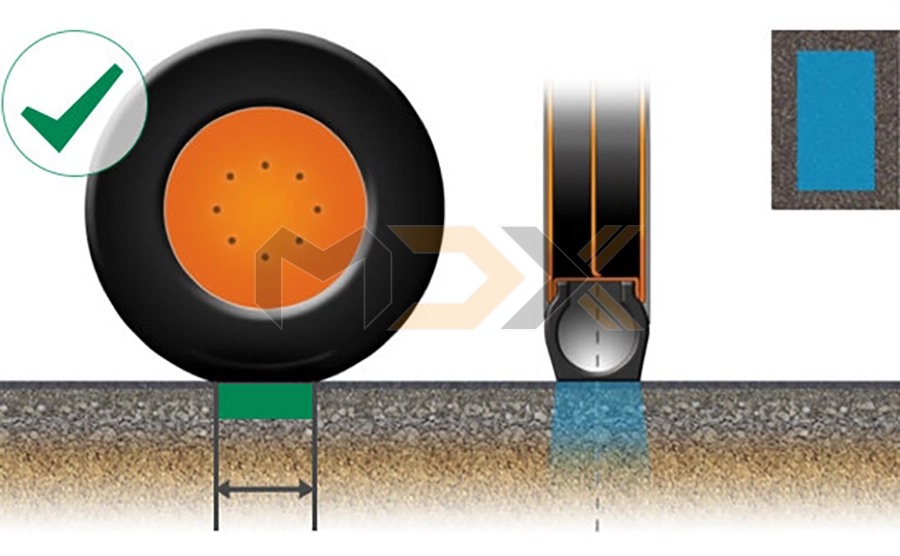 - Optimum air pressure: The pneumatic tyres are contacting on the asphalt over the complete wheel width, and are able to disperse the weight evenly into the ground.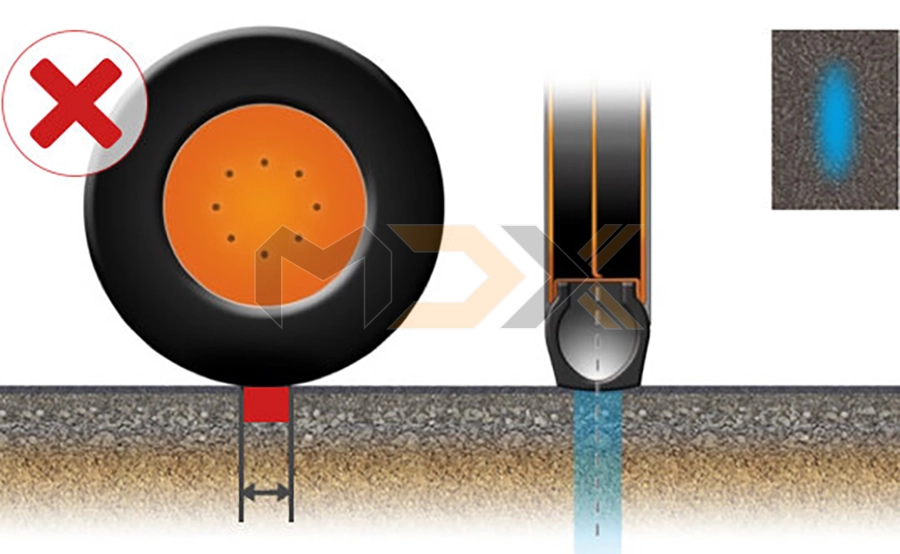 - Excessive air pressure: The contact surface of the tyre curves outwards. The force is concentrated on the central area of the tyre – uniform compaction is not achieved.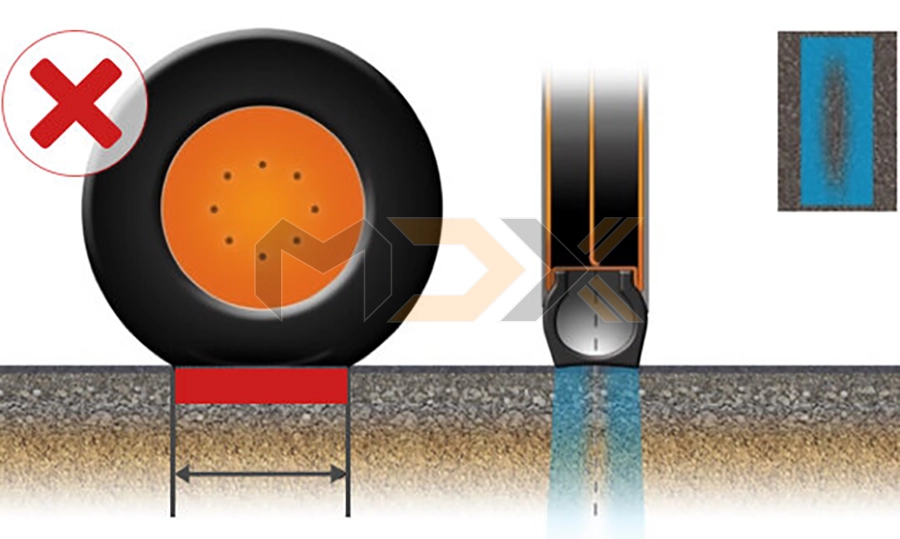 - Insufficient air pressure: The contact surface of the tyre curves inwards. The force is concentrated on the outer area of the tyre – uniform compaction is not achieved.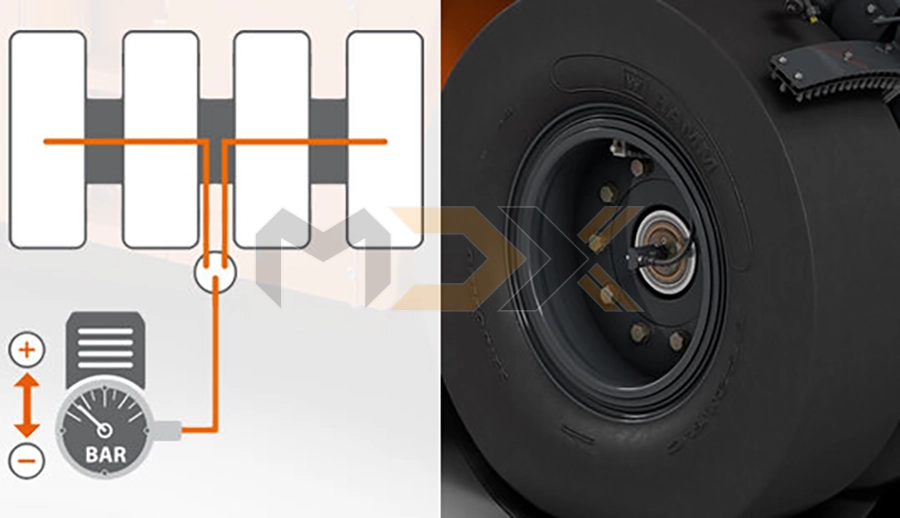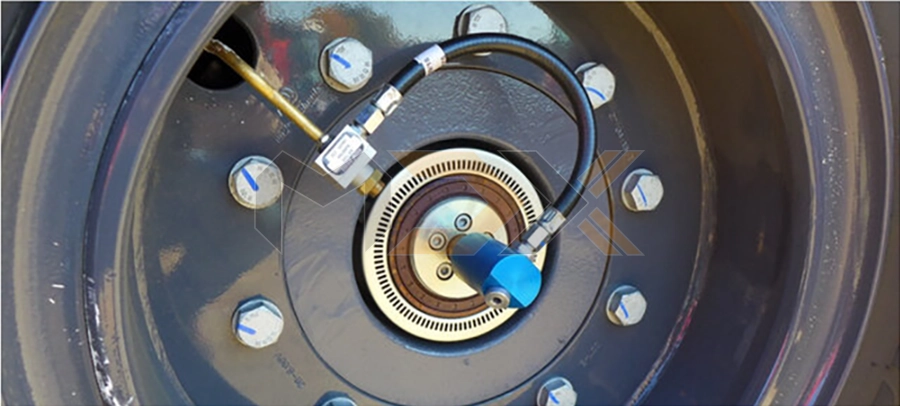 - Tyre inflation system (option): The tyre inflation system helps set and monitor the desired tyre pressures on all eight wheels. The air pressure is adjustable from 4 to 8 bar. For quick and easy tyre pressure varying, the pressure of all eight tyres can be regulated while driving by an optional tyre inflation system. The air pressure in the tyres is varied using the buttons on the dashboard, with the current pressure being indicated on the display. The tyre inflation system is a time-saver in day-to-day working, and also aids compaction quality.
TYRES - OPTIONS
In addition to the tyre inflation system, thermal aprons are also available as an option for the HP 180 and HP 280.
DASHBOARD VIEW

1. Tyre pressure info display, 2. System info, 3. Preset adjustment
HIGHLIGHT 6 - SPRINKLING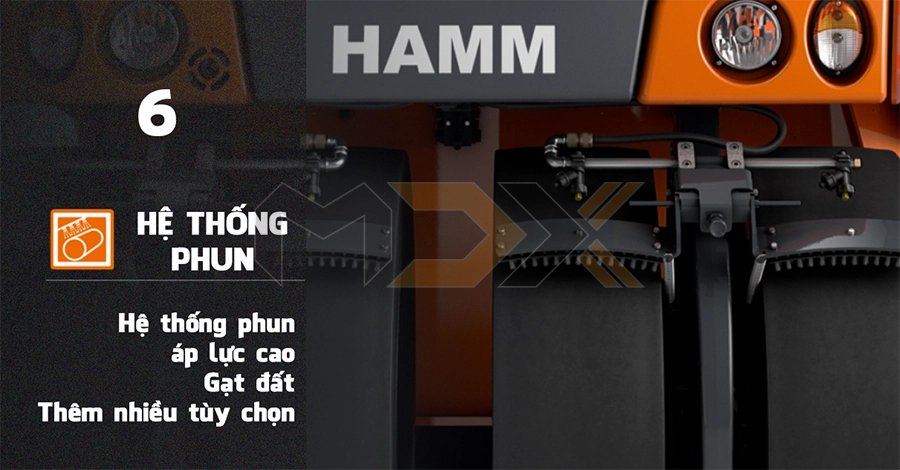 GENERAL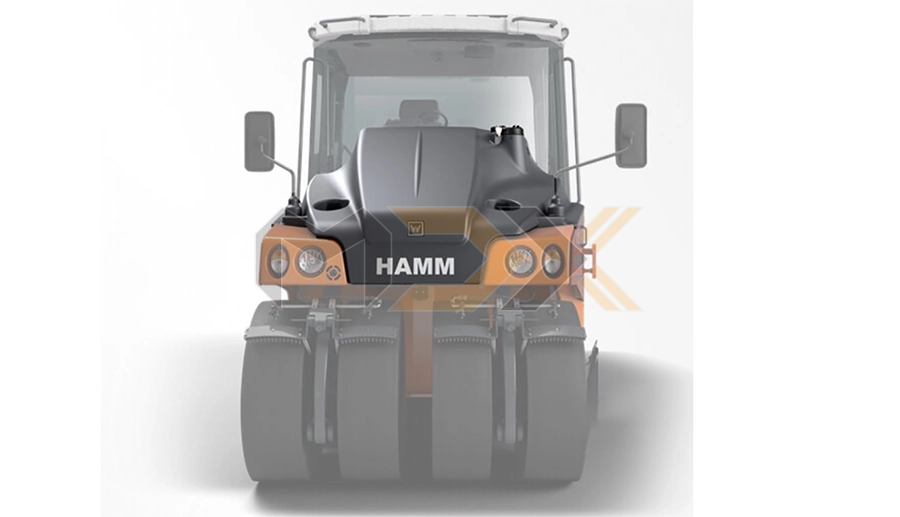 Uniform wetting of the tyres must be ensured.
As the HP series is deployed particularly on asphalt, it has a sprinkling system. Water sprinkling:
- Large water tank with a 650 l (171.7 gal lqd) capacity
- Water sprinkling adjustable in five stages
- Constant water flow rate thanks to automatic adaptation to running speed
- Additional water via joystick
- Quick and safe filling thanks to steps and guard rails
OPERATION OF THE WATER SPRINKLING SYSTEM FROM THE DASHBOARD

1. Selecting sprinkling level / Sprinkling level display, 2. Activating/deactivating the water sprinkling system, 3. Continuous sprinkling: Tyres are sprinkled for as long as the button is kept pressed (sprinkling is also possible at standstill)
Note: When additive sprinkling is active the tyres are sprinkled with release agent emulsion.
SPRINKLING SYSTEMS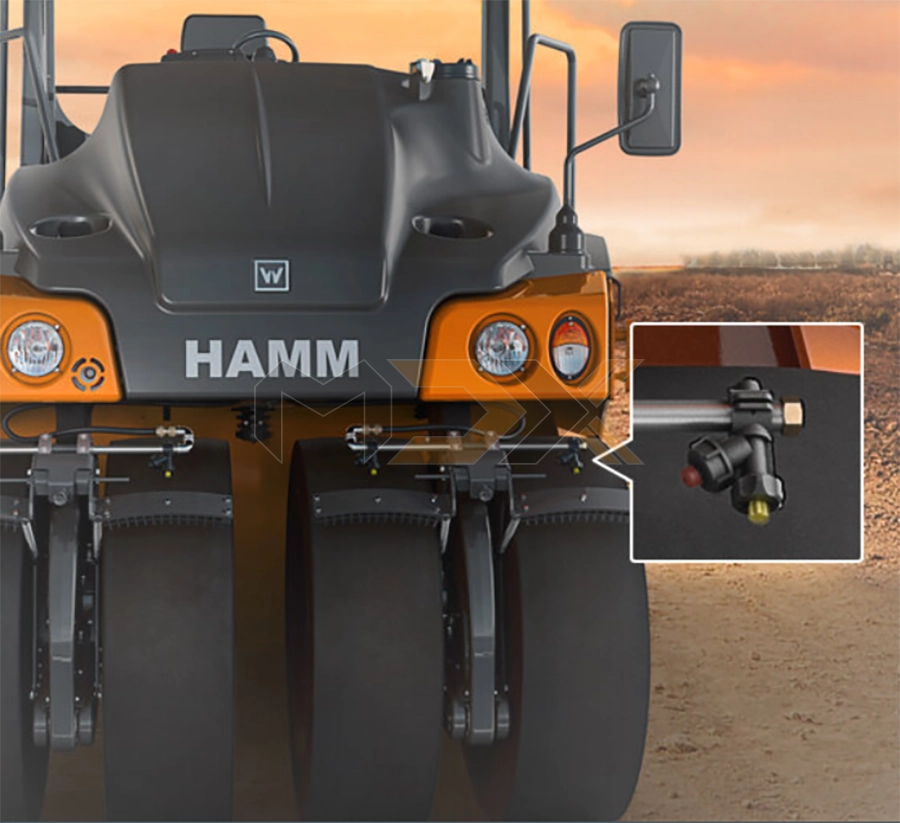 Water sprinkling by HP 180 and HP 280:
- 1 water pump supplies the tyres and the edge pressing and cutting equipment (option)
- Spray bar and nozzles easily accessible
- Optionally plastic brushes, scrapers or brushes with cocomat inlay
- Additive sprinkling optional
WATER SPRINKLING SYSTEM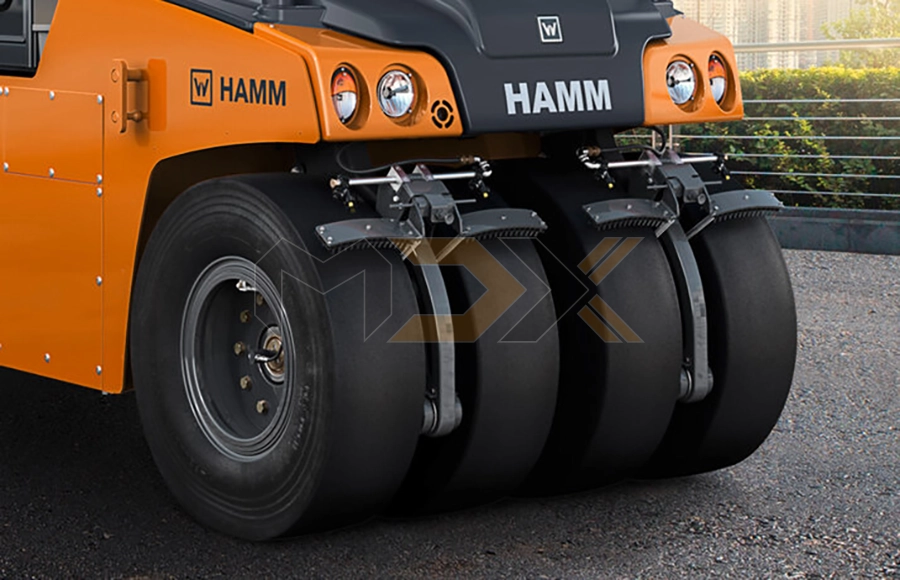 Water sprinkling is provided by a system comprising various components.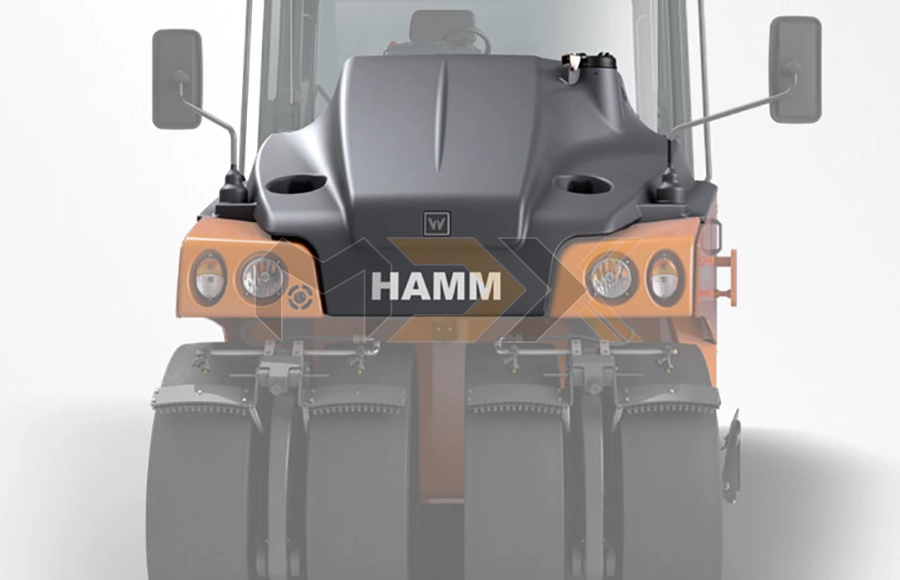 Water tank (650 l / 171.7 gal lqd)
In conjunction with the additional water tank option, the machine can be quickly filled through the C-pipe pressurised filling system in 2 to 3 minutes. The additional water tank increases the total capacity to 2,150 l (568 gal lqd)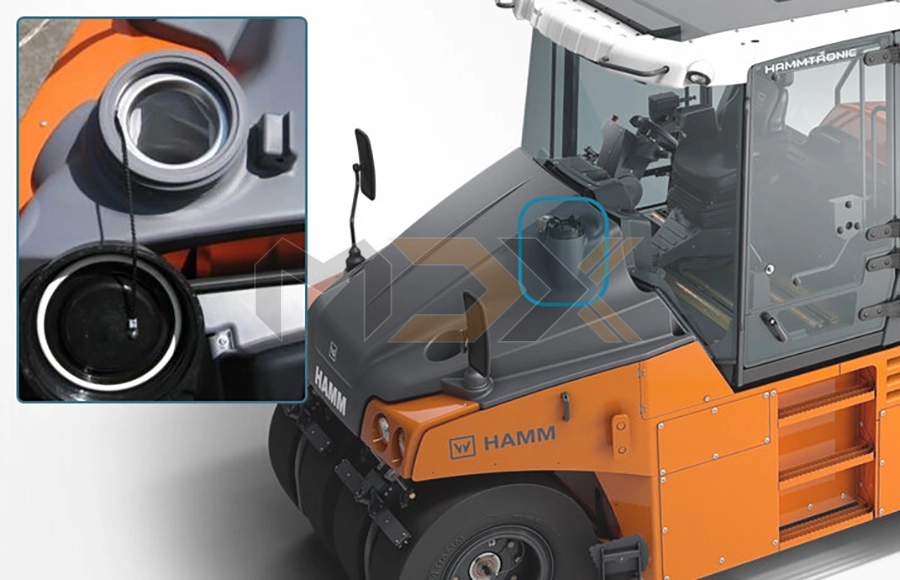 Water filling point
Step for water tank filling, foldable (option)
TRIPLE WATER FILTERING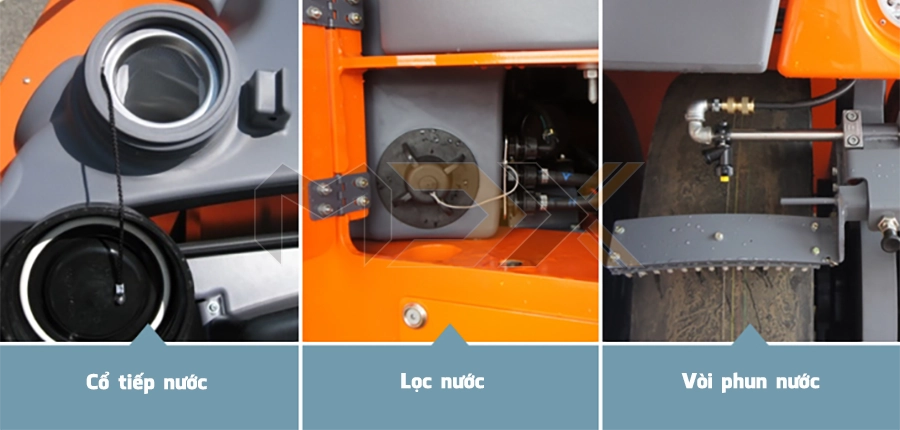 It is only necessary to sprinkle the tyre at the start of the compaction process. When the tyres are warmed up, sprinkling is only necessary in extreme conditions.
ADDITIVE SPRINKLING SYSTEM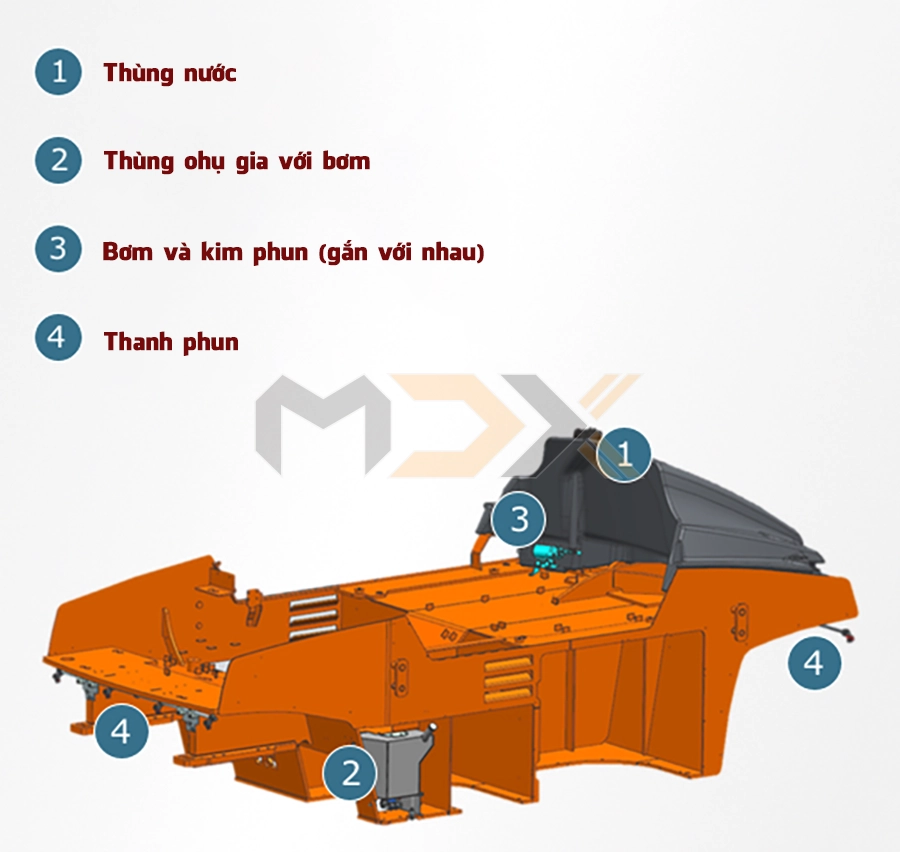 The tyres are normally sprinkled with water. However, they can alternatively be sprinkled with an emulsion (additive/water mixture).
- Automatic additive input after setting mixing ratio
- Constant mixing ratio
- Mixing ratios 1:1, 1:2, 1:5, 1:10 and 1:20
- No risk of mixture separation, as the emulsion is mixed directly in front of the nozzle.
- Additive no longer has to be mixed by hand
Until they have warmed up, the tyres must be protected by additive to prevent asphalt sticking to them. There is a Service Information Sheet, "Wirtgen Group Asphalt Anti Stick", on the subject of additive.
OPERATION OF THE ADDITIVE SPRINKLING SYSTEM
The new additive sprinkling system permits automatic dosing and mixing directly as required.

1. Indicator light 2. Additive sprinkling button
SCRAPERS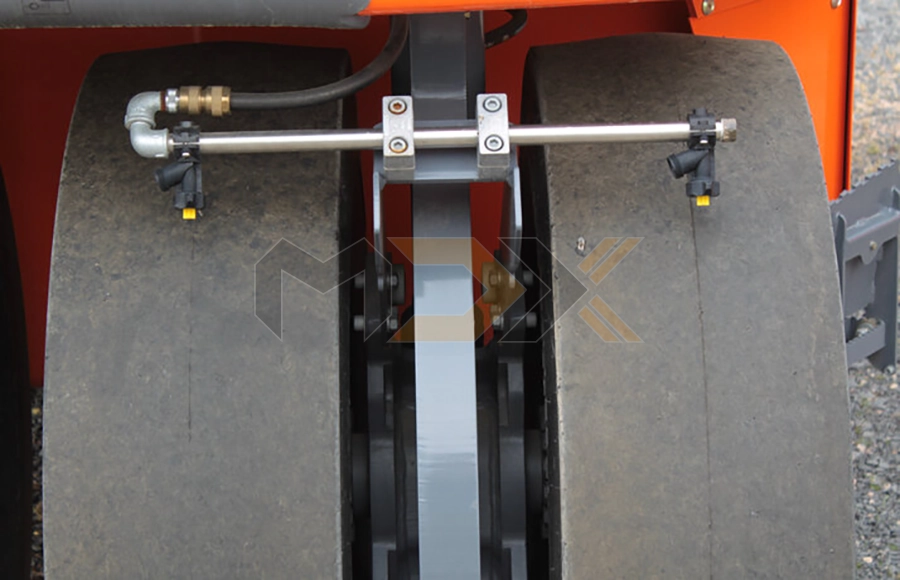 Scrapers clear soil and asphalt, as well as other contaminants, from the smooth tyres. They also hold the water film on the asphalt, and enable uniform wetting. The scrapers are available in different variants. However, no scraper is used in certain cases.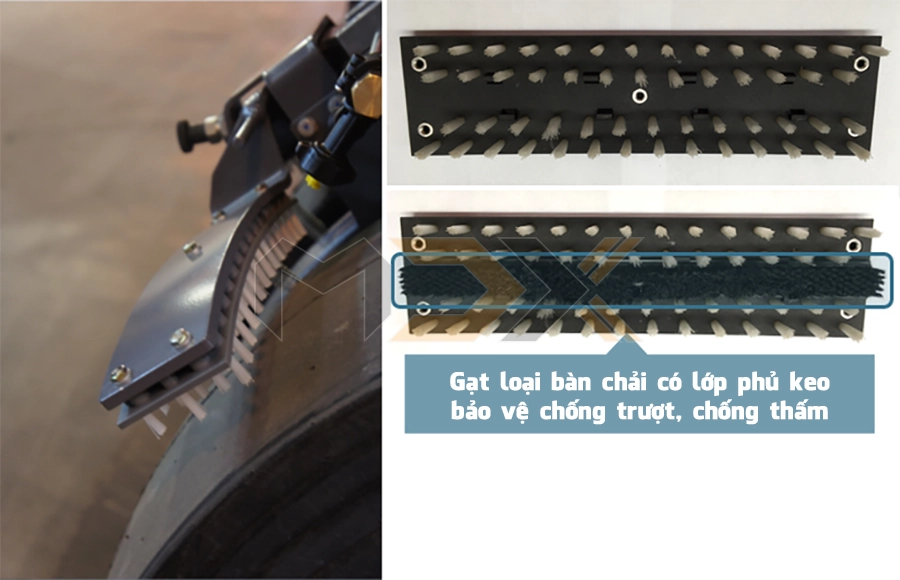 The brush scrapers are also available cocomat inlay.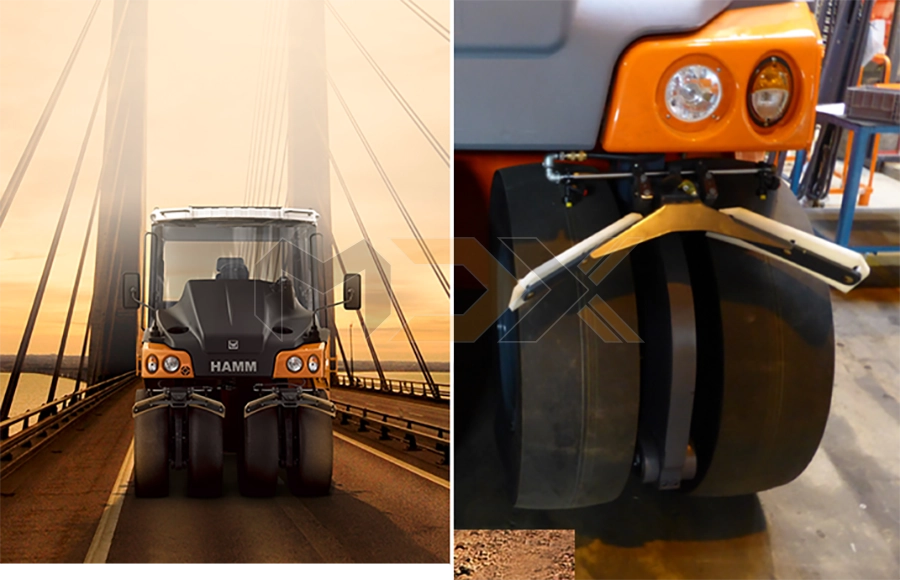 PVC scraper
SPRINKLING - OPTIONS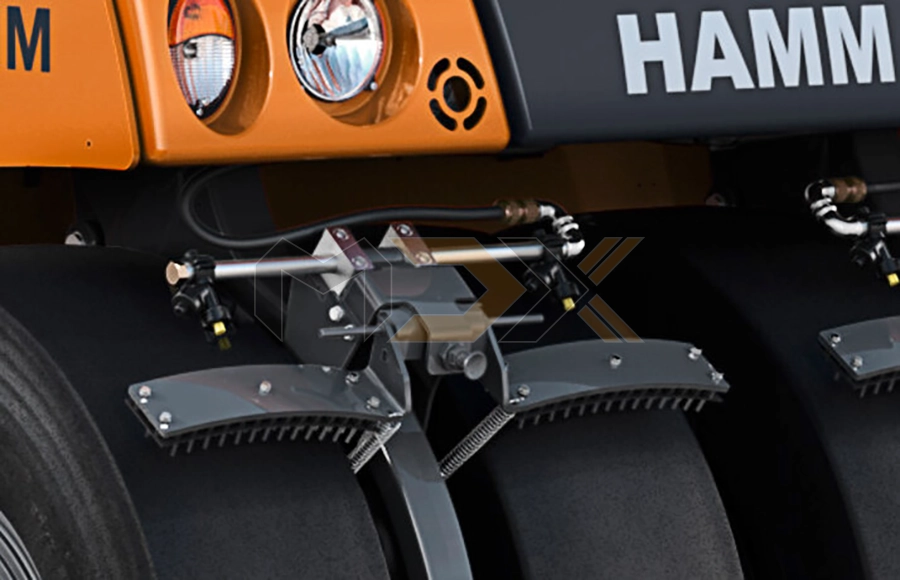 ANTIFREEZE FILLING SYSTEM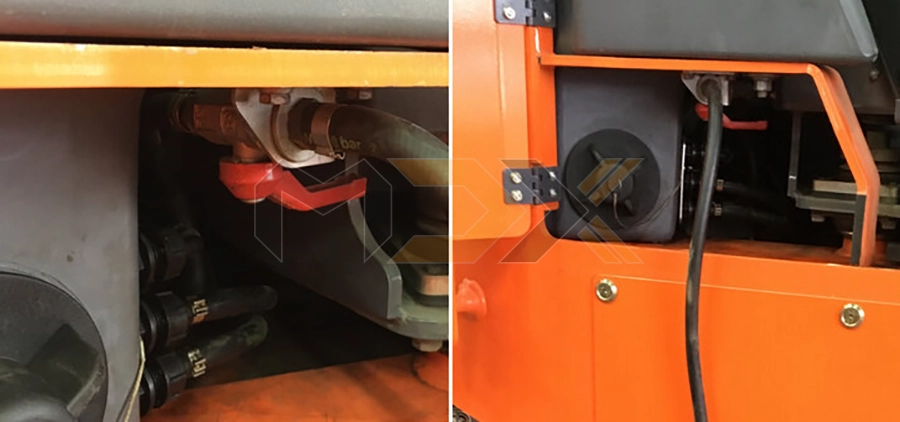 Unit for topping-up the sprinkling system with antifreeze. This prevents the water nozzles, pumps and pipework from freezing up.
LOCKABLE WATER TANK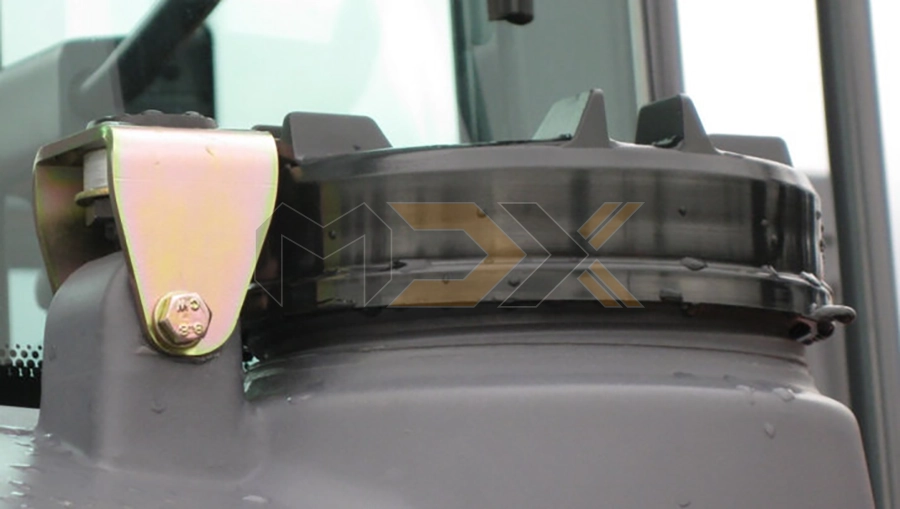 FRONT-GRILLE GUARD, WATER TANK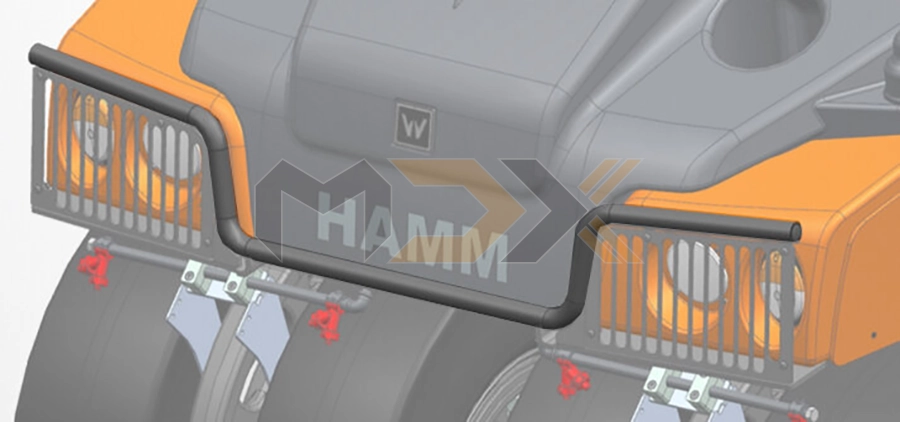 Metal pipe to protect the water tank from damage. Mounted around the lamp holder and the water tank (front)
HIGTLIGHT 7 - COMPACTION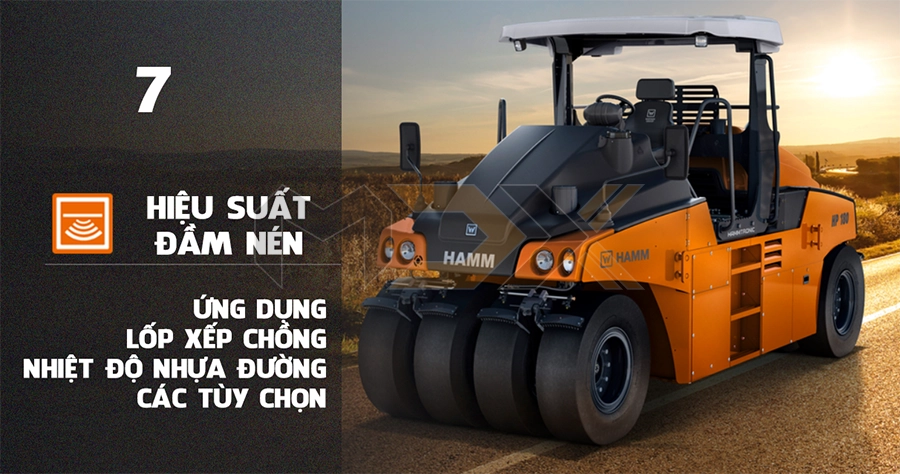 GENERAL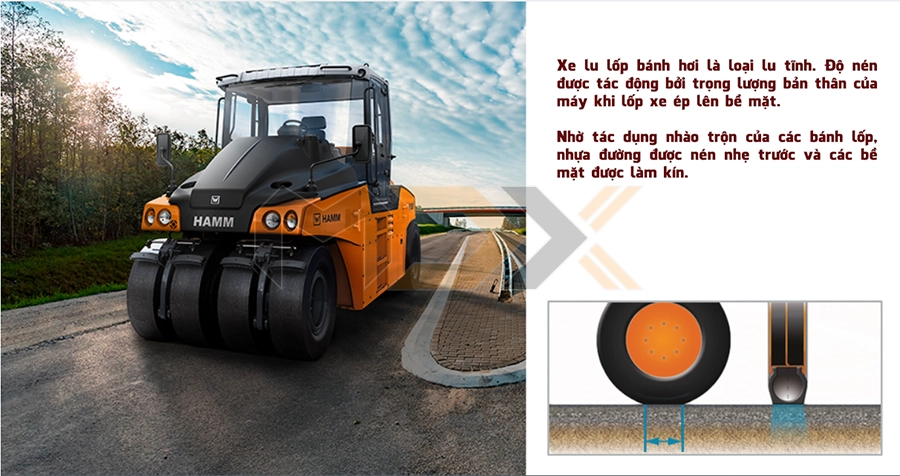 APPLICATION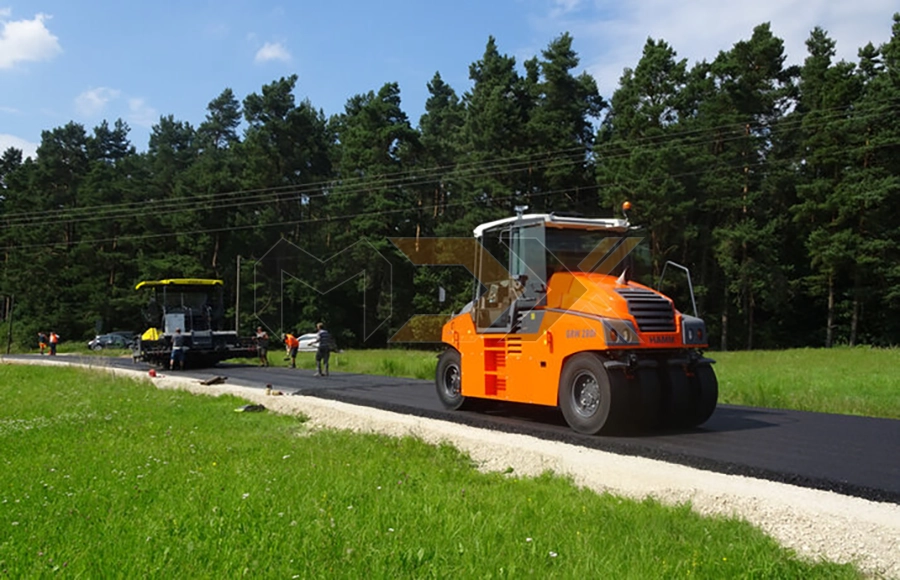 Pneumatic-tyre rollers are used in asphalt construction mainly for pre-compaction, final compaction and sealing. Other applications are in cold recycling and in landscaping. When compacting a surface course, pre-compaction by pneumatic-tyre rollers is not advisable owing to the thinness of the layer (meaning tyre imprints would be left)
PRE-COMPACTION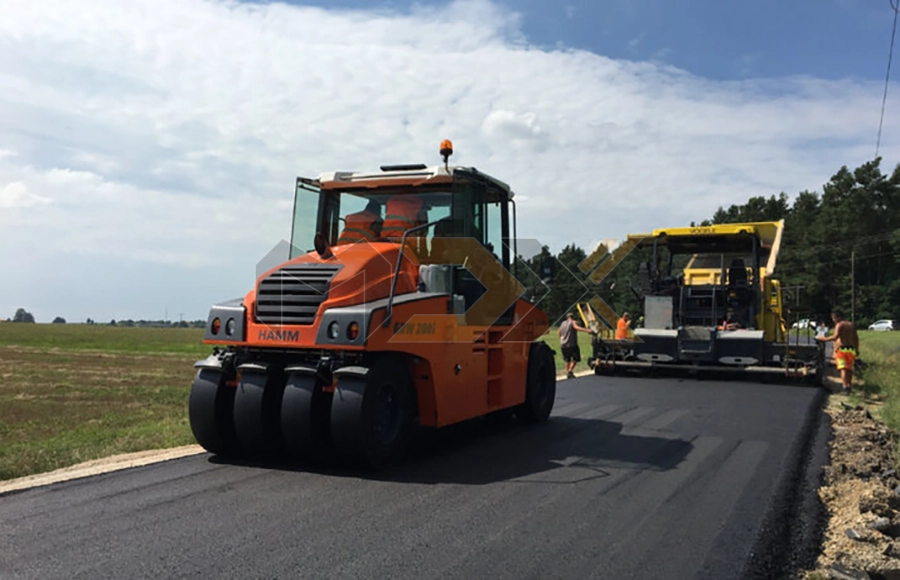 SEALING IN ASPHALT CONTRUCTION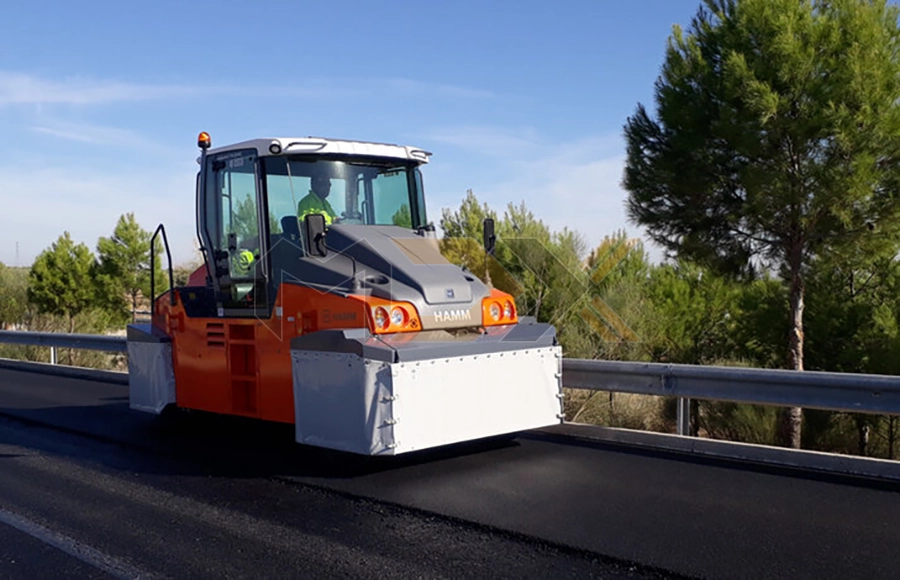 A low tyre pressure is recommended when sealing.
SEALING IN EARTHWORK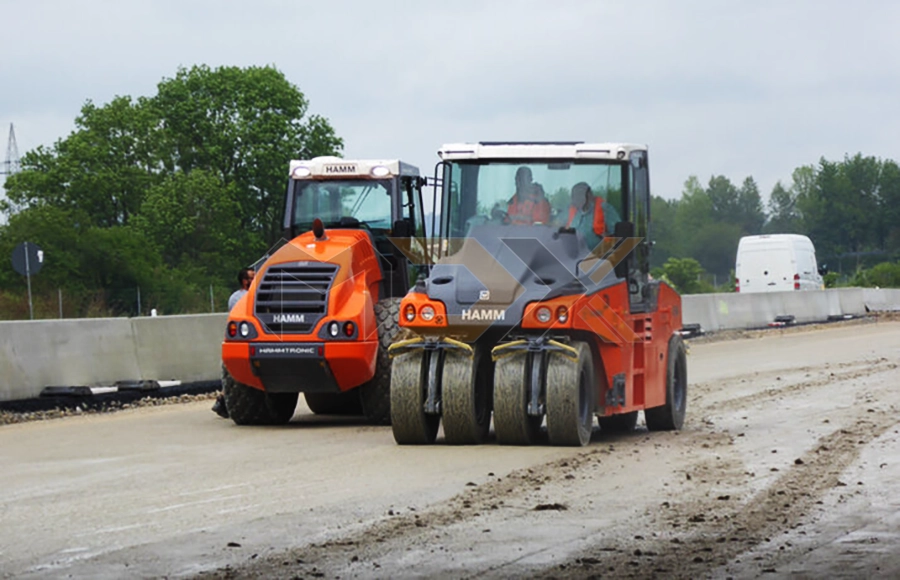 A low tyre pressure is recommended when sealing.
TYRE OVERLAP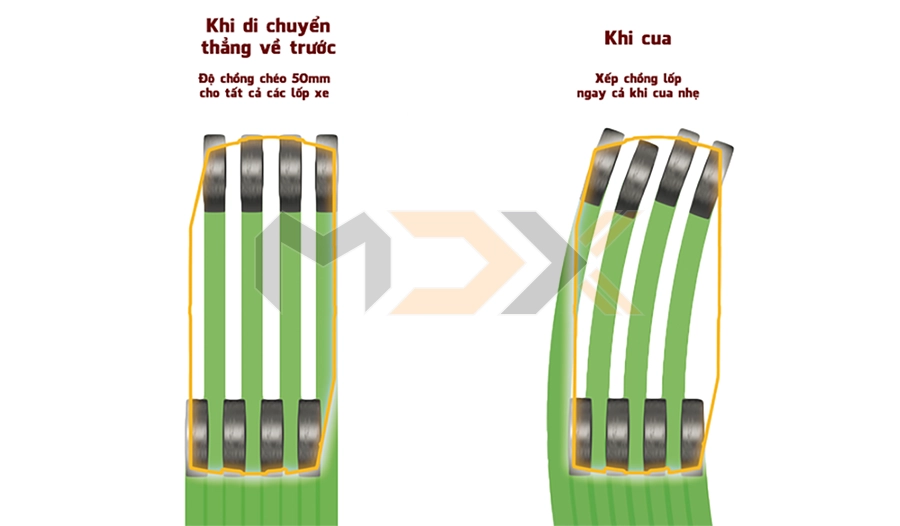 The tyres overlap to avoid imprints in the asphalt. Four pneumatic wheels are spaced on each axle. The pneumatic tyres on the front and rear axles overlap each other.
TYRE TEMPERATURE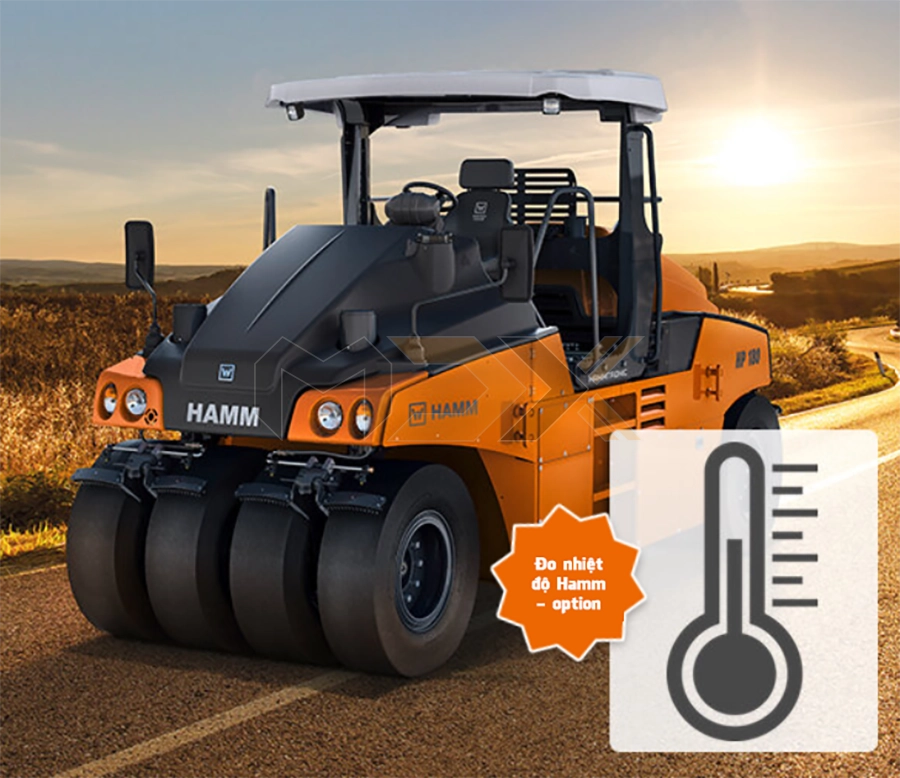 When a tyre temperature of approximately 80-90 °C (176-194 °F) is reached, water or additive sprinkling can normally be switched off, as the asphalt is no longer sticking to the tyre. Adherence of asphalt to the tyres may once more occur at higher temperatures, especially above approximately 150–160 °C (302–320 °F). In this case, the water sprinkling system must always be reactivated.

HAMM Temperature Meter (option) - The HAMM Temperature Meter is offered as an aid to operators. Buttons can be used to set the limits for the asphalt temperature. If the machine measures a temperature that is outside the pre-set range, the info display switches between the asphalt temperature and the upper or lower temperature limit that was exceeded or not reached.
COMPACTION - OPTIONS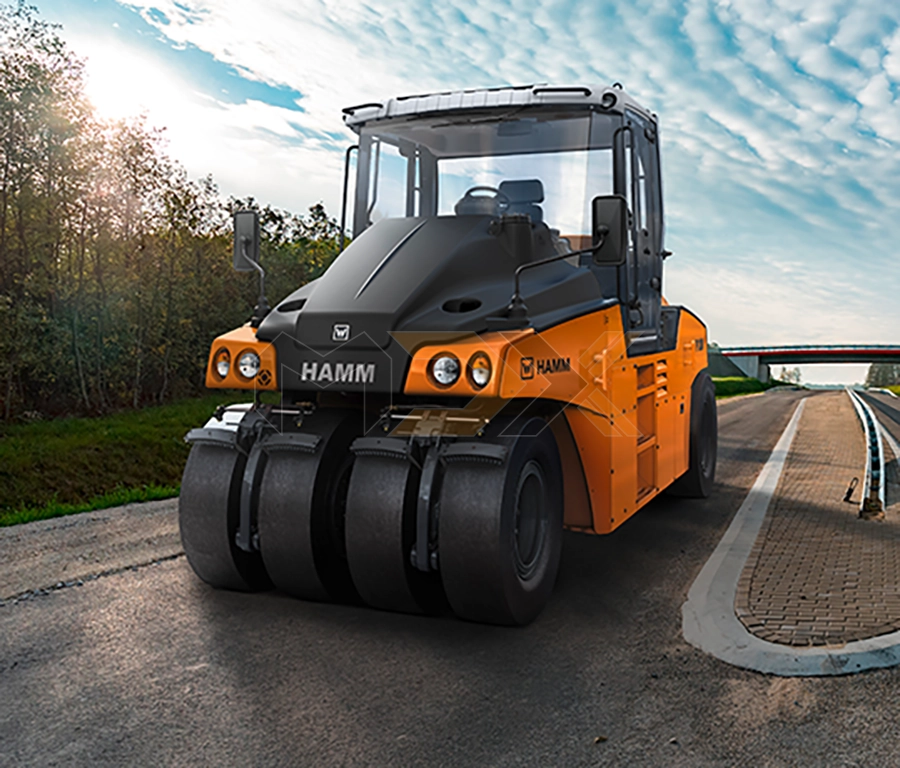 There are more options in addition to the HAMM Temperature Meter which will help create an optimal road surface.
HCQ

Measurement and documentation modules for monitoring and controlling compaction and the compaction processes, providing full-area compaction control. HAMM Temperature Meter = Measurement and display of the surface temperature of the asphalt being compacted HCQ Navigator = Satellite-assisted documentation system for capturing and displaying all key compaction parameters and the compaction progress of one or more rollers.
EDGE PRESSING AND CUTTING EQUIPMENT

Both methods can only be used on warm asphalt.
- Edge pressing equipment: The edge pressing equipment is used to slope and compact asphalt to create contact surfaces.
- Edge cutting equipment: The cutting equipment can be used to create a clean edge.
OPERATION OF THE EDGE PRESSING AND CUTTING EQUIPMENT
DASHBOARD
THUMB ROCKER

Button: Switch water sprinkling on and off

Lower edge pressing and cutting equipment: Sprinkling starts automatically

Raise edge pressing and cutting equipment: Sprinkling off when raised for at least 2 seconds

To raise and lower the cutting wheel/pressure roller

Up: Raise

Down: Lower
HIGHLIGHT 7 - VISIBILITY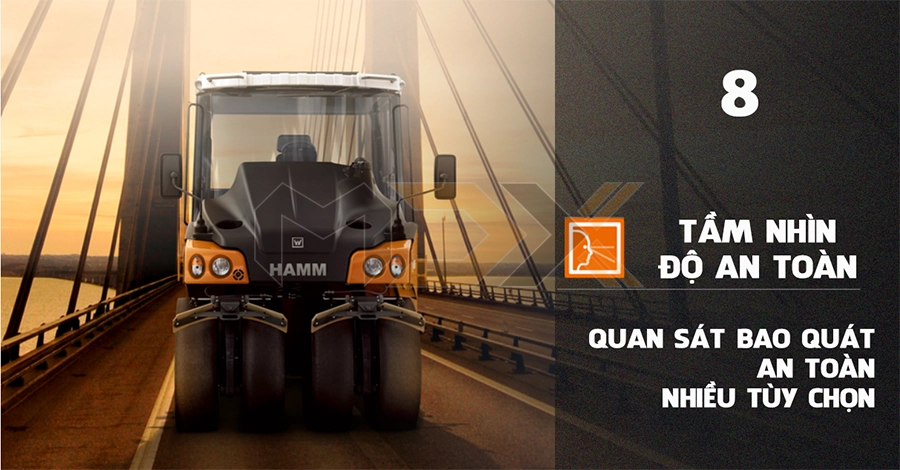 TẦM NHÌN LÀM VIỆC
Dòng HP cung cấp cho người vận hành quan sát làm việc vượt trội.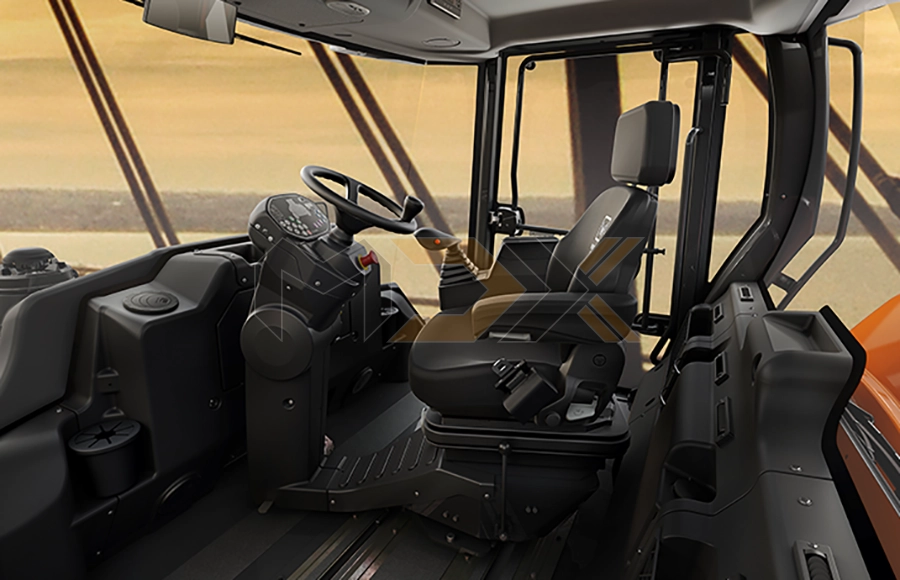 1 X 1,2 M VISIBILITY WITH CABIN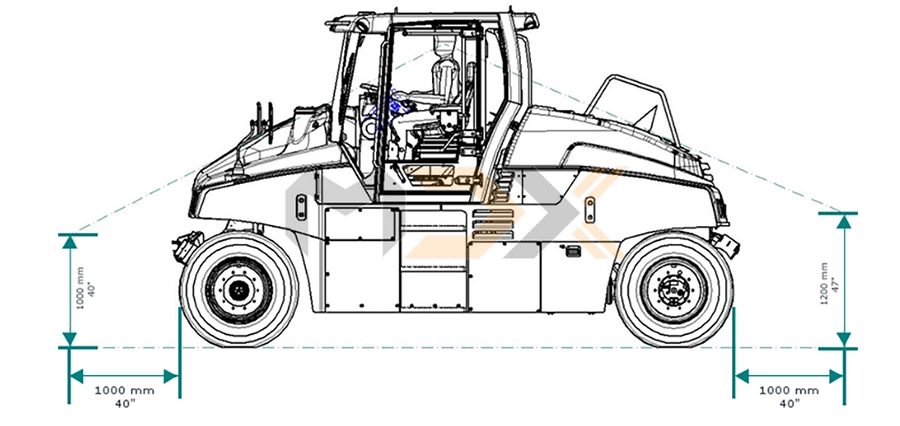 1 X 1,2 M VISIBILITY WITH ROPS
FORWARD VIEW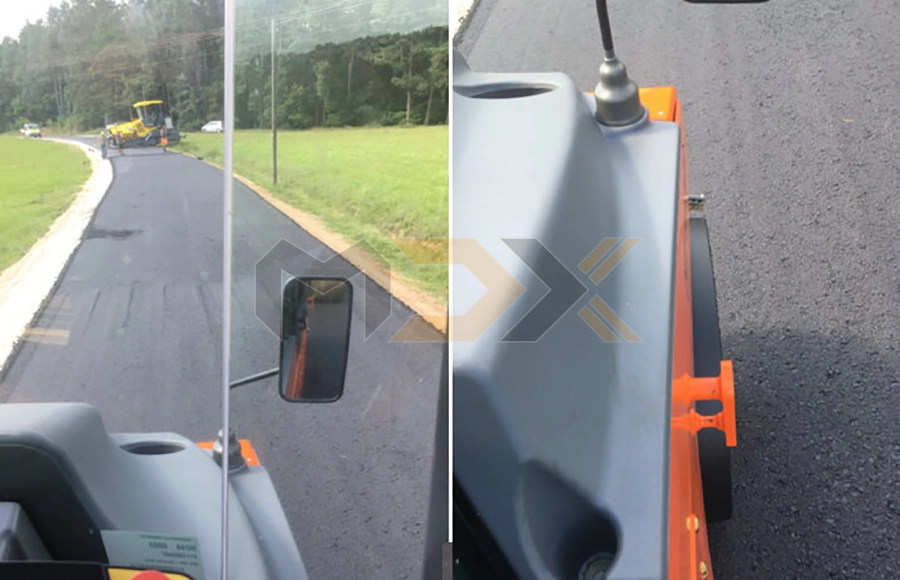 REAR VIEW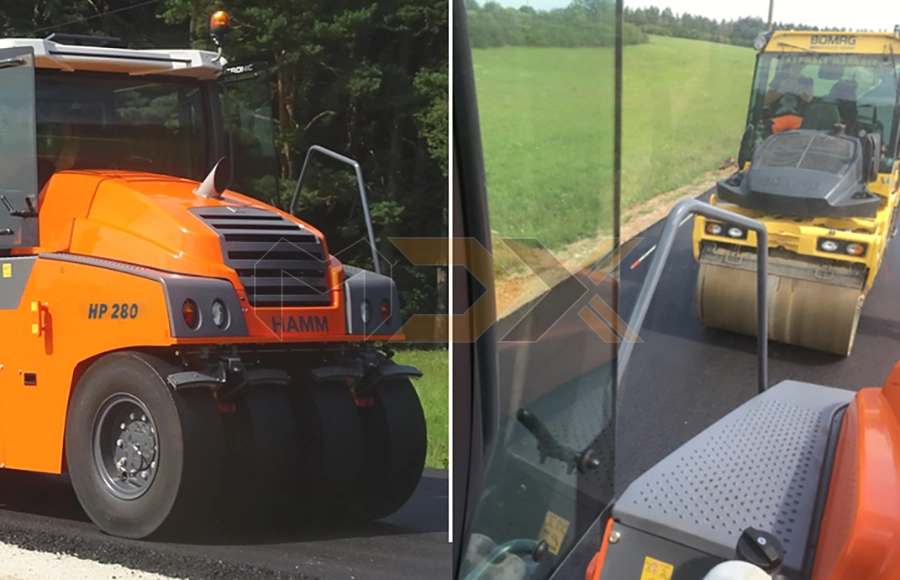 DIRECT VIEW OF THE OUTER RIMS OF THE TYRES THANKS TO ASYMMETRIC FRAME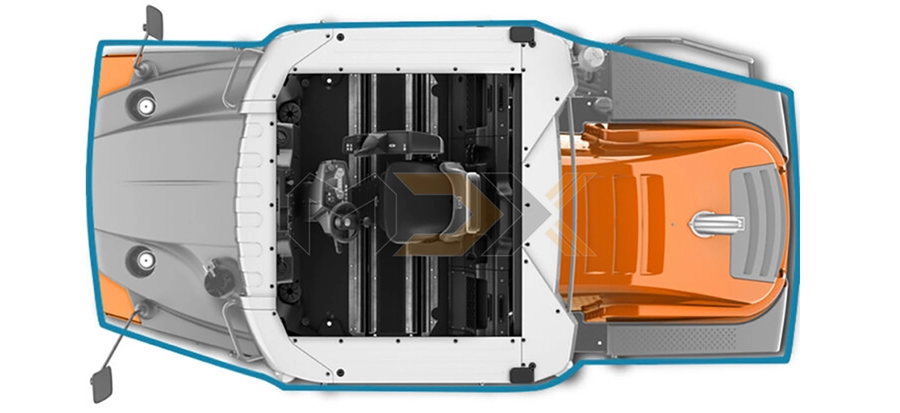 To ensure a perfect view of the outer rims of the tyres, the seat operating unit can be shifted laterally outwards.
LIGHTING
1. Lighting for driving on public roads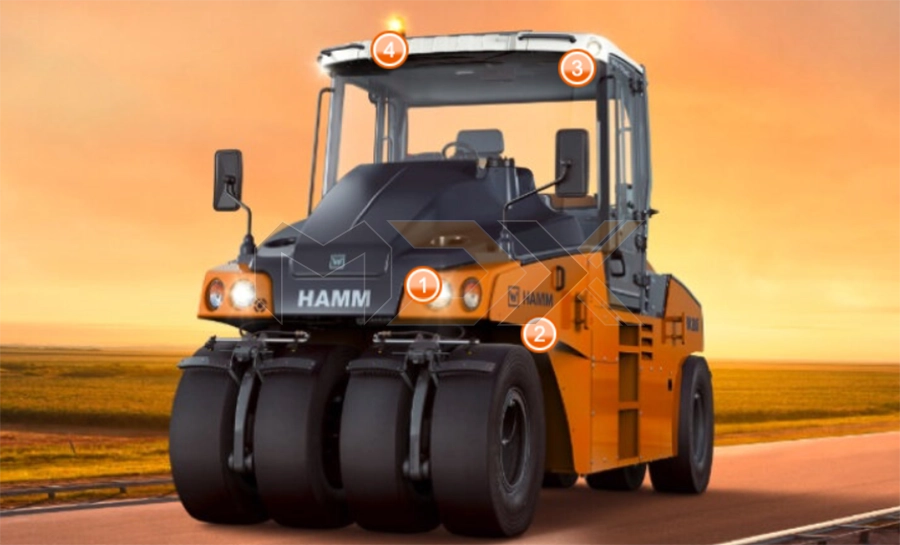 Attachment for a spotlight at the front, reversing light, rear lights, front and rear indicators and rear brake light to comply with German road regulations.
2. Tyre lighting (LED): 2 LED spotlights to illuminate tyres in darkness. Installed at front left and rear right.

3. Working lights (halogen or LED): 4 halogen lights for the working area:

- 2 lights facing forward

- 2 lights facing backward

- Optionally also with LED

A lamp guard is available as an option.
4. Rotating beacon
OPTIONS
As an option, the HP series ensures optimum visibility even in the dark.
- Coming Home function (option): The working lights remain switched on for a certain time to light the surroundings of the machine. This function is activated when the diesel engine is turned off. The lights switch off automatically after a certain time.
- Rear camera system (option)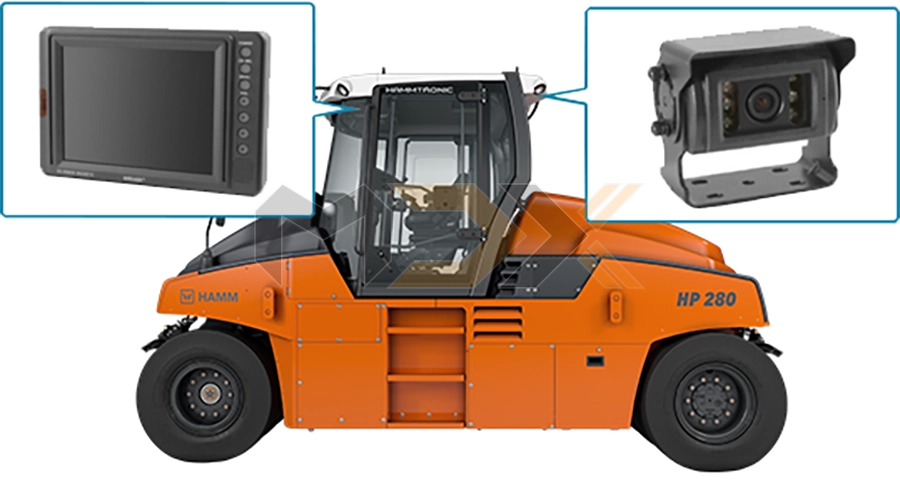 The rear camera system featuring a 5.6'' LCD monitor and infrared LEDs enhances visibility for the operator and improves night vision.
SAFETY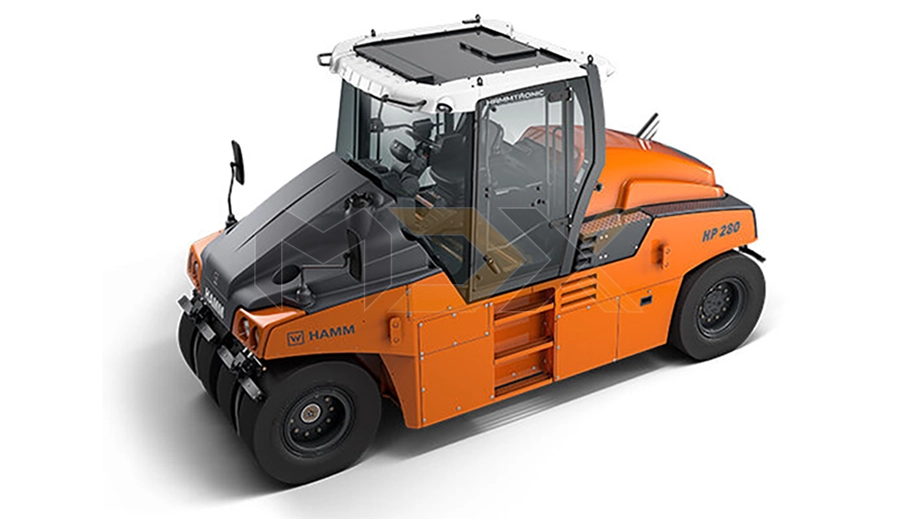 Outstanding visibility based on a compact design and high-performance brakes make the HP series pneumatic-tyre rollers extremely safe. And there are more aspects which make the operator's work safer.
- Brake system, safe operation The brake pedal is located on the seat operating unit. That means it is always optimally accessible, whatever the seat position. So maximum safety is assured. The high-performance disk brakes (mandatory as from 20 t / 44,092 lbs, otherwise available as an optional) bring the roller quickly and safely to a stop even when carrying maximum ballast.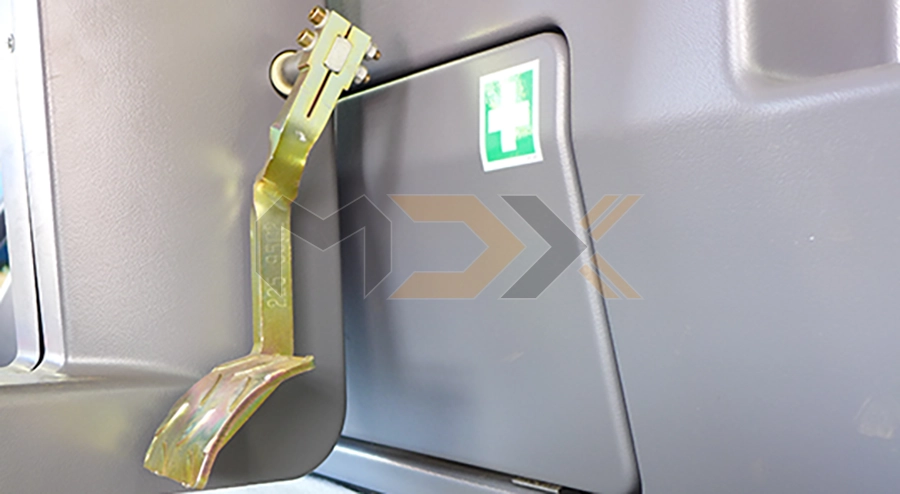 - Reversing alert (option): Acoustic reversing alert. When the machine is reversing, an acoustic signal alerts anyone who may be within the danger zone around the machine.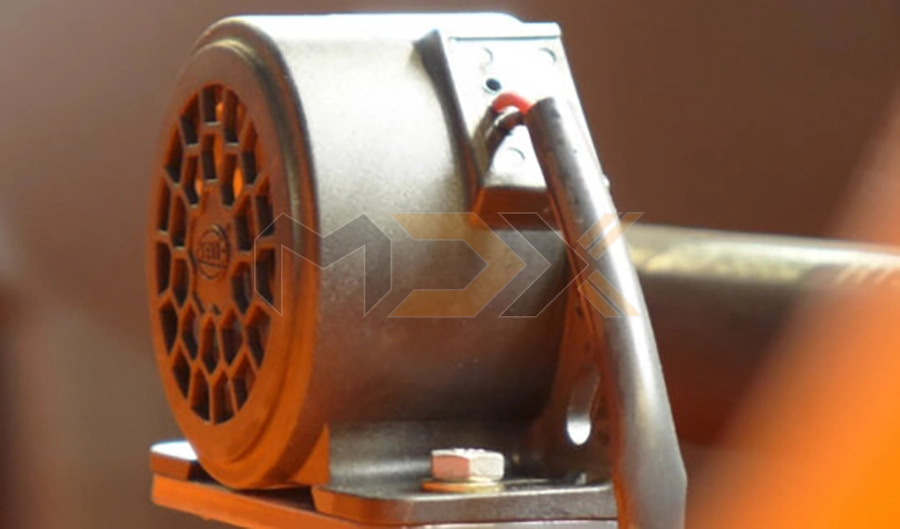 - Rear camera system (option): This monitors the surrounding area where work is being carried out. The system comprises one or two cameras mounted on top of the cabin and one or two monitors inside.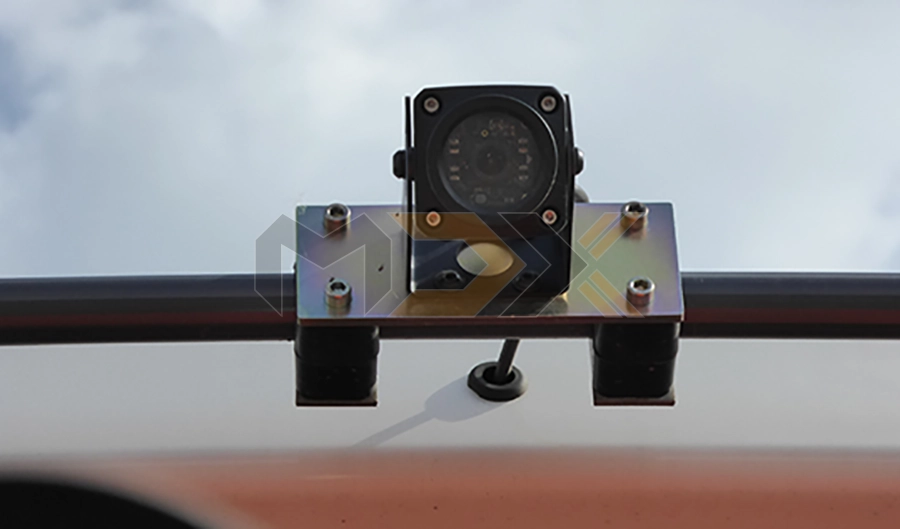 - Electronic battery isolating switch (option): Electronic switch which isolates the battery from the on-board power supply.
- Seat belt buckle monitoring device (optional): Electronic control system in the buckle of the safety belt. An audible and visual signal (on the display) tells the driver when the belt is not buckled or fastened.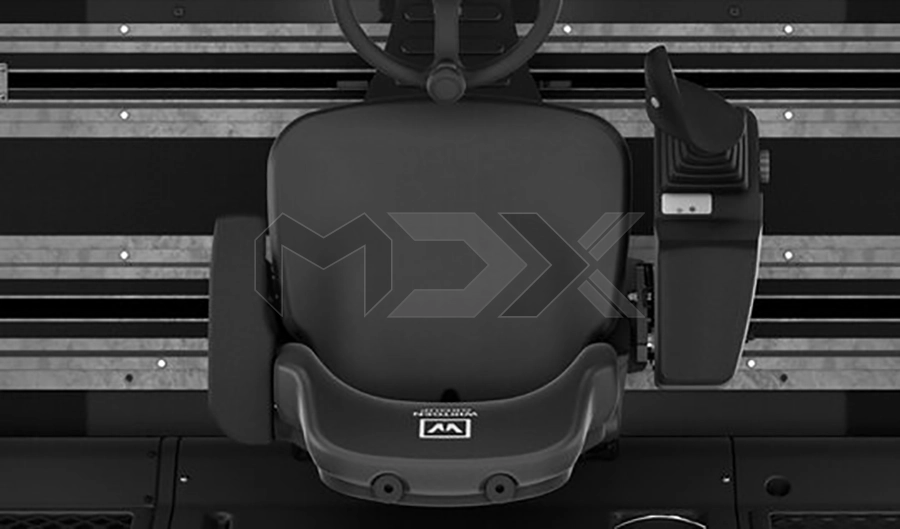 - Handrails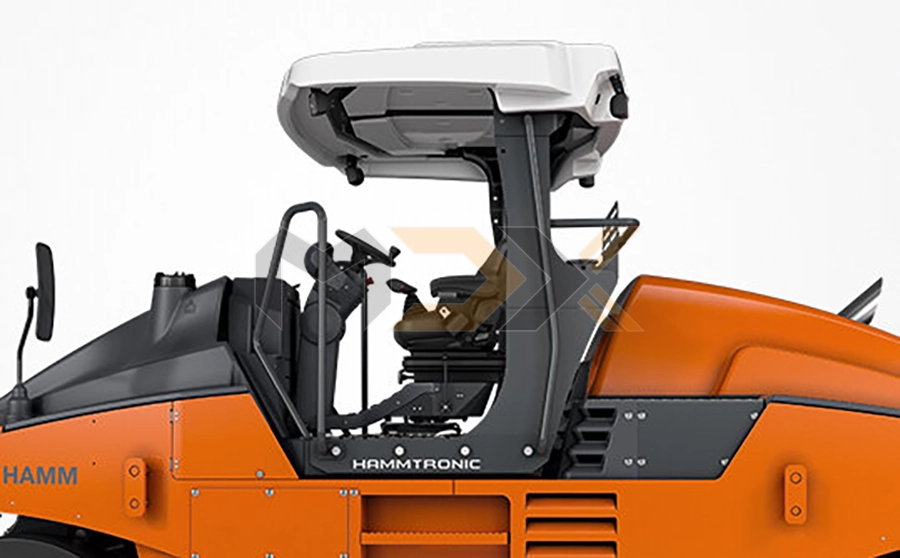 Sturdy handrails on both sides provide easy access.
- Compact construction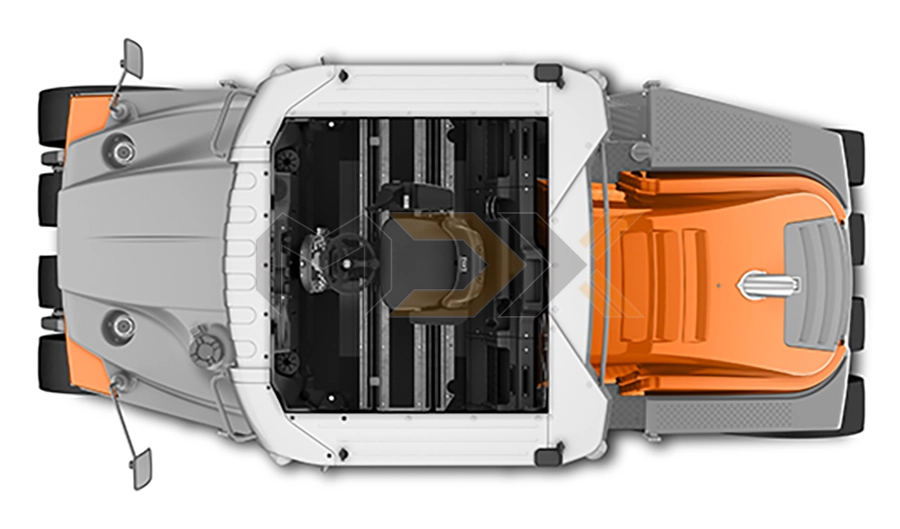 The outstanding all-round visibility means people and objects are detected early enough to take evasive action.
HIGHLIGHT 9 - SERVICE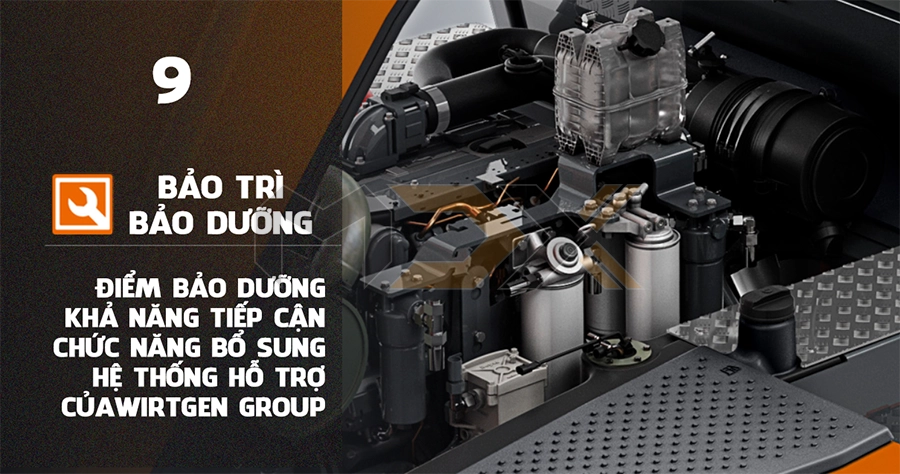 GENERAL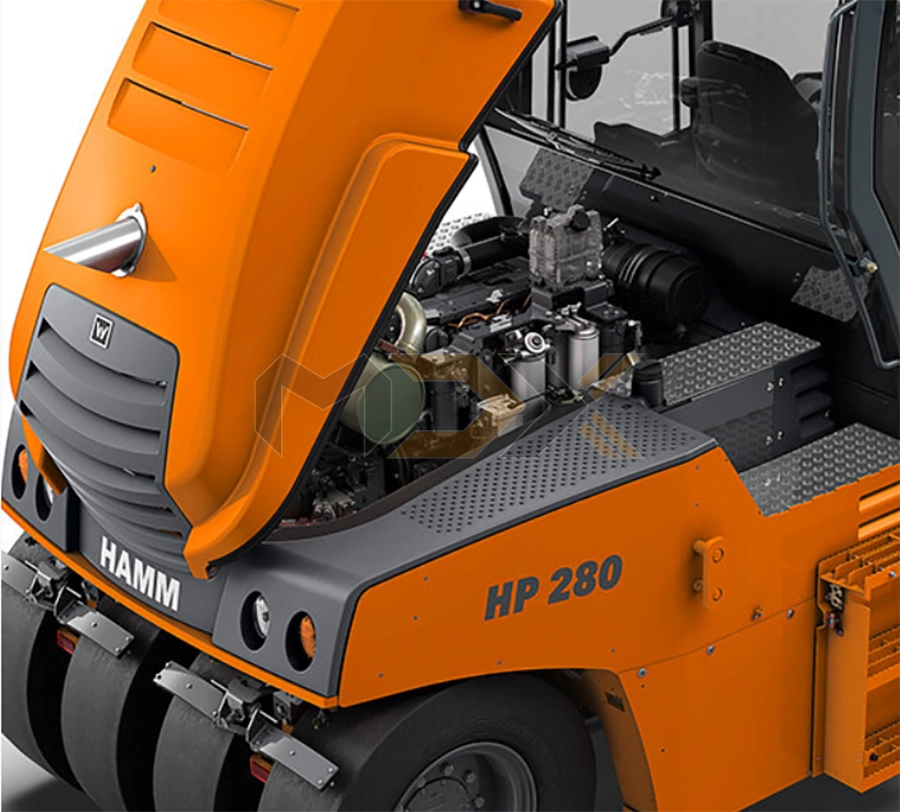 Servicing the machine is quick and easy. All service points are easily accessible on both sides of the engine compartment.
- Service points easily accessible
Engine compartment from above: 1. Air filter, 2. Engine oil filler neck, 3. Oil dipstick, 4. Hydraulic fluid filler neck
Engine compartment from right: 1. Hydraulic oil filter, 2. SEPAR additional fuel pre-filter, 3. Fuel pre-filter (including water separator), 4. Dual fuel filter, 5. Hydraulic oil filter, 6. Coolant tank
- Daily service points on one side
- At night, too, thanks to the direction the bonnet opens (working lights)
- Smart Service contract (option)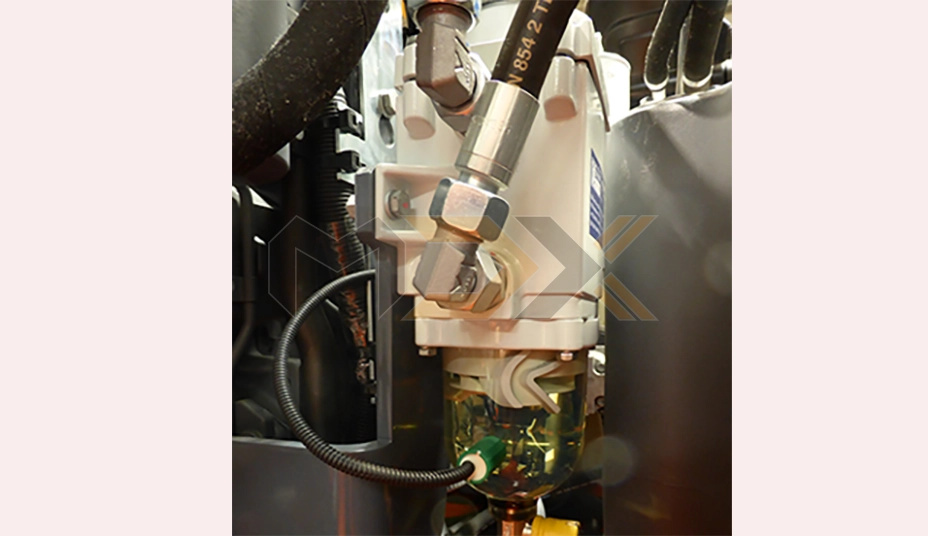 An additional fuel pre-filter (including water separator) is available as an option.
ACCESSIBILITY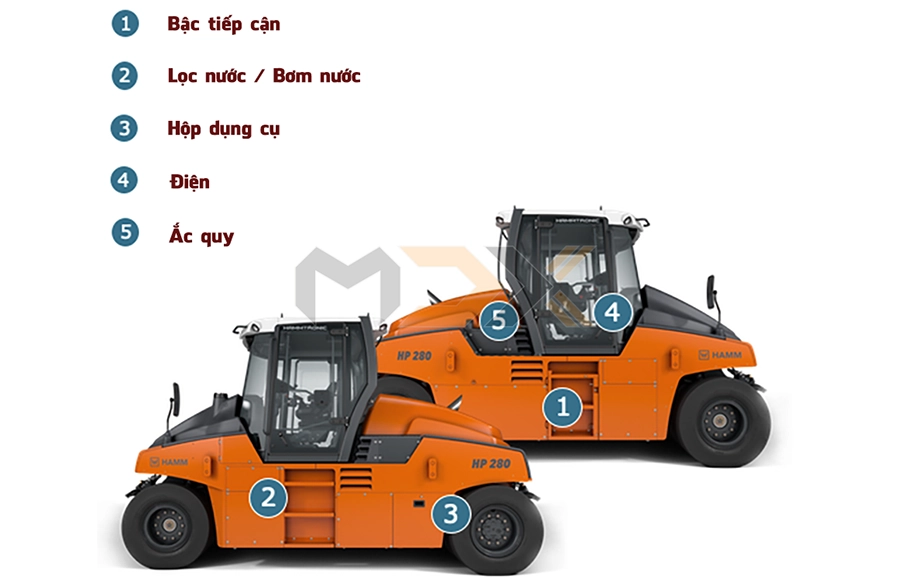 In addition to the easily accessible service points on the engine, there are other features which enhance accessibility for servicing. They include a step up to the water tank (option) and an additional guard rail.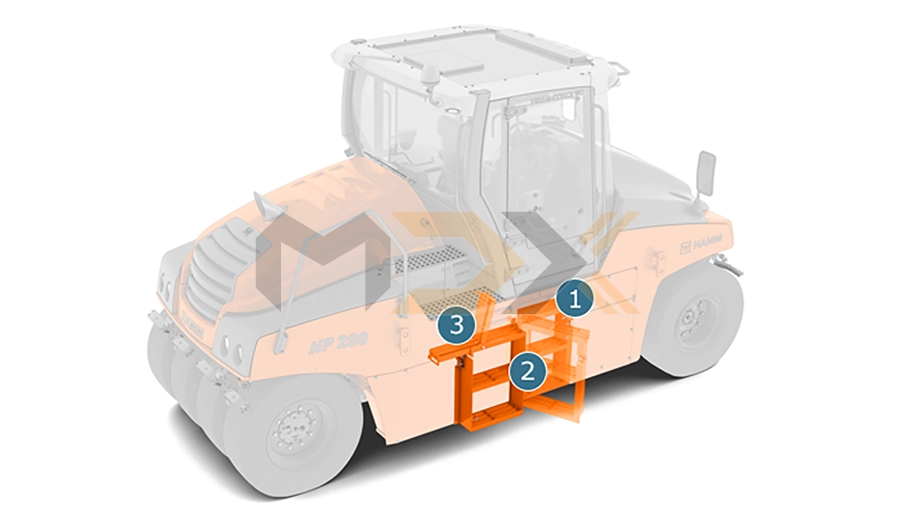 Service access (foldable)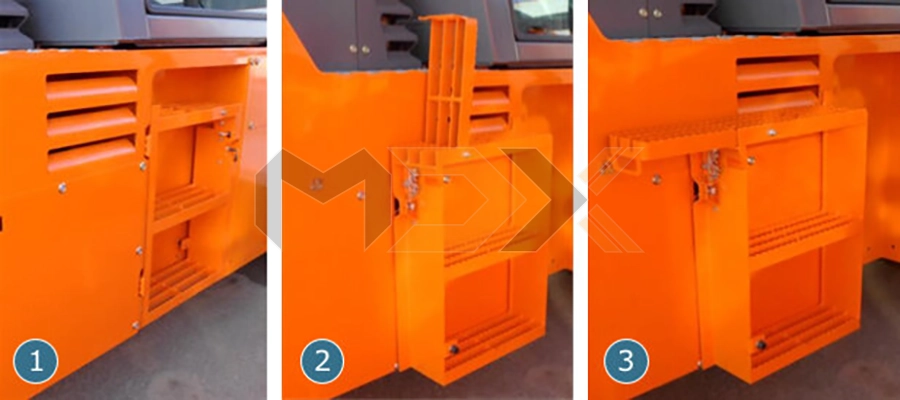 1. Folded in, 2. Folded out - step folded in, 3. Folded out - step folded out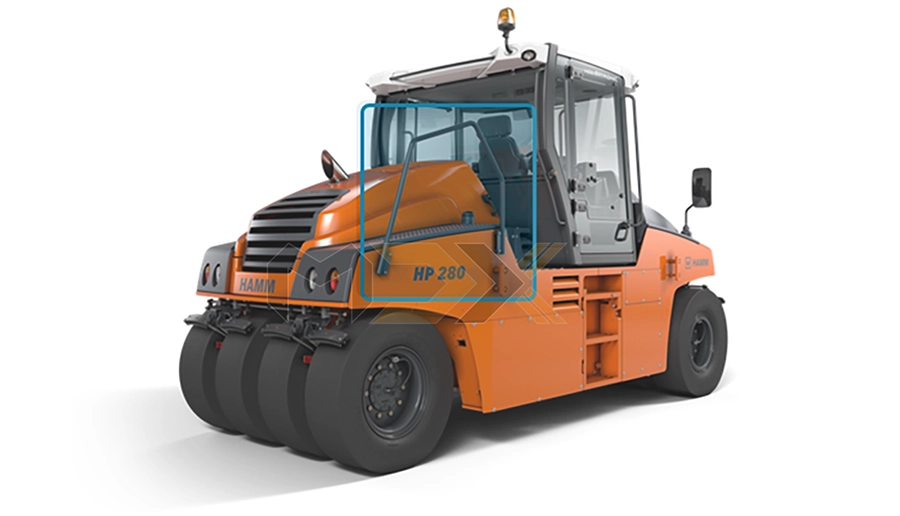 Service guard rail (mandatory for CE, additionally available as option). Additional handrail for easy and safe access to the service point.
WATER FILTER / WATER PUMP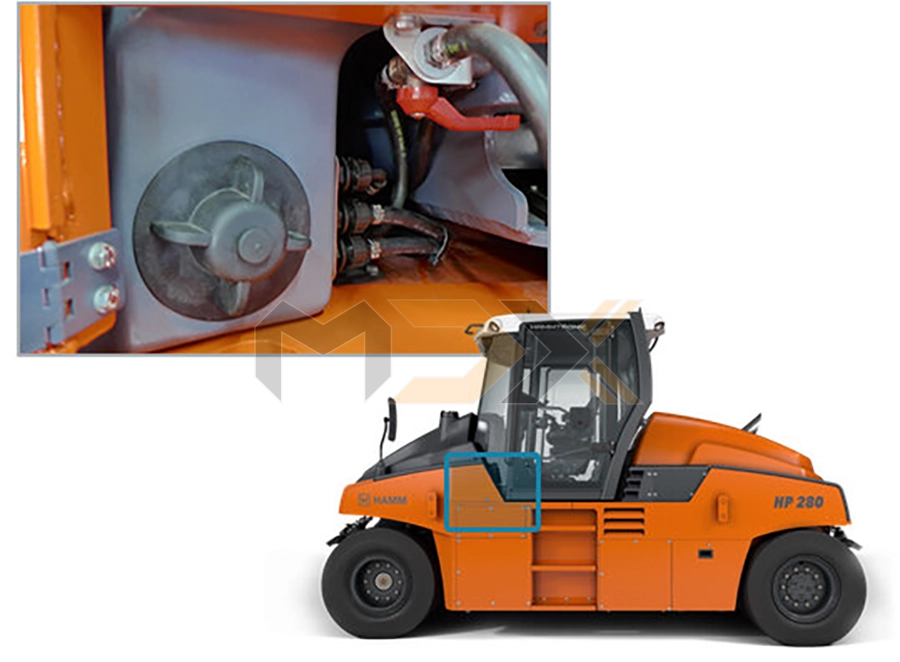 Behind the water filter (picture at top) is the water pump. Only one water pump is fitted.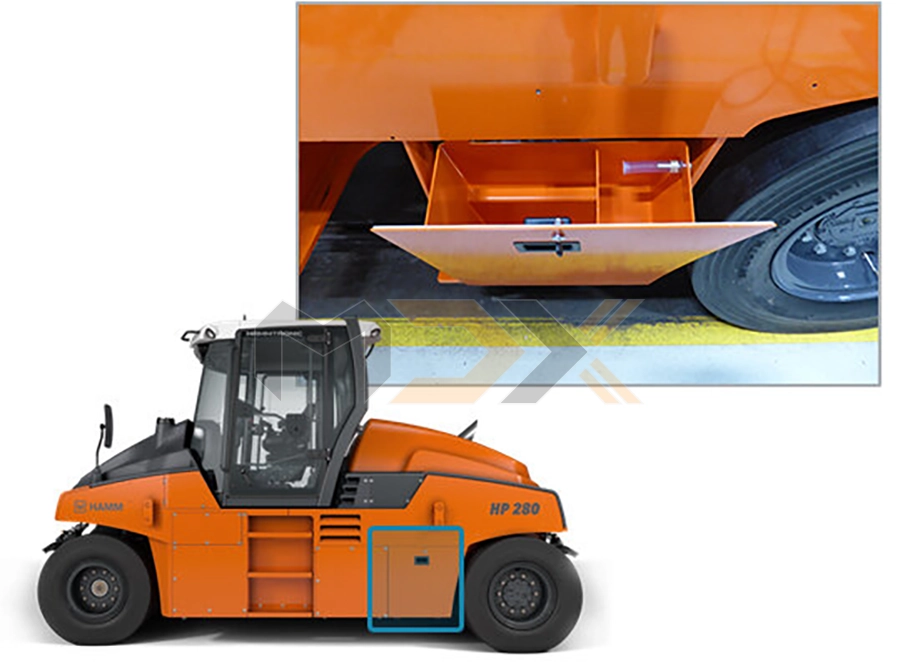 Toolbox including hose for draining engine oil (also used to open oil drain)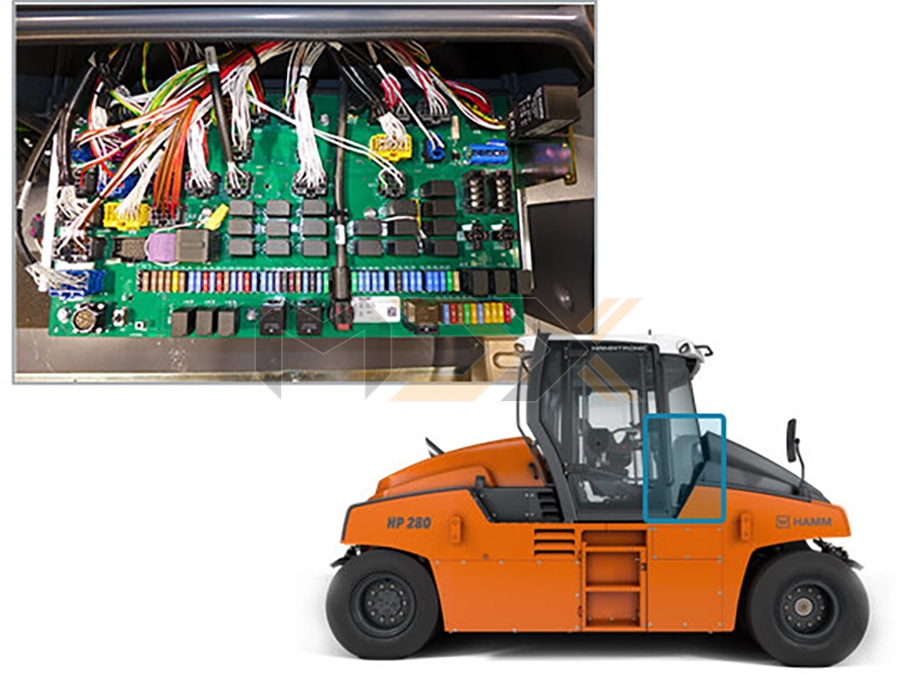 Central electrics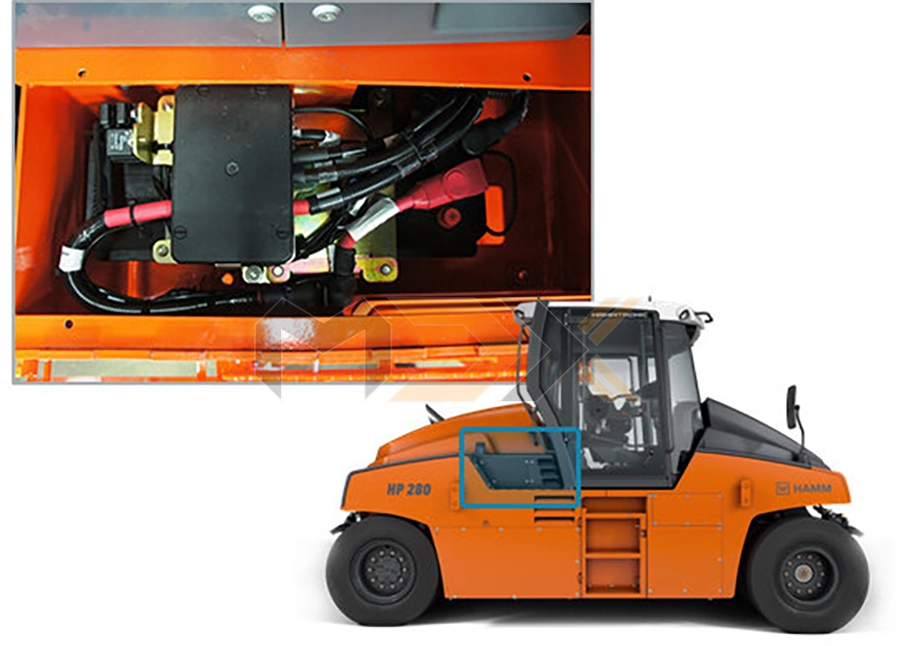 Battery - Access flap on right side of machine (in direction of travel)

ADDITIONAL FEATURES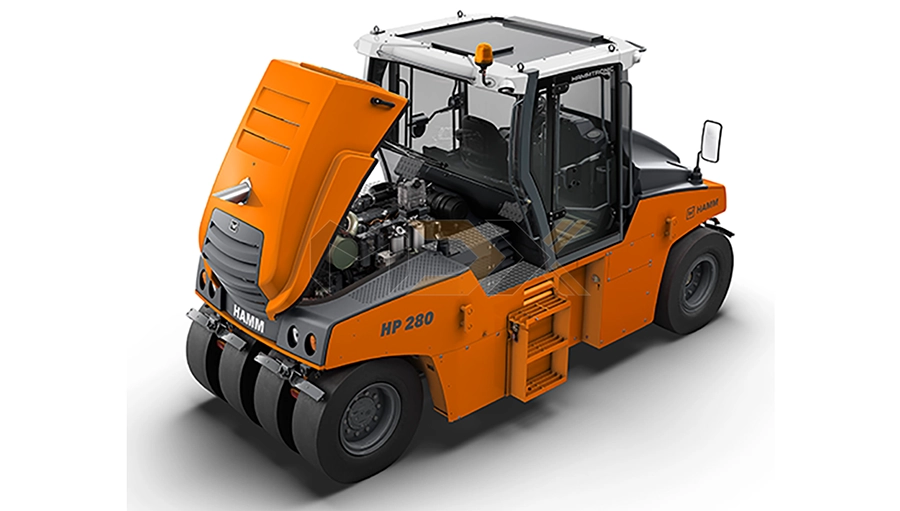 There is a working light pointing in the opening direction of the bonnet to light the engine compartment. And there are other useful features.
- 12V socket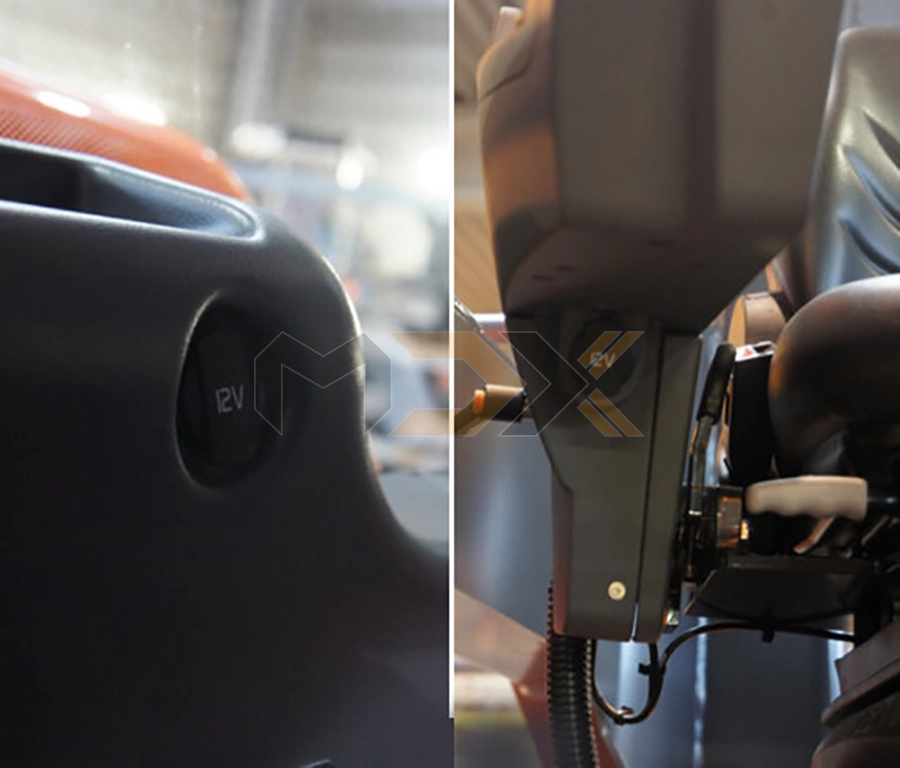 12V power sockets behind the seat (picture left) and under the armrest (picture right)
- Engine oil drain valve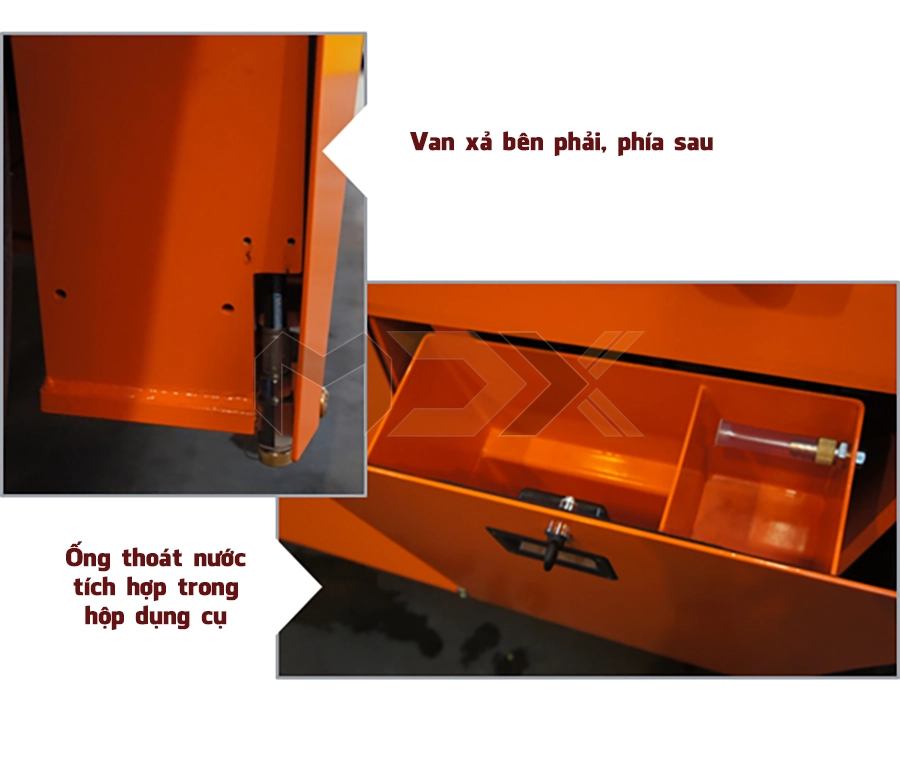 - Diesel tank lockable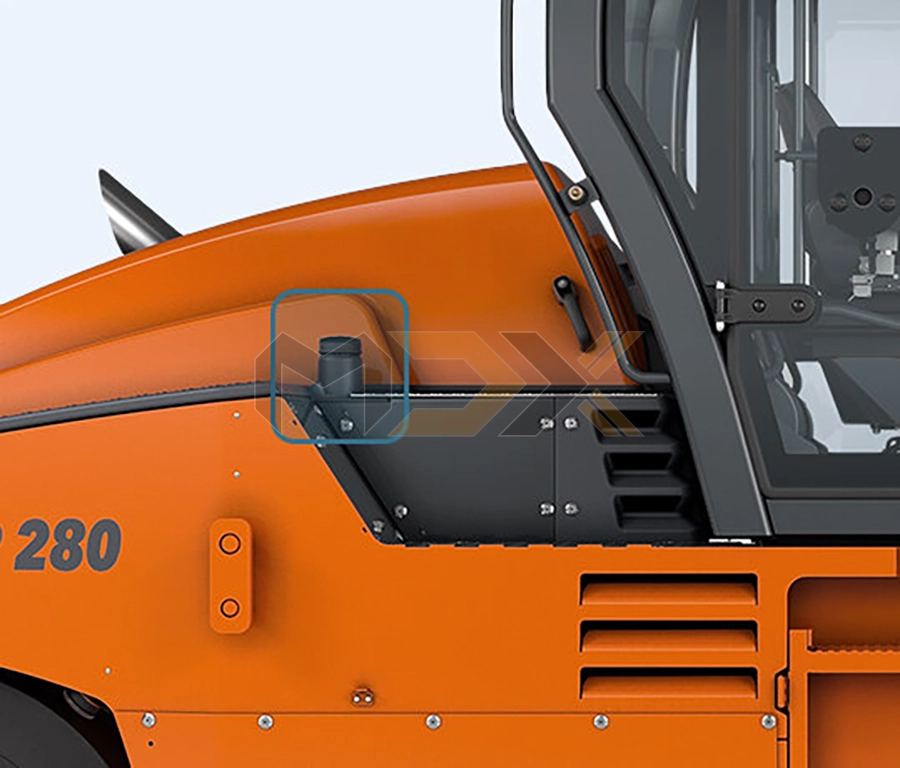 WIRTGEN GROUP SYSTEMS
- WITOS (option) ("Wirtgen Road Technologies Telematics and on-site Solutions"): Intelligent telematics system for efficient fleet and service management worldwide
- WIDOS (Wirtgen Group Documentation system): Includes the complete parts catalogue; all instructions; hydraulic, electrical and hosing diagrams; machine data and documentation; safety notices; images of components; and service documentation
- WIFMS telematics interface: Standard interface for data transfer between machine and various fleet management systems
- WIDIAG (Wirtgen Group Service diagnostic tool): Socket integrated into multifunction armrest
Miniature measuring points
MDX - TOP CONSTRUCTION MACHINE INFORMATION WEBSITE IN VIETNAM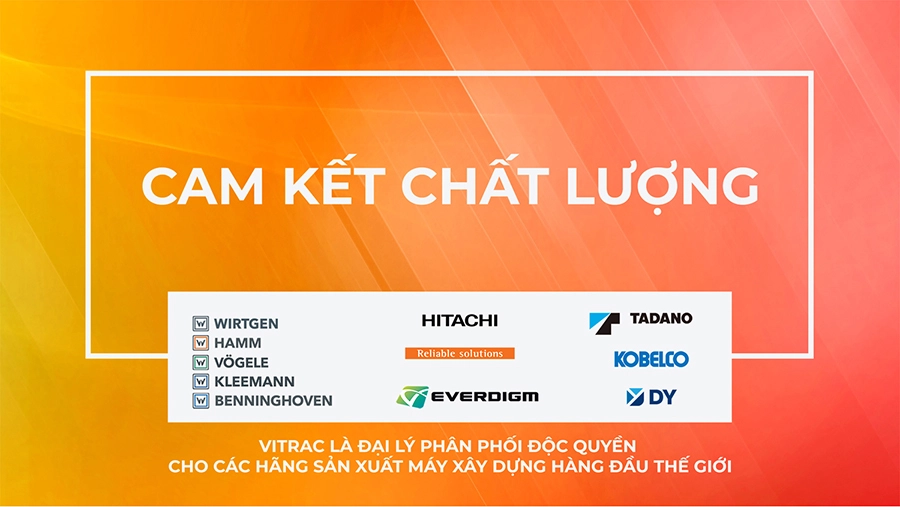 We are proud to be a direct distributor of construction machines from famous brands in the world such as Hamm Compactor, Hitachi Excavators, Hyundai Everdigm Concrete Pumps, Vogele Asphalt Pavers, Cranes, Wirtgen Slipform Pavers,...
If you want to buy or get a free consultation, please call Hotline 0906702060 (Mr Tuyen). In addition, you can also come to watch directly at the representative offices of VITRAC:
---
---
News Related
Tags: series HP
---