PRODUCT COMPARISON VOGELE MT 3000-2 OFFSET VS ROADTEC SB-2500E
23/12/2020
The following article introduces you to the competitive advantages of the Vogele MT 3000-2 Offset material feeder with the Roadtec SB-2500e. These are competitors of the Vogele MT 3000-2 Offset material feeder. The comparisons show Vogele's strengths compared to Roadtec. They also give you their advantages when talking to customers. We hope you enjoyed this article!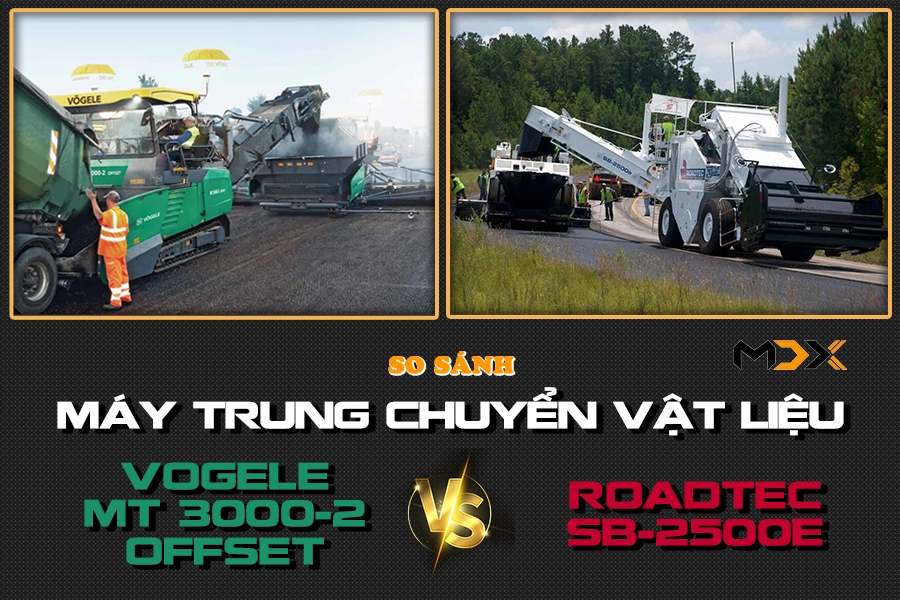 You can see in detail the outstanding advantages of the MT 3000-2 Offset:
HERE
. Or refer to product specifications at:
HERE
DIMENSIONS AND WEIGHT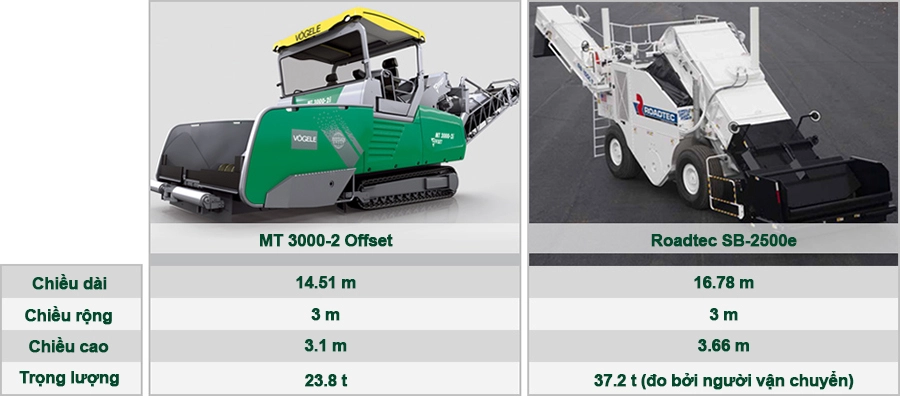 MT 3000-2 Offset
Roadtec SB-2500e
ENGINE
Engine
Deutz engine, 6 cylinders, water cooled.
ACERT . Industrial Engine
Version
TCD 6.1 L6
Caterpillar® C9.3
Engine Power
160 kW at 2 000 rpm (ECO: 150 kW at 1 800 rpm)
224 kW at 1 900 rpm
Fuel tank capacity
450 liter
568 liter
Emission standards
EU 3b, US EPA Tier 4i
EU 3b, US EPA Tier 4i
Travel speed
up to 4.5 km / h, infinitely variable
up to 14.5 km / h
Working speed
up to 25 m / min infinitely variable
up to 80 m / min
UNDERCARRIAGE
Tracked
Wheeled
Ground contact
3 060 x 305 mm
4 x 21.00-25
Traction drive
separate hydraulic drive and electronic control provided for each crawler track
hydrostatic, infinite speed control
Steering
by alteration of track running speeds
Driving the front wheel
Ground contact
multiple-disk brake locked on automatically without oil pressure
hydrodynamics, disc and handbrake
RECEIVING HOPPER
Holding capacity
16 t (18 tons – US)
22.7 t (25 tons – US)
Width
3 680 mm
2 790 mm
Feed height
600 mm (from the bottom of the supply hopper)
39.9 t (43 tons – US)
Push-rollers
Oscillation
Oscillation
Holding capacity (Extra material hopper)
20 – 24 t
Total capacity of the whole system (feeder and paver)
up to 40 t
39.9 t (43 tons – US)
AUGER
Quantity
2 horizontal auger in the receiving hopper (optional homogenous cone hoppers)
1 auger in the receiving hopper
Auger drive
hydraulic
n/a
Auger speed
infinitely variable
n/a
Diameter
400 mm
737 mm

CONVEYOR

CONVENIENTS WITH RUBBER BELT
CONVENIOR WITH FEED BAR
Quantity
2 continuous rubber conveyor belt with hydraulic actuator
3
Ability to rotate
can rotate ±55° hydraulically
can rotate ±55° hydraulically
Discharge height
3 900 mm (max)
3 800 mm (max.)
Conveyor Width
1 100 mm
Conveyor heating
Diesel heating (infrared heating plate)
3 800 mm (max.)
MT 3000-2 Offset
Roadtec SB-2500e
THERMAL SYNC

The use of conical torsion blades resists mechanical and thermal separation.

Heated trough conveyors with rubber belts ensure stable, non-separable conveying of materials.

The average temperature measured in the material feeder is 3.3 °C

The optimal shape of the filler hopper in the spreader (60° curved wall) prevents additional segregation.

Thermal imaging clearly shows positive homogenizing effects. Uniform temperature distribution in the material when spreading provides better and uniform compaction later.

The air distribution system is working efficiently.

The use of a feed rod promotes mechanical separation to the point of grain breakage.

The lack of a compactor heating system and the direct contact between the hot material and the steel frame cause significant temperature separation in the paver surface, especially at the beginning of the spread.

The temperature drops in the spreader when starting to work from 18 - 50 °C. The average temperature measured in the material feeder is 5 °C.

"Heating" is only possible with hot materials (materials/crushed stones) and at great cost

ENGINE TECHNOLOGY

The ECO mode reduces engine wear and fuel consumption, allowing for economical operation.

Lower engine speeds result in quieter operation and reduced noise emissions, benefiting both the crew and the surrounding environment.

Measured fuel consumption: 10 liters / h at 300 t / h.

The low position of the power supply unit combined with the crawler units ensures high stability during movement and the machine is stationary.

The power supply unit is in a maintenance-friendly location.

There is no ECO mode.

Higher engine speed produces higher noise and increased fuel consumption.

Measured fuel consumption: 41 liters / h.

The mounting position of the power supply unit is too high in combination with the undercarriage wheels causing stability problems during movement and when the machine is stationary.

Difficult and unsafe maintenance conditions for the engine and hydraulic components.

CONTROL ABILITY

Chain handling runs smoothly and stably even when the offset conveyor is rotated to one side.

Low ground pressure.

Ease of working on limited construction sites: almost starting the machine on the spot.

Easy to locate and manage on site.

Wheeled undercarriage causes high point loads, causing problems with emulsion injection (removal of emulsions)

Tire pressure changes make handling unstable. It must therefore be checked daily and set exactly the same for all four wheels.

Combined with the high center of gravity, the allowable tilt is greatly limited (5 - 8°, depending on the load and the position of the conveyor).

Very large turning radius due to the wheelbase with only one steering axle

Requires at least two people to operate

OPERATOR'S PLATFORM

Comfortable working space.

Individually adjustable driver's seat with ample leg room

The driver's seat is optimally designed, heat-resistant as an option.

The control panel can be adjusted horizontally and vertically.

The rotating conveyor is sensitively controlled via the joystick on the armrest of the operator's seat.

One to two operators, depending on work conditions.

The driver's seat cannot be moved (inserted).

The control panel can only be moved to the side

There is no height adjustment for the seat and the control panel restricts legroom, making the seating uncomfortable.

Rotating conveyors are operated by a joystick on the control panel - difficult working position.

At least 2 operators are required.

OPERATION PLATFORM
The design of the operating space is spacious and clear. Access to key service points is extremely driver-friendly and convenient
The operating space is narrow, there is no storage space. There is no storage space and service points due to the unfavorable design of the control panel.
VIEW
All-round visibility thanks to the driver's seat that can be moved beyond the edge of the material feeder. Great view of the entire work area.
Extremely uncomfortable sitting position. Overall visibility is severely limited. At least two people are required for safe operation on site.
CONTROL PANEL

Intuitive, user-friendly design with logically grouped functions.

The function buttons can also be operated while wearing work gloves.

The operator panel has a modular design, so that it can be replaced individually in the event of damage.

Intuitive, language-neutral ErgoPlus operating system for all Vogele machines, cutting training costs

Backlight automatically when it starts to get dark.

For some operator panels, not all functions can be operated from above or from the operator's seat.

The individual controls are not clearly arranged.

The streamlined, yet all-mechanical switches can be accidentally flipped.

Lack of notation (specified functions in a language) makes visual operation more difficult.

DISPLAY
Large, easy-to-read display panel shows important information on level 1 menus. For example current operating speed and mixing level in the feed hopper of the spreader. Feeder capacity and distance to the spreader can be set directly on the screen. The operator can access important additional information such as fuel consumption or working hours through the display.
There is no display. No backlight.
MATERIAL RECEIVED
The large load width of 3.68 m provides easy access to the truck. Large capacity auxiliary hopper for pavers with a capacity of up to 24 tons
Limited load width of 3m requires extra operator for multiple feed trucks. The receiving hopper is protected by sliders (roller option) against damage from contact with the base. These slides (rollers) frequently create scratches or destroy non-mounting base slides.
AUGER
Horizontal auger. Optional conical auger.
Short auger with connector in the middle. The auger is likely to jam if the receiving hopper is full.
TRANSFER MATERIAL

The material transfer process is optimized.

Three transfer points: having fewer transfer points helps to prevent separation.

Stable material conveying thanks to conveyor belts with rubber troughs.

The material is less prone to cooling due to the heat-insulating rubber belt.

Five transfer points in the machine.

Having more turning points means more separations.

Continuous transfer of materials using conventional feeder rods.

The material is in direct contact with the steel frame.

PROTECTION AGAINST SUPPLY
Mechanical impact protection stops the pavers if there is a risk of a collision.
No impact protection available.
CONTROL DISTANCE
Non-contact optical sensors can be installed. Three independent laser sensors continuously measure the distance between the material feeder cooler and the paver. It accurately calculates the average parameter.
No mechanical and optical distance control
TRANSFER PERFORMANCE
Feeder efficiency reaches 1,200 tons/h. Total capacity to hold up to 40 tons of material (combined with a 20-ton auxiliary hopper in the spreader). The high-performance material feeder design allows the feed truck to be emptied in just 60 seconds. Precise transfer of a variety of materials other than asphalt, e.g. topsoil, recycled materials.
The feeder efficiency reaches 544 tons/h (conveyor C3 of the mixer in the spreader). Total capacity is about 32.2 tons (22.7 tons in the feeder plus 9.5 tons in the additional hopper). Mixing transfer from the feed truck is limited by the maximum feeder capacity of the C1 conveyor (907 tons/h). Shuttle Buggy can only transfer bituminous binder materials.
TRAVEL

Travel width: 3 m

Machine height: 3.09 m

Machine length: 14 m

Travel weight: 24 t

Transport cost from Ludwigshafen to Seesen, Germany (about 500 km): €1,200

Travel width: 3 m

Machine height: 3,66 m

Machine length: 16 m

Travel weight: 37.2 t

Transporting by truck is expensive and time consuming: special low-elongation trailers with special permits for the transport of 60 tons.

Transport cost from Ludwigshafen to Seesen, Germany (about 500km): €1,940

5 KEY DISADVANTAGES OF ROADTEC SB-2500E

1. Conveyor belt cannot be heated.

2. Capable of tilting on inclined and unpaved surfaces.

3. High fuel consumption.

4. No distance control.

5. High cost of transshipment.
---
---
News Related
Tags: Vogele MT 3000-2 Offset, Roadtec SB-2500e
---