6 HIGHLIGHTS OF SOIL COMPACTOR 311D
10/10/2020
The 6 highlights of the series 311: drive, compaction, egornomics, 3-point articulation, service, selling strengths.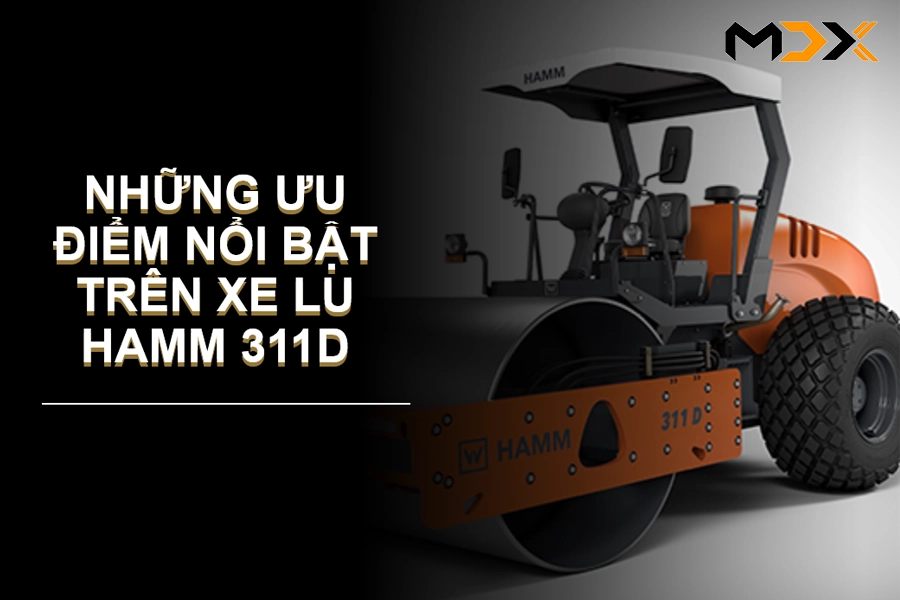 MODEL OVERVIEW
The series 311 is offered in three different models.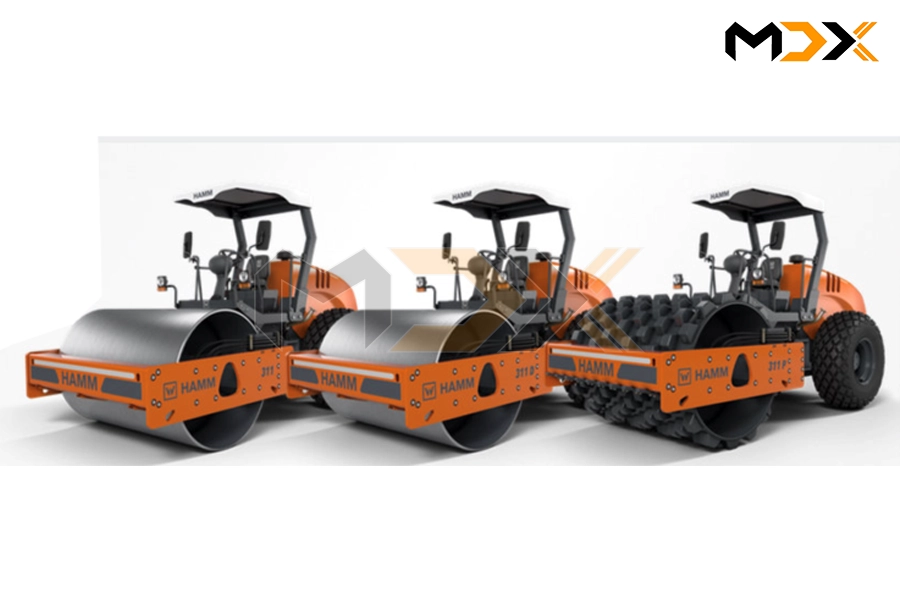 MODEL AND SPECS
Model
311
311D
311P
Power rate
73 kW
73 kW
73 kW
Drum weight
2 140 mm
2 140 mm
2 140 mm
Operation weight
11 t
11 t
13 t
D = smooth drum | P = padfoot drum
See more about Hamm series 311 at: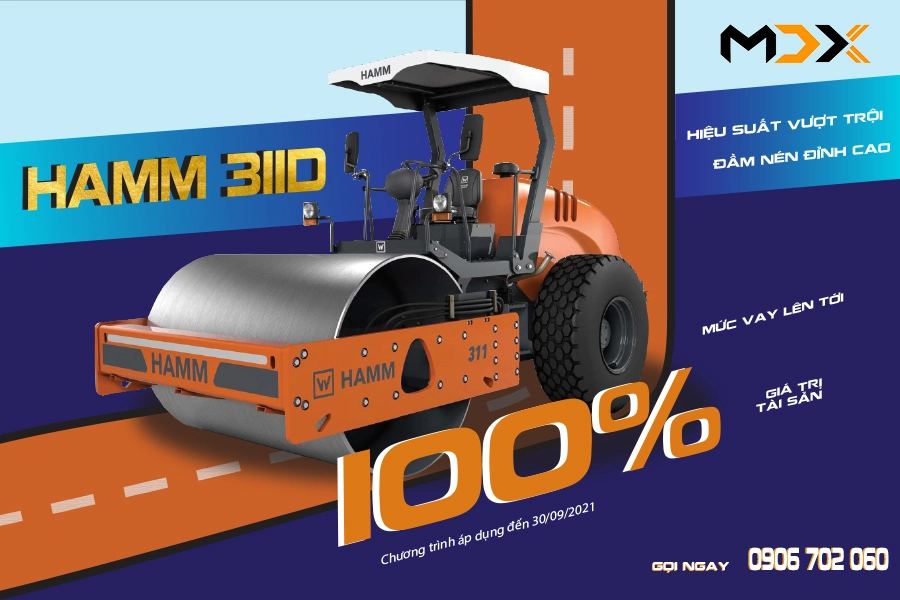 - Hamm 311D: HERE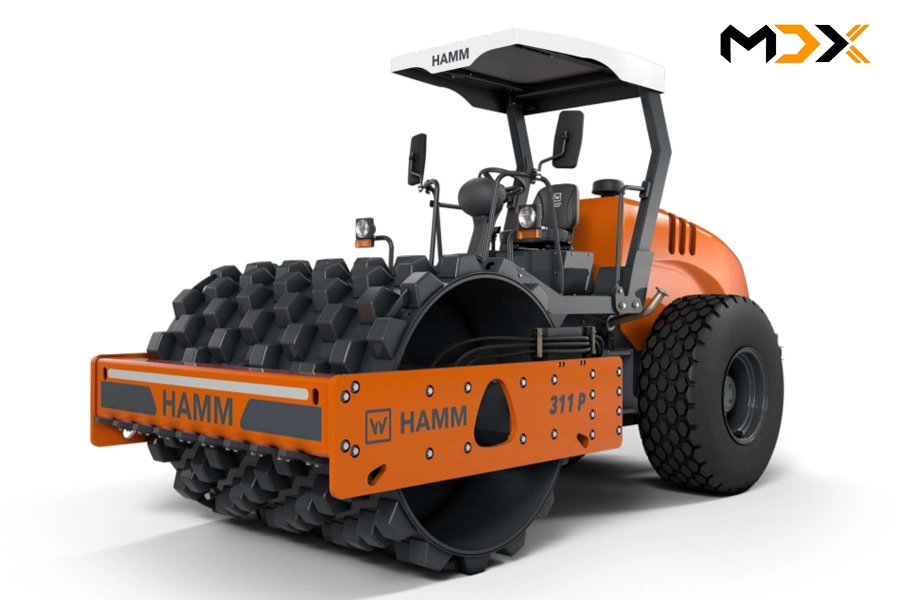 - Hamm 311P: HERE
THE 6 HIGHLIGHTS OF THE SERIES 311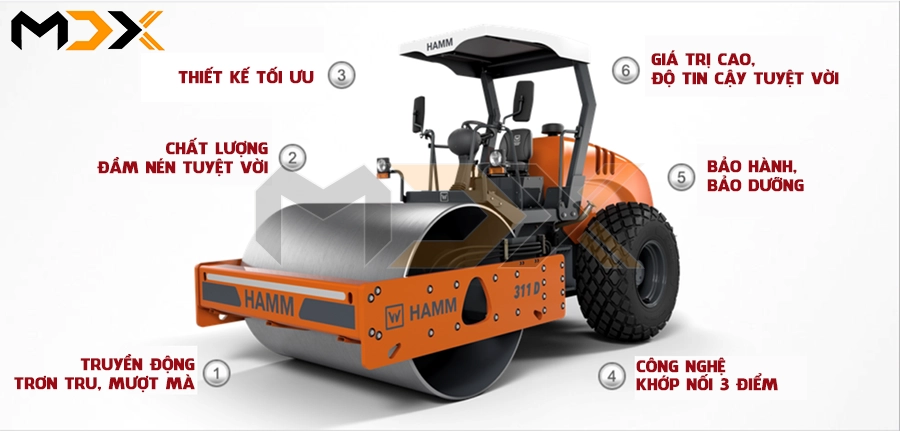 DRIVE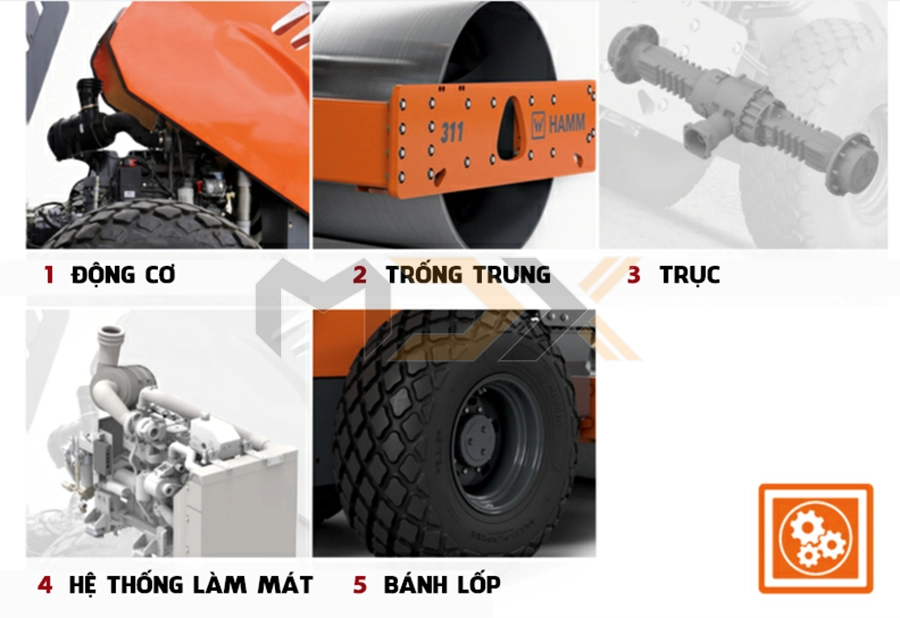 Include:
1. Drive unit: Engine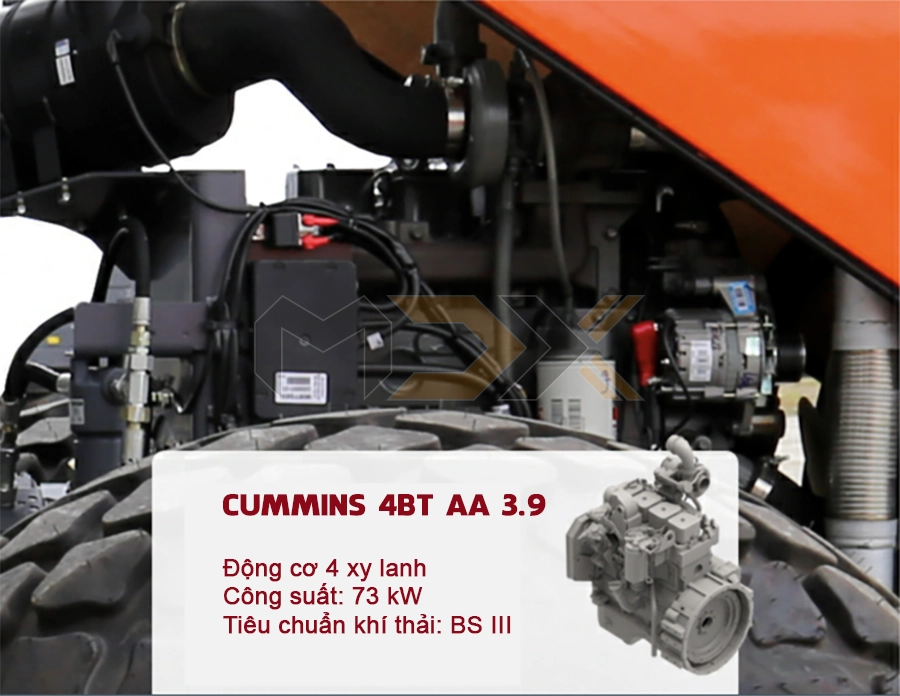 The soil compactors 311 are driven with a Cummins engine. Advantages:
- Strong power output
- High reliability
- Low fuel consumption
- Conform emission regulation
- Large fuel tank capacity
- Perfect service network of Cummins in India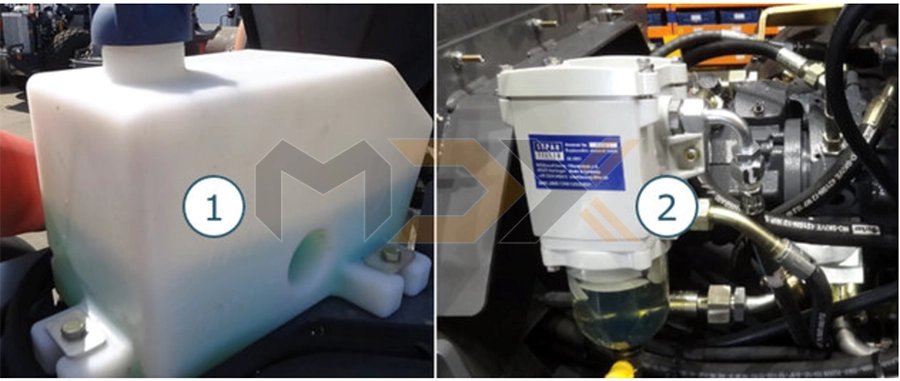 Engine Features: The machines are equipped with an engine temperature warning alarm as standard.
Other features are:
- Indicator coolant agent (standad) - can be visually checked
- Additional fuel prefilter (option) - recommended for countries with very poor diesel quality (higher water proportion in the fuel).
2. Drive unit: Drum drive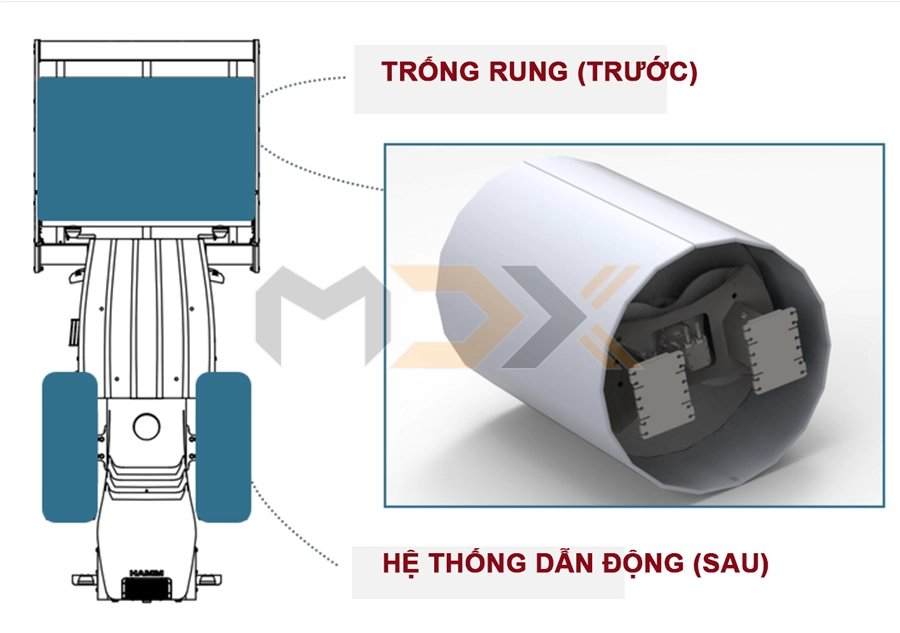 The model with smooth drum is equipped with drum drive as an option. The version with PADFOOT shells is equipped with drum drive as standard.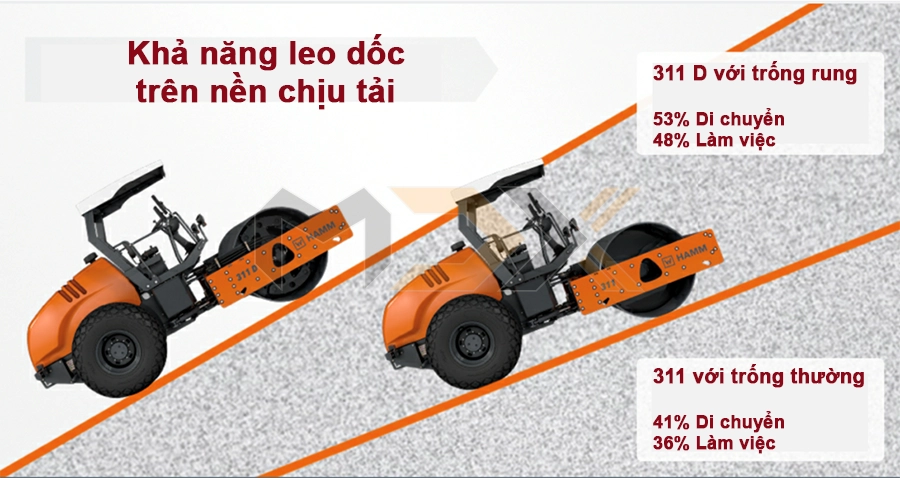 Climbing ability
3. Drive unit: Axle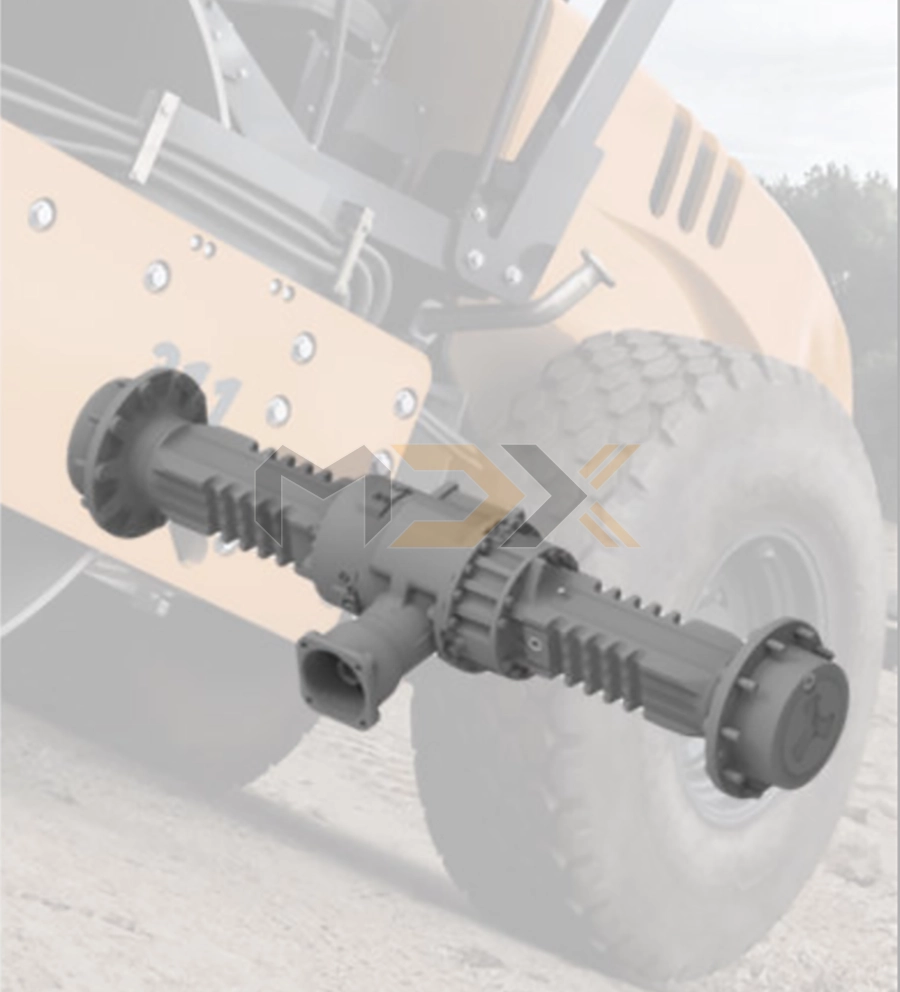 - The rear wheel pair is connected and driven via one axle.
- The axle with a limited slip differential prevents the wheels from spinning and/or improve the driving torque of the machine and therefore has advantages in certain situations.
- Starting up in difficult conditions, off-road driving: The differential guides the driving torque from one slipping wheel to the wheel with better ground contact and therefore improves the traction.
- On-centre-feel: A locked axle runs better in a straight line than an unlocked axle.
4. Drive unit: Cooling - system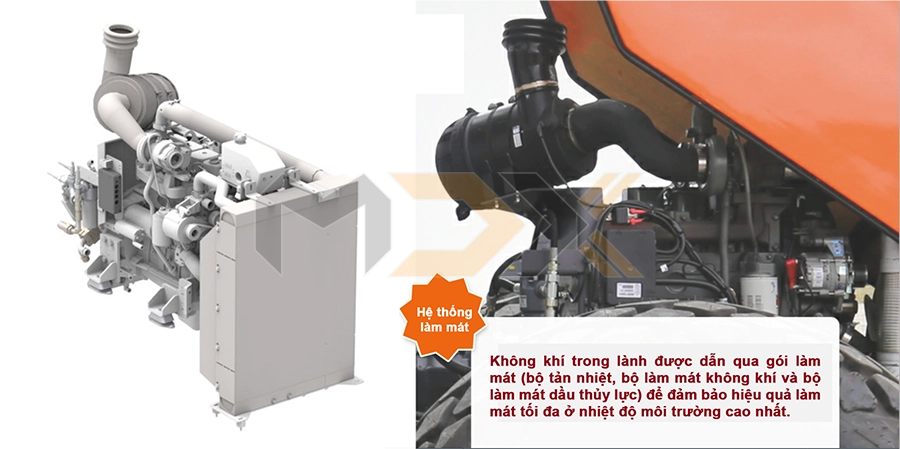 - The high-performance cooling system enables the machine to also be operated with high ambient temperatures.
- The one-part cooler is simple to clean and enables an optimal cooling performance in just two stages.
- Utilisation: Possible even under extreme climatic conditions. Temperatures from -20 °C (with cold start kit) up to +55 °C.
- The objective of this cooling system is, along with additional improvements, the achievement of higher utilisation temperatures.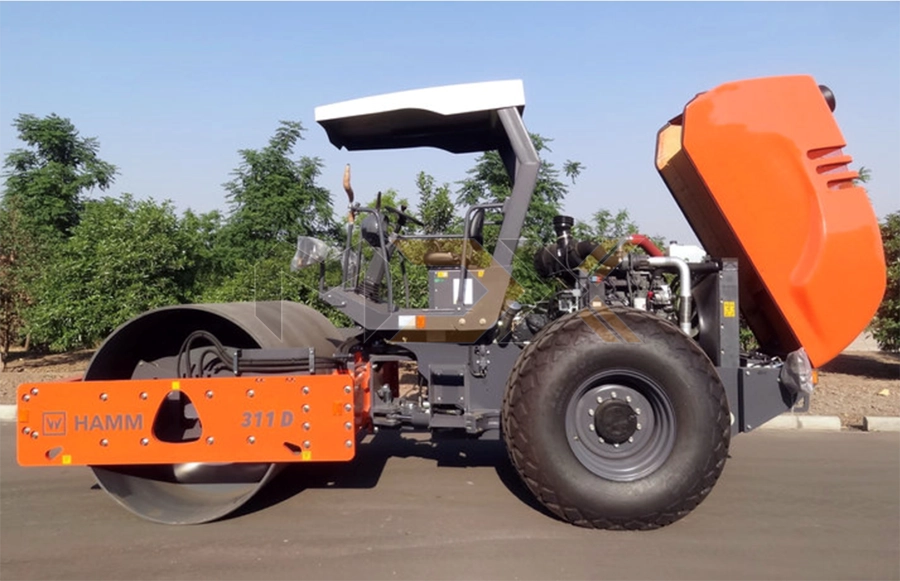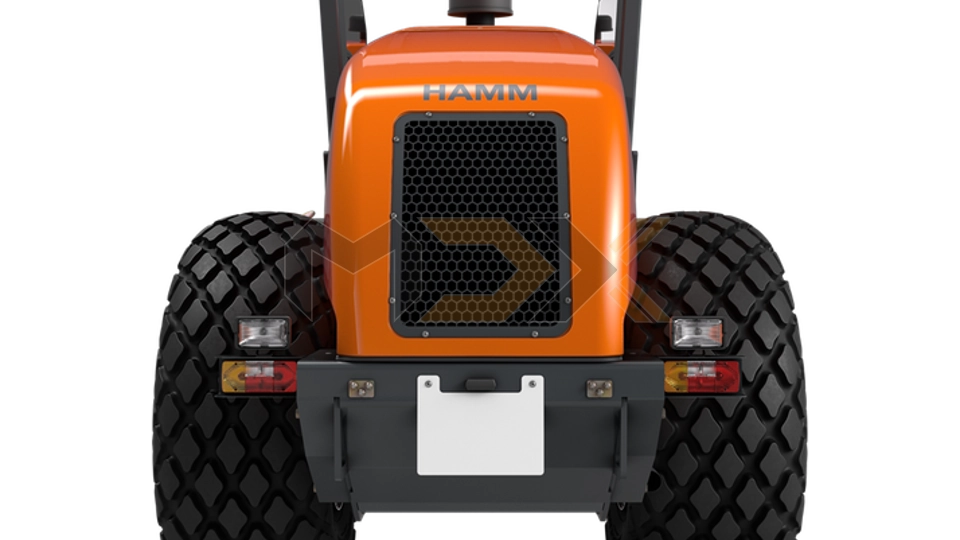 Engine hood design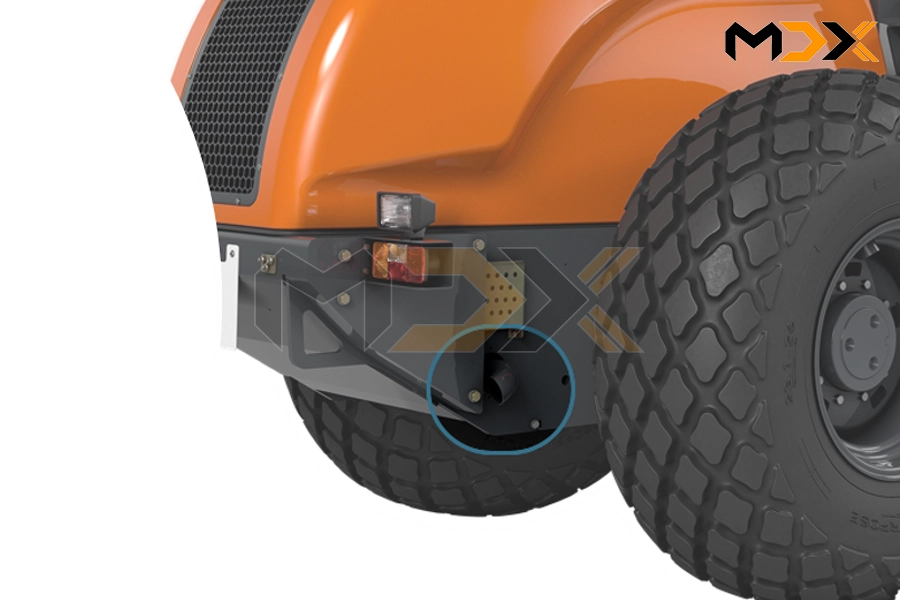 Exhaust pipe at the bottom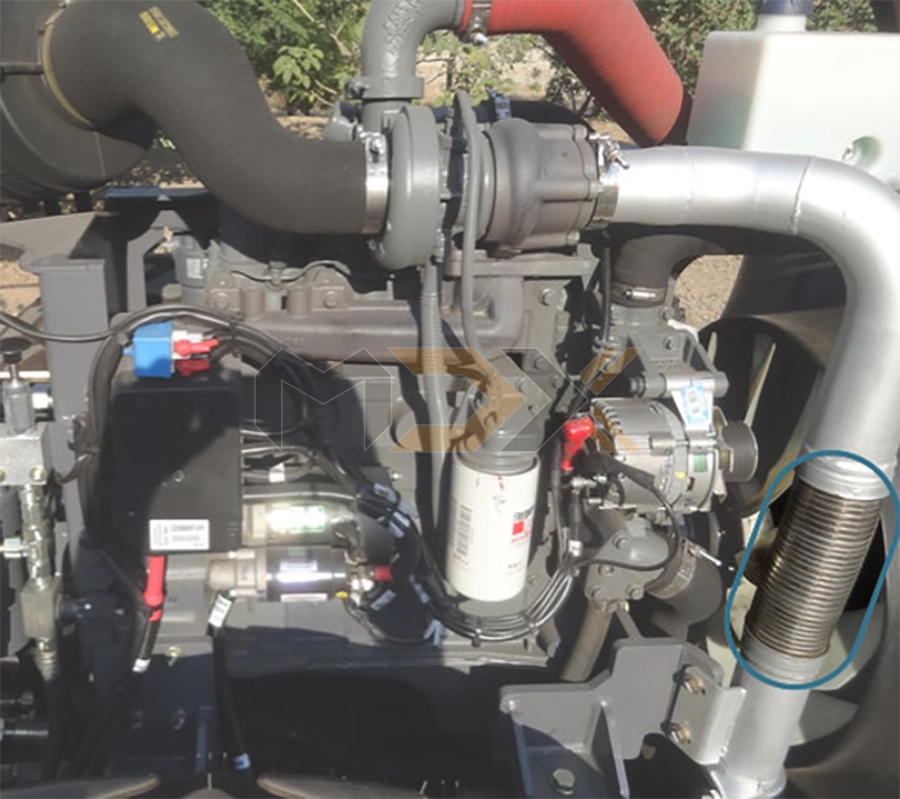 Stainless steel flexible bellows
- Stainless steel flexible bellows: Installation of a stainless steel flexible bellows improves resistance against vibrations
5. Drive unit: Tyres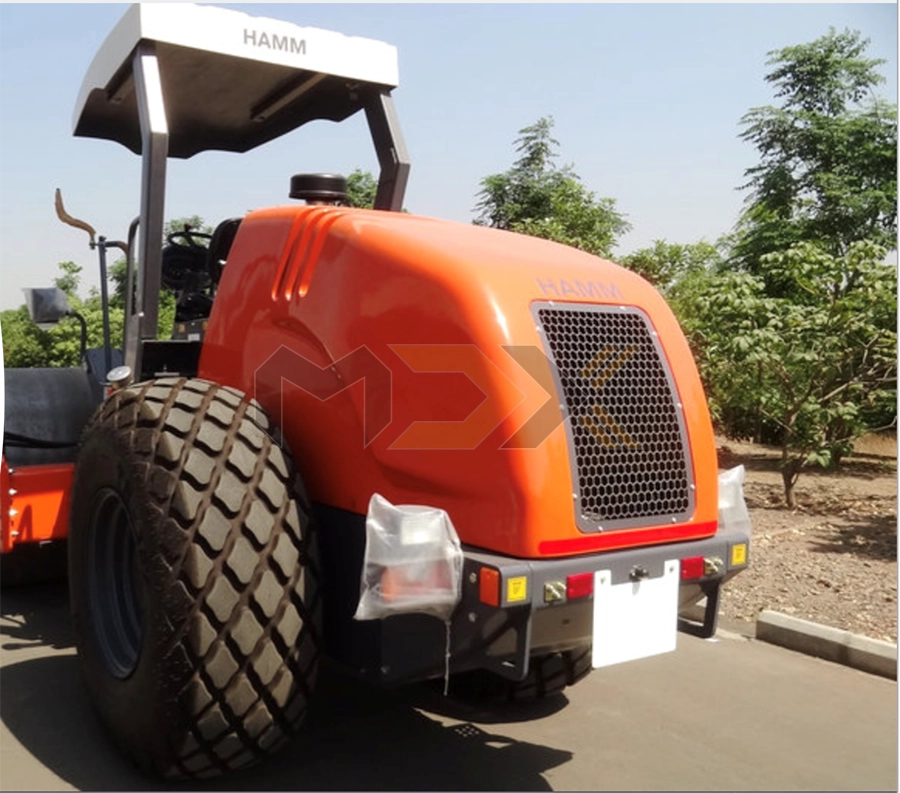 - The soil compactors 311 is equipped with an industrial tractor tyre.
- Universal tread For smooth drum and padfoot shells.
- For less damage, imprints and marks on the surface area.
- Good to know: The tyre pressure has a considerable influence on the traction.
COMPACTION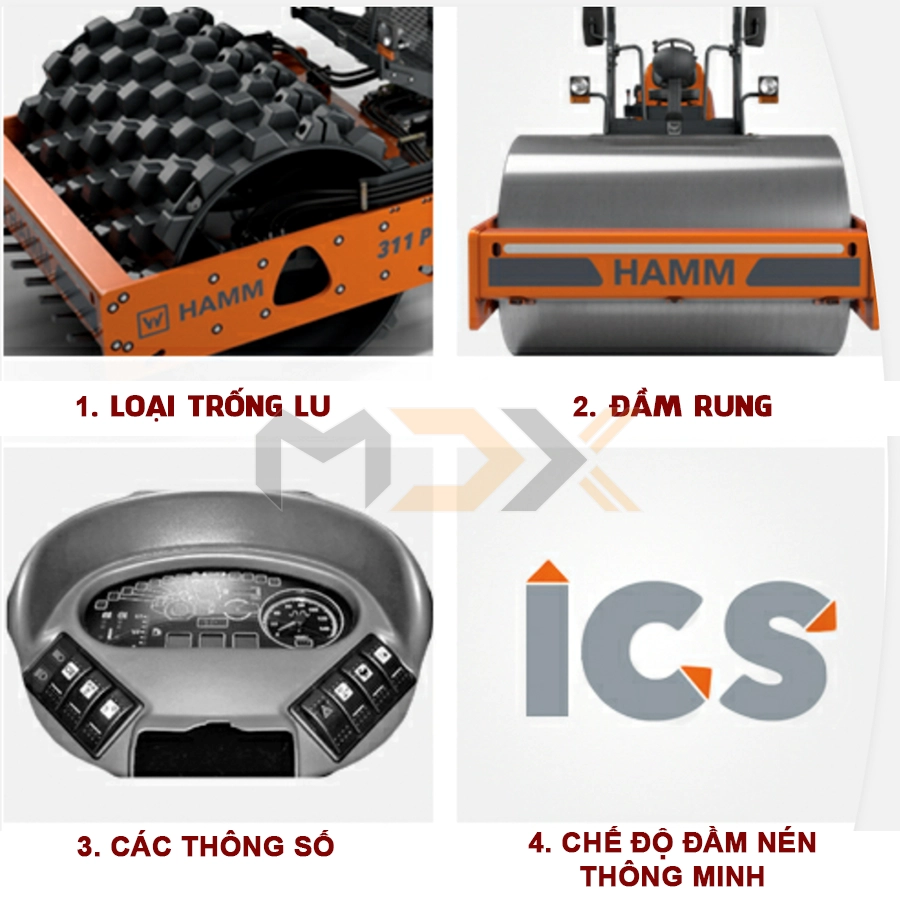 1. Compaction: Drum models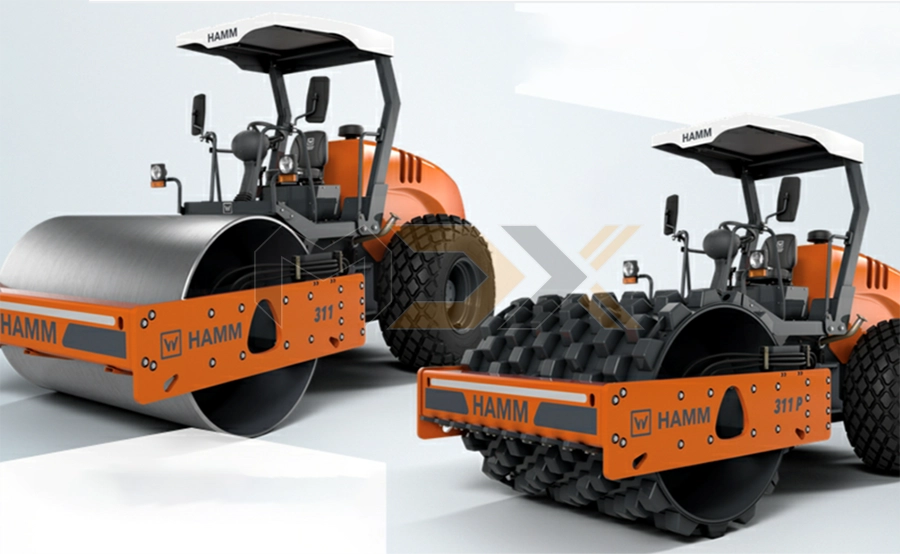 - Smooth drum and smooth drum with padfoot shells.
- The drum comes with a dual scraper bar as standard for smooth working conditions in forward and reverse operation. Smooth drum with scraper and smooth drum with padfoot shells and scraper.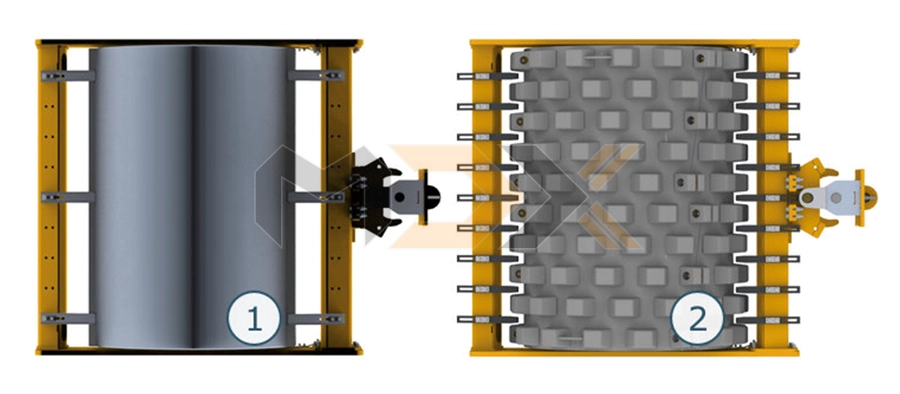 2. VIBRATION
- The soil compactors compact with vibration.
- How does vibration work? The drum moves in a circular motion that is induced by a rotating unbalanced mass. This causes impacts on the material and directs vertical centrifugal forces into the subsoil.
- Compaction can occur at large or small amplitudes.
3. Compaction: Parameter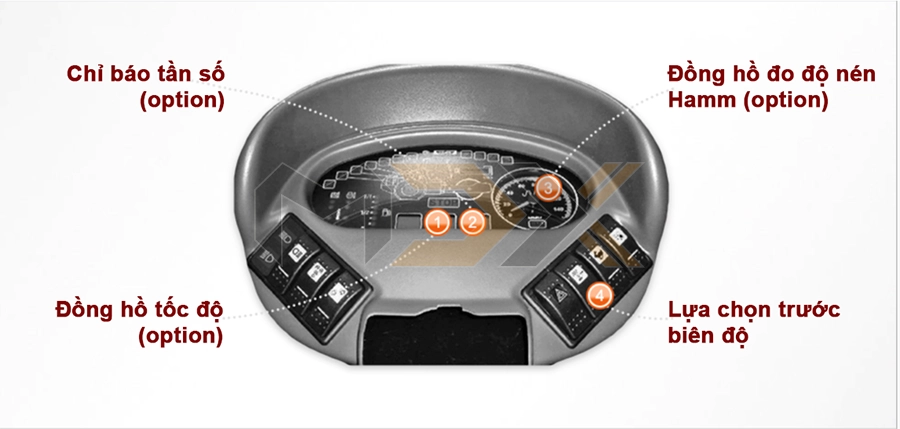 - Frequency idicator (option) - Display for the actual frequency.
- Hamm compaction meter (option) - Measurement and display of the rigidity of the subsoil by utilising acceleration sensors on the vibrating drum.
- Speedometer (option) - Display for the current speed.
- Amplitude pre-selection.
+ Amplitude pre-selection for vibration
+ Big amplitude
+ Zero position.
+ Small amplitude
+ The 311 has two frequencies: Small amplitude - high frequency, Big amplitude - small frequency

4. ICS
The ICS system is available as an option. Advantages:
- Status is displayed on a PC
- Minimizes the number of passes
- Records output.
- Prevents the danger of over-compaction.
- GPS based system
Asia Automation and Plexitech are two different suppliers of ICS. PWD = Public works department. MC = Municipal corporation
ICS comes with these components: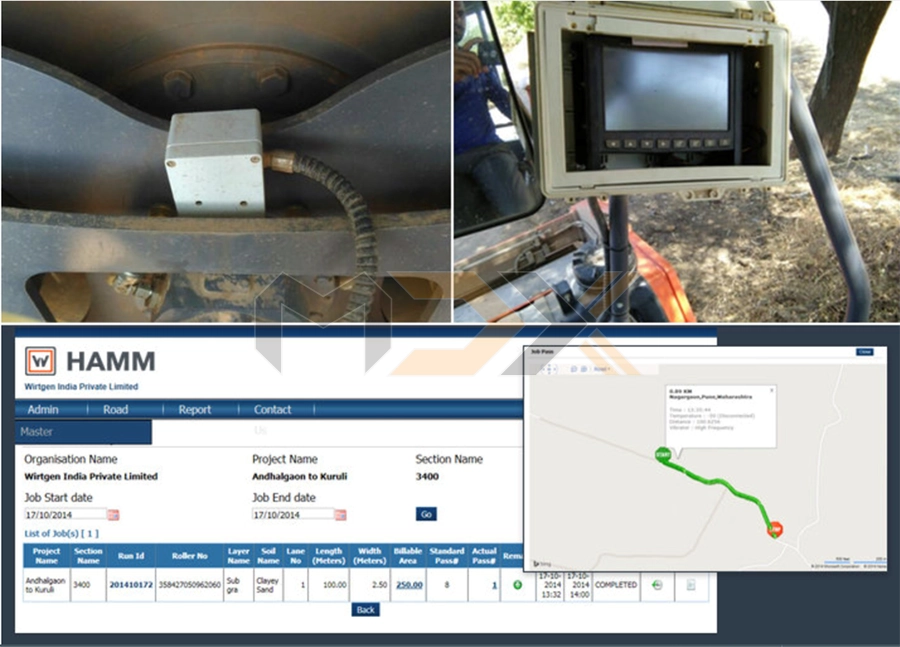 - Vibration sensor
- GPS antenna
- Display (hardware)
- Display (software): Location of the machine, Number of passes, Job site data (length, width), HMV value.
ERGONOMICS
The ergonomics also play an important part with these machines. Here is an overview of the most important features.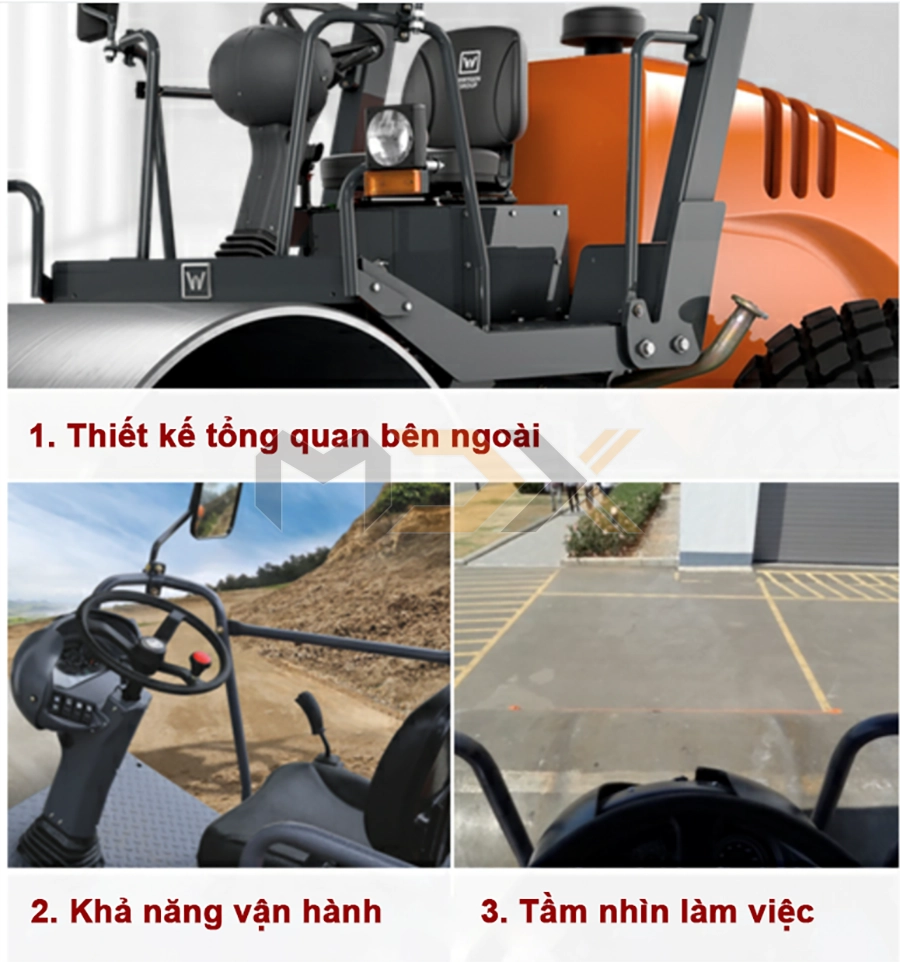 1. General features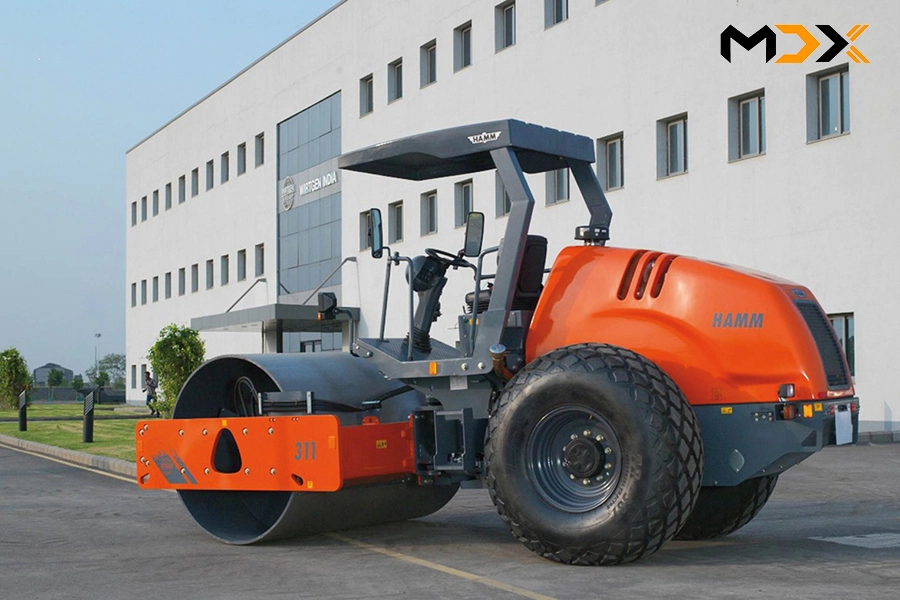 To provide the driver with best comfort, the series 311 is equipped with appropriate features.
- Access: access from the left side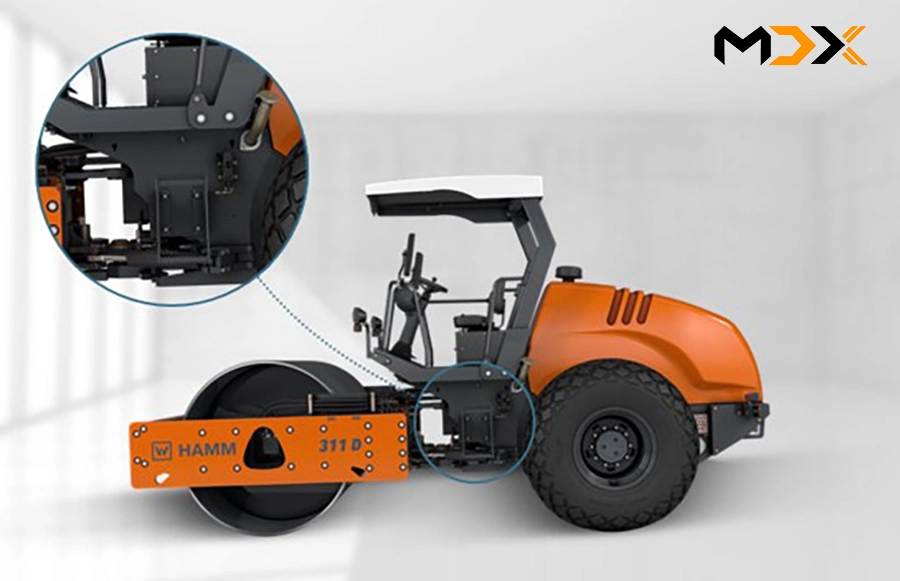 - Operator's platform: Series 311 machines are equipped with a protective roof and handrails as standard. Rubber buffers isolate the operator's platform from vibration.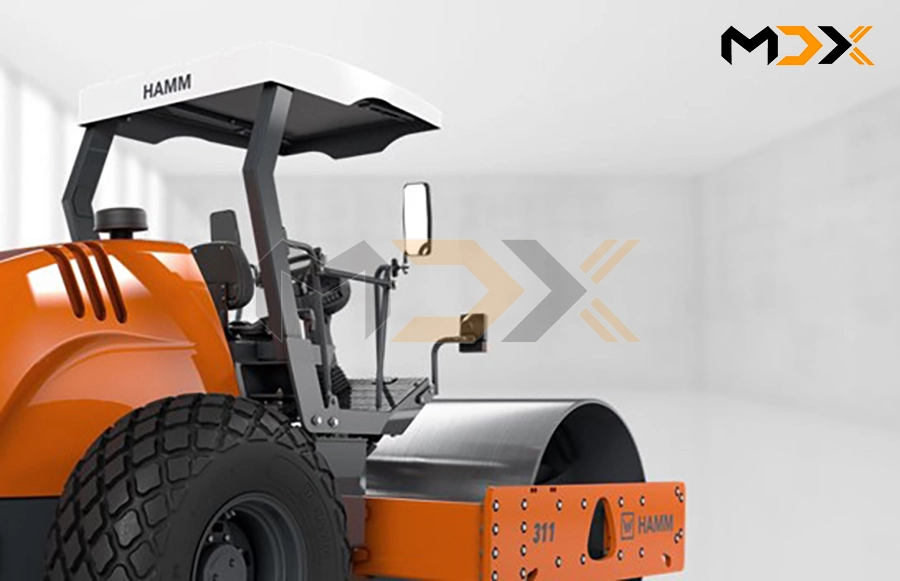 - Seat: Driver's seat of imitation leather, equipped with safety belt and longitudinal adjustable (forward-backward) for individual comfort.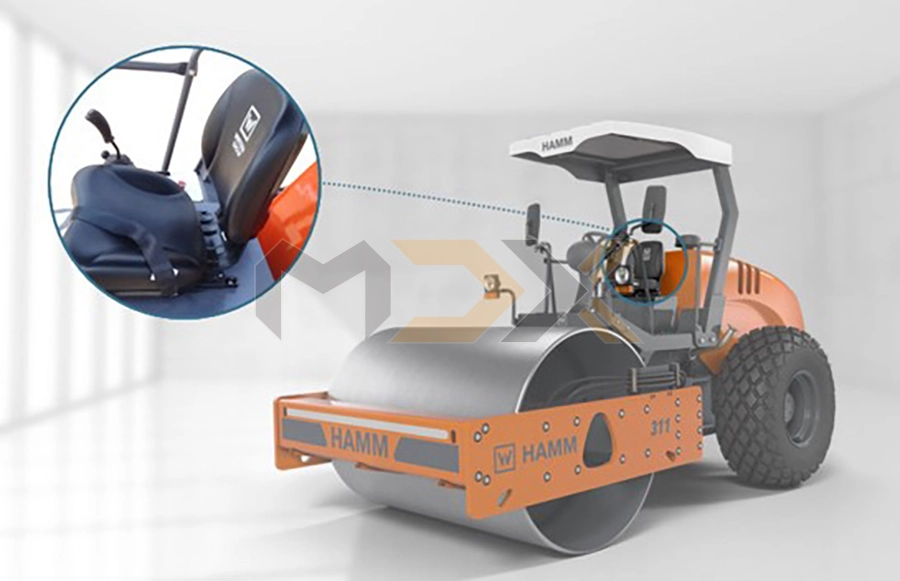 - Storage: Large lockable storage area under the seat (service/tool kit)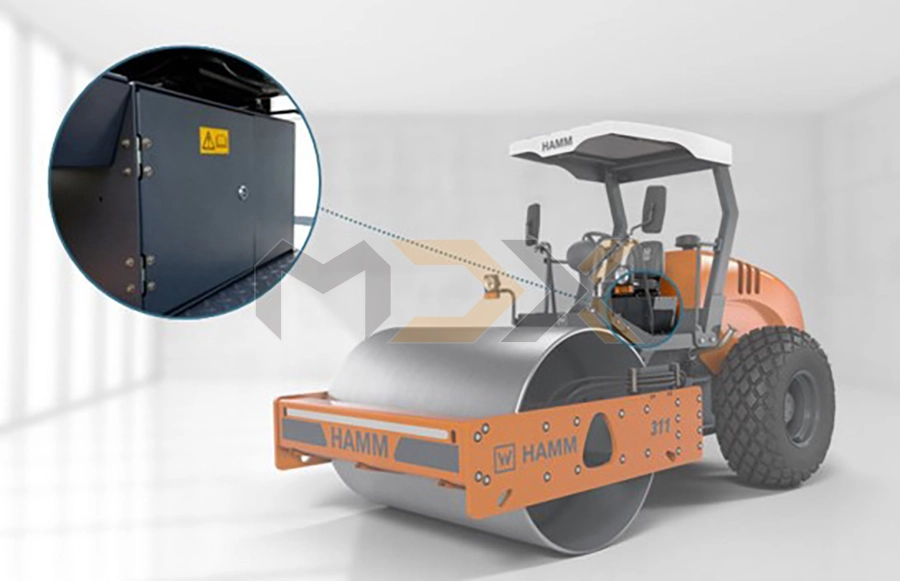 2. Ergonomics: Operation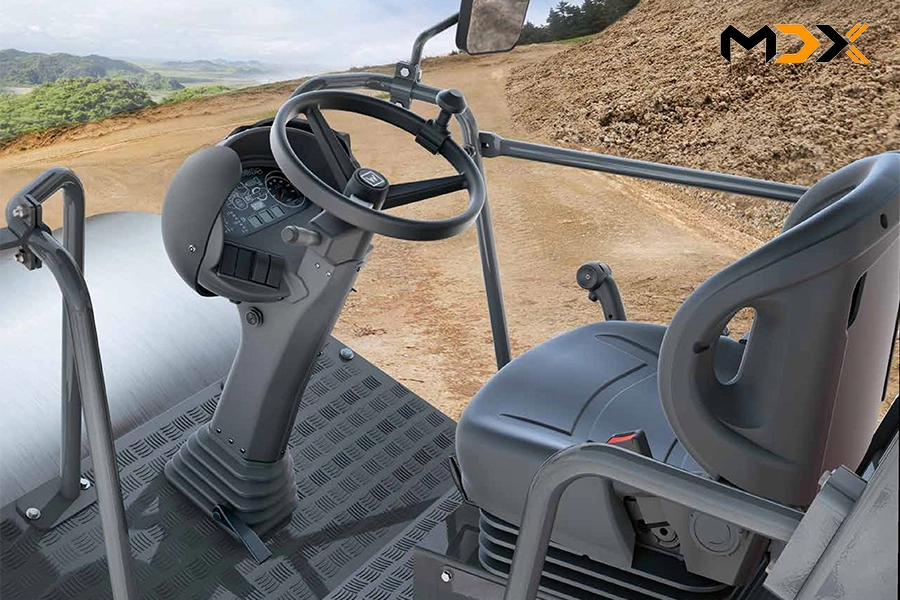 The compactors 311 impress with their simple and safe operational controls. The buttons on the dashboard can be viewed very easily.
- Dashboard: Clear information display. Less operating and control elements with increased functionality. Compact dashboard with international, easy to understand symbols and displays. Roller symbols for easy-to-read representation of the selected functions. Vandalism protection (optional)

- Steering column: Steering column is fixed type, seat is adjustable forward and backward to suit operator reach. There is a 12V power outlet integrated at the left side of the steering column.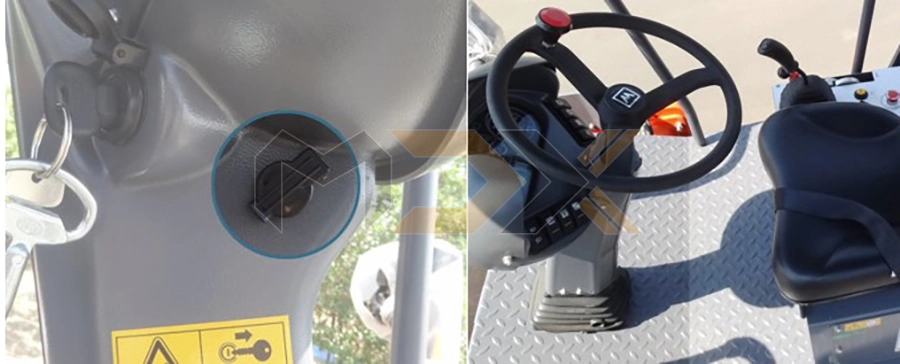 - Drive lever: 1 drive lever + 1 throttle lever located on the right side of the driver's seat (Explore the details by clicking in the hotspots.)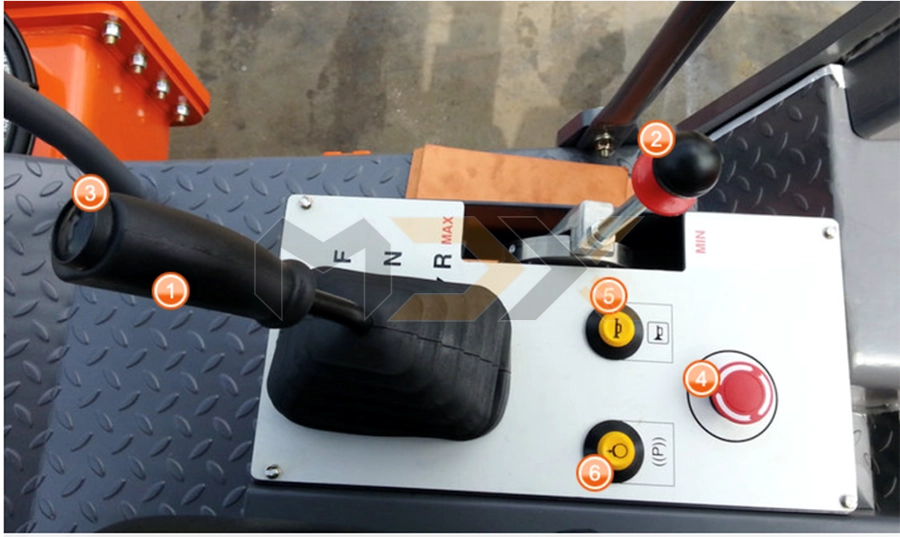 1. Forward-/Reverse driving / Parking position - 2. Pre-selection engine speed + engine power - 3. Vibration on/off - 4. Emergency stop - 5. Signal horn - 6. Parking brake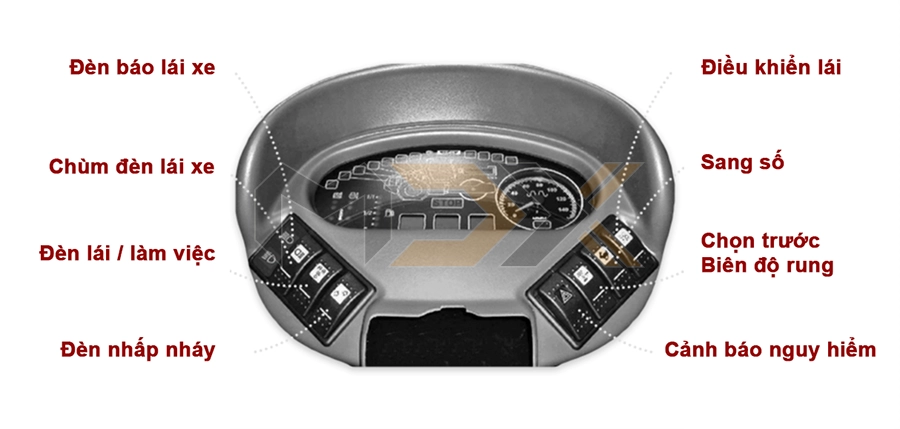 Operation - Dashboard
| | | |
| --- | --- | --- |
| | | |
| Driving light indicator | Driving light beam: High beam, Low beam, Pass | Driving / working light : Drive light + Working light on, Parking on, Off |
| | | |
| Warning indicator | Gear shift: Transport gear, Working gear | Traction control |
3. Ergonomics: Visibility
The soil compactors 311 provide excellent visibility. Here you can view the important components with regard to perfect visibility.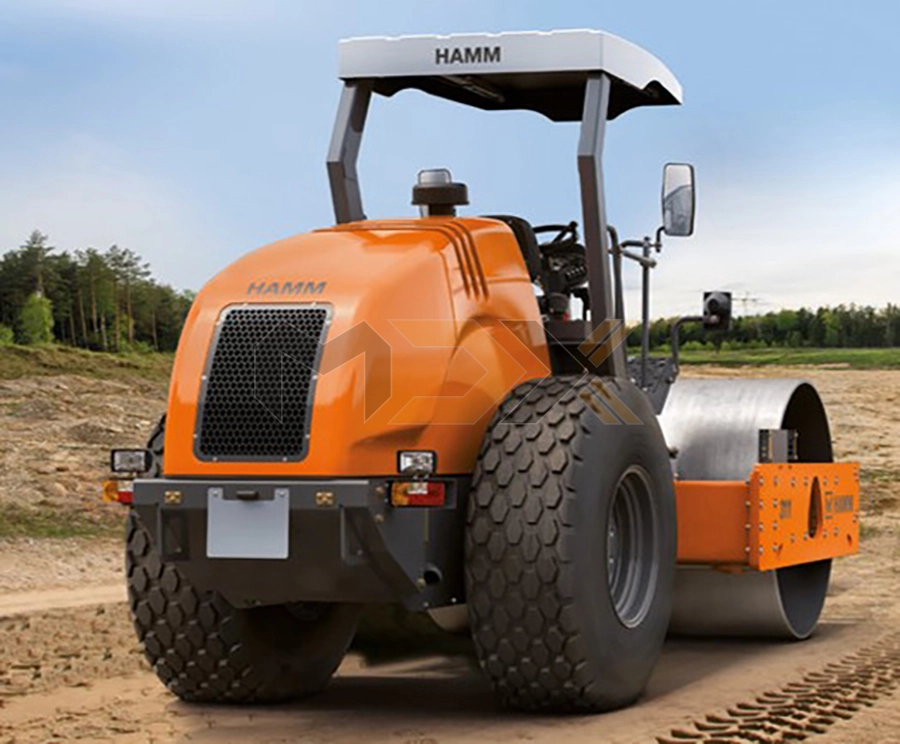 View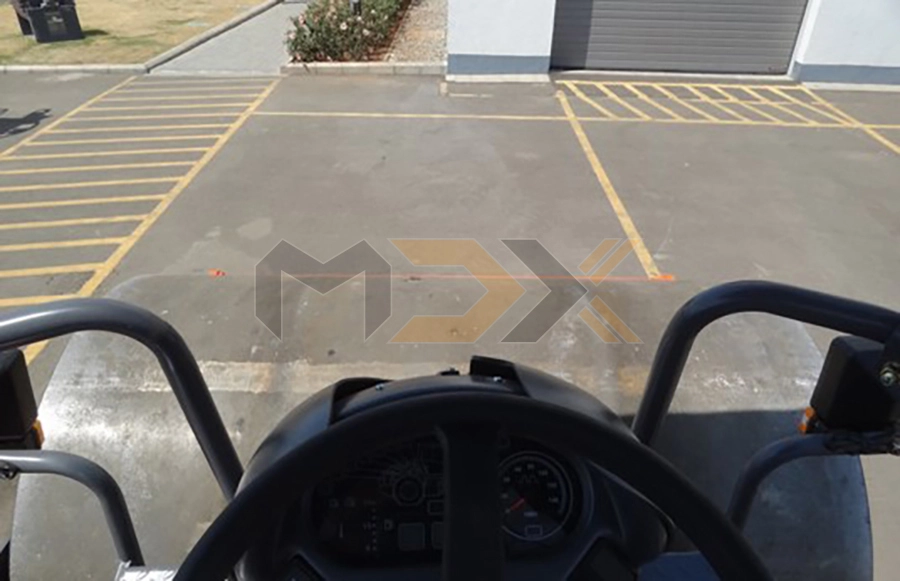 Front visibility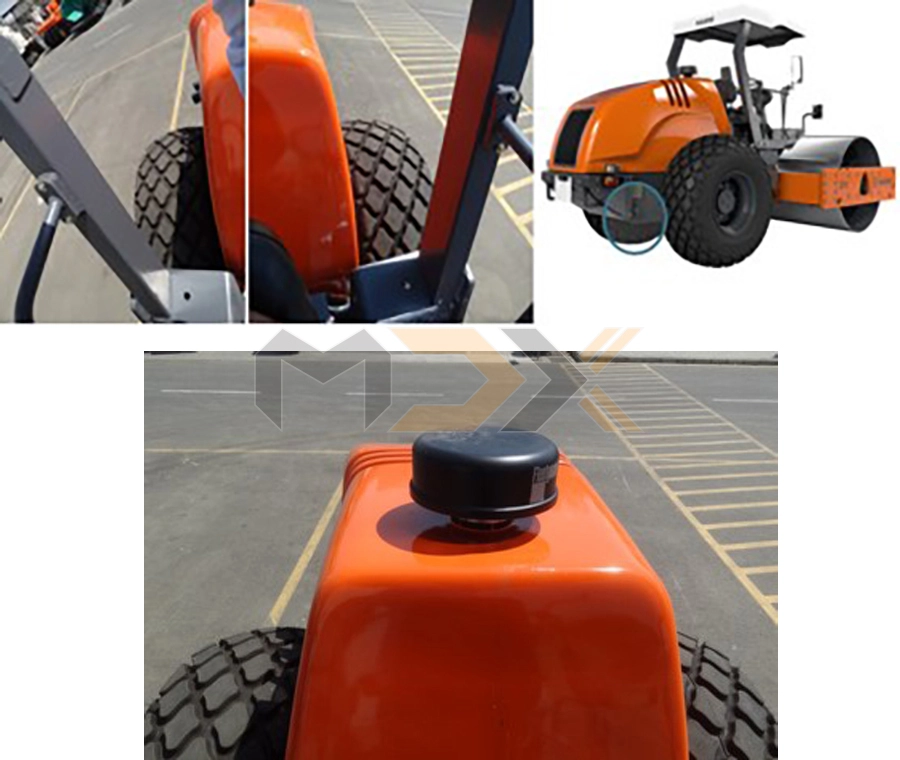 Rear visibility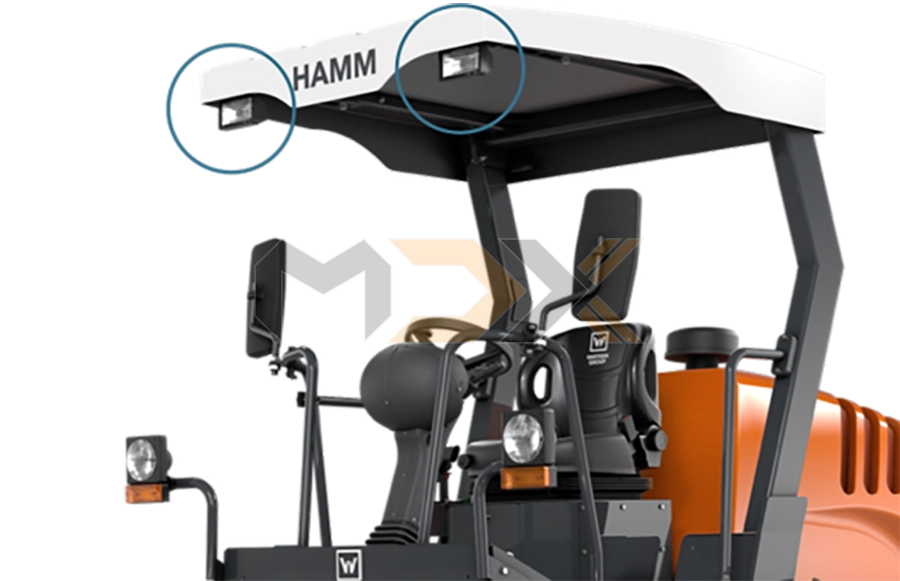 Working spotlight Halogen, 2-fold (optional)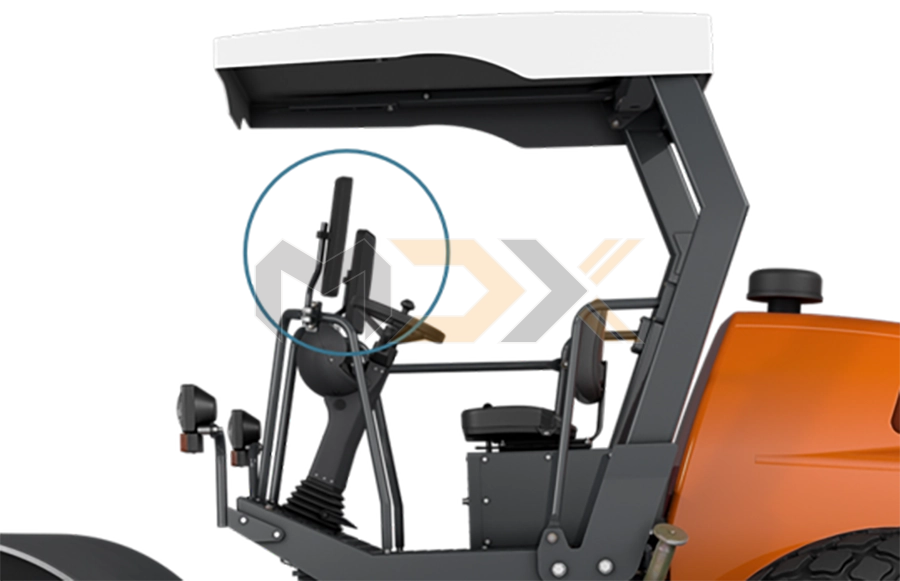 Working mirror, 2 units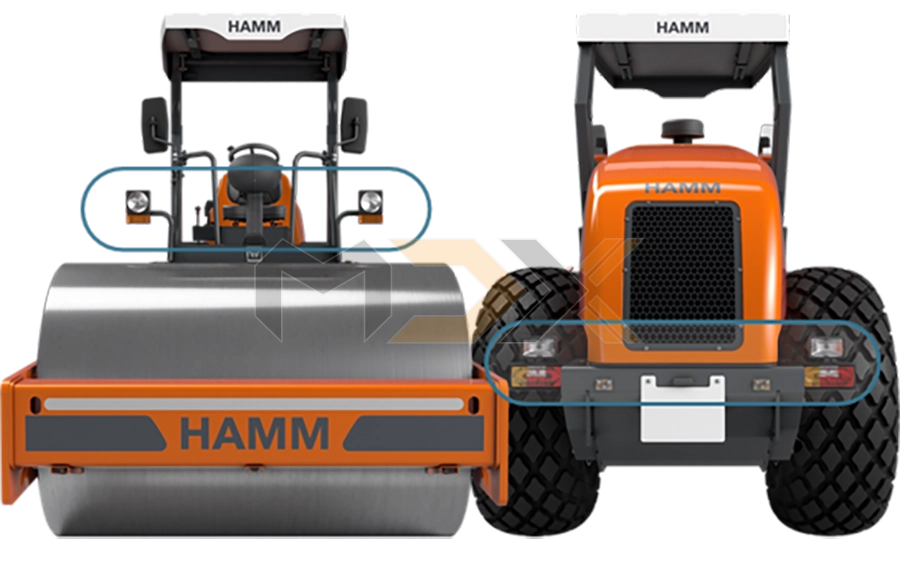 Road lights: lights, mirrors, license plate
3-POINT ARTICULATION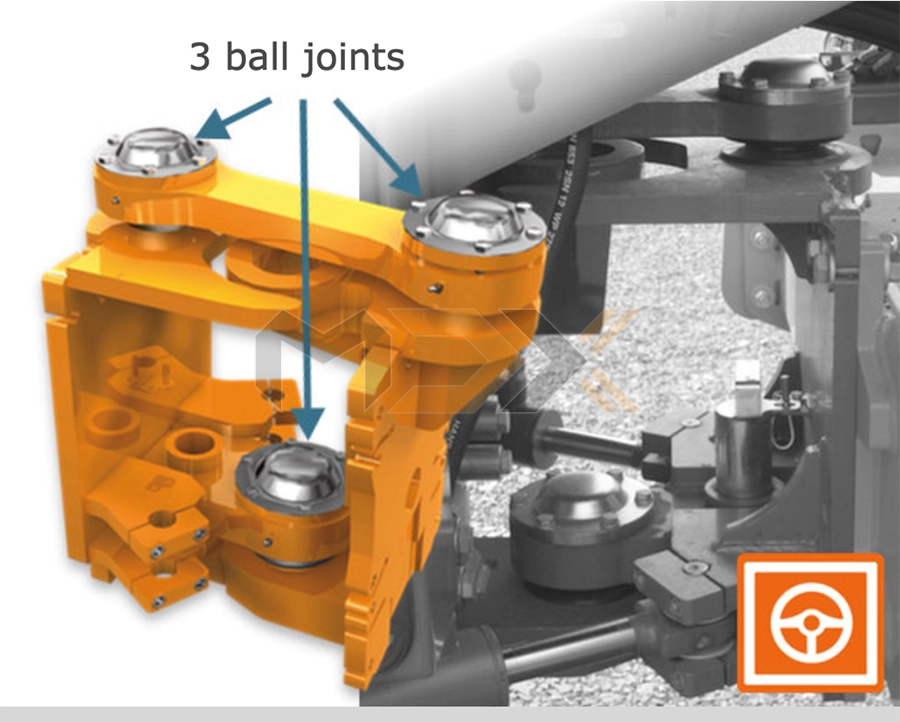 See more 3-point artculation: AT HERE
- Hamm does not utilise a conventional articulated joint, rather a special construction design: The 3-point articulation
- Uniform weight distribution on the rear axle when turning for excellent traction on rough terrain
- Damping of impacts
- Excellent on-centre-feel
- Increased anti-tipping safety when cornering
- Direct steering thus less steering work for the operator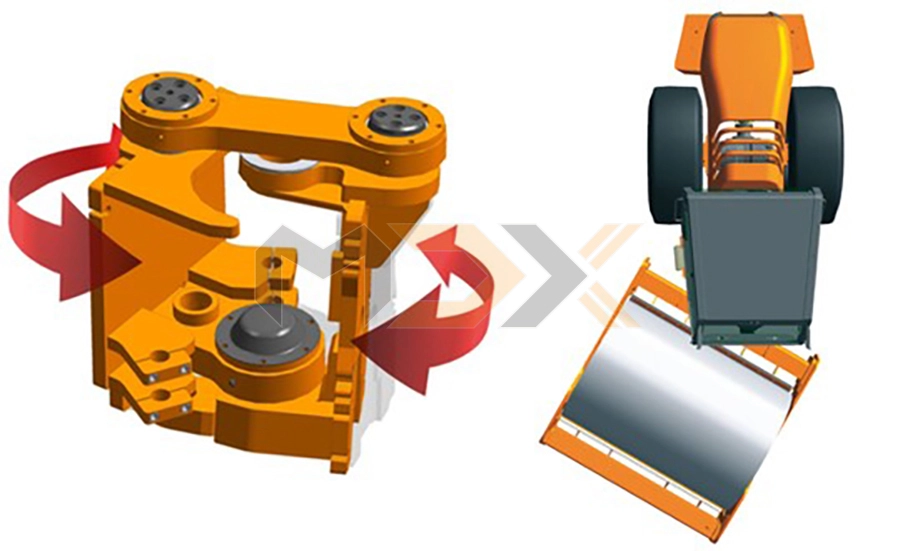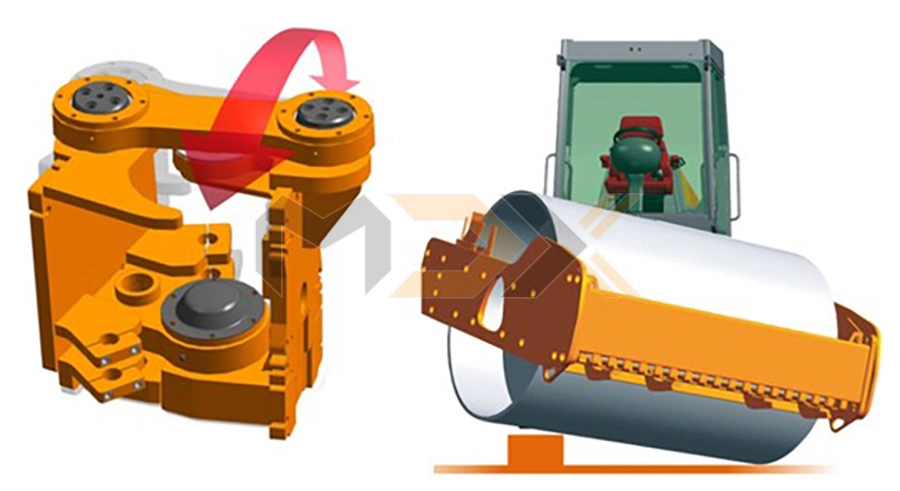 SERVICE: OVERVIEW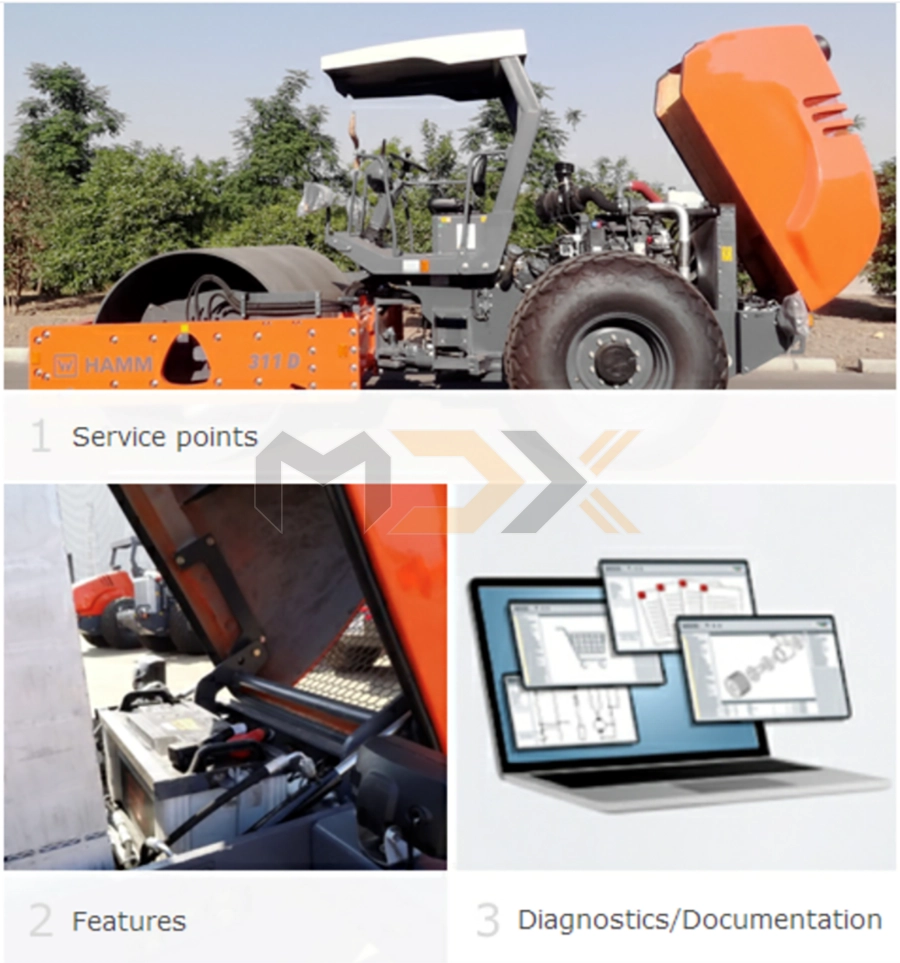 The machine features also impress when it comes to considering servicing.
1. Service points
- The engine hood can be widely opened.
- The service points are located on both side of the engine compartment and are easy to access.
- The daily maintenace points are mainly located on the right side of the engine.
- Right side
1. Diesel main filter, 2. Hydraulic oil filter, 3. Diesel pre-filter with water separator, 4. Air filter, 5. Oil dipstick

- Left side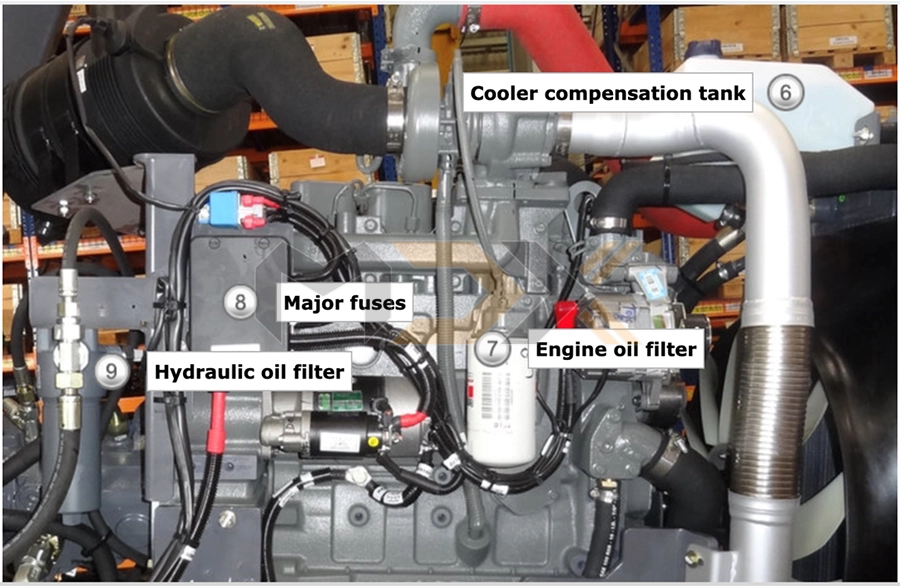 6. Cooler compensation tank, 7. Engine oil filter, 8. Major fuses, 9. Hydraulic oil filter
2. Service: Features

- The "maintance free" battery can be easily accessed
- The engine bonnet can be easily opened hydraulically with a manual pump.
- 12V power outlet, e.g. for mobile charging, service connection.
3. Service: Diagnostics and documentation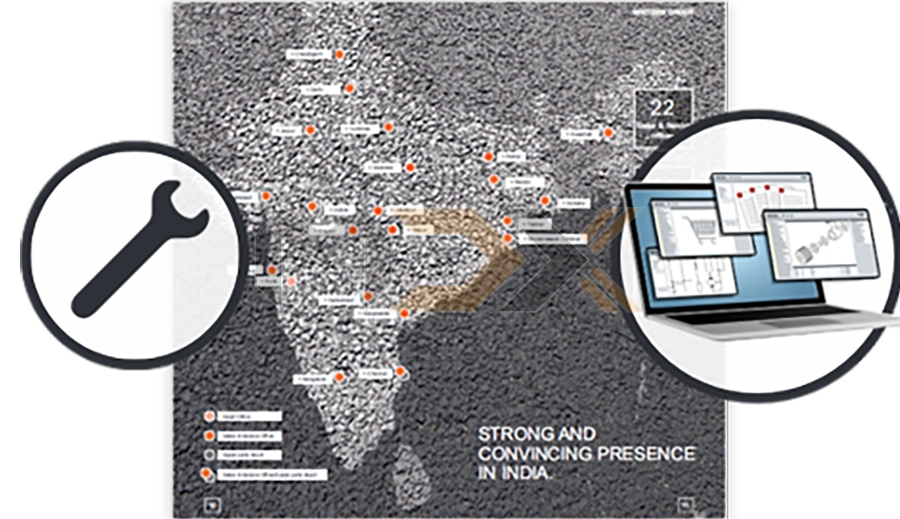 - Simple and quick repairsas there are not many electrical components installed (no drive computer).
- WIDOS(Wirtgen Group Documentation system): includes the entire catalogue of spare parts, operation & maintenance instructions, hydraulics/electrical and hosing diagrams, machine technical data, safety instructions, images of components and service documentation
- Wirtgen Group serviceavailable in India
COMPETITIVENESS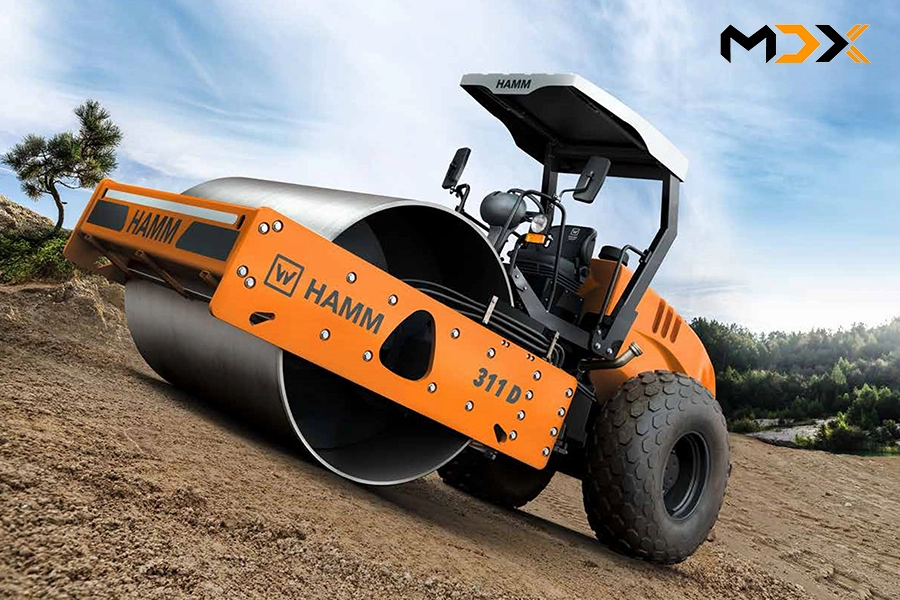 - Competitiveness (value for money)
- Hamm Rollers: Awarded for Exellence 100 years of experience in compactor design and manufacturing.
- Brand value Wirtgen & Hamm Wirtgen Group as a strong partner.
Selling strengths:
- One point solution - Most of the road equipment's available for the contractors from one company.
- Excellent service set up in India - Direct to customers
- Market leadership position - That means more machines in the market, which means spares parts easily available in the market
- Good resale value because of good brand image and service setup in India
- Team Wirtgen India - Trustworthy people to deal with image in the market
- Reliability - 100%, which means maximum availability and maximum productivity at site
---
---
News Related
Tags: highlights of 311D, hamm 311D, drive, compaction, egornomics, 3-point articulation, service, selling strengths
---