THE HIGHLIGHTS OF VOGELE S1800-3 SPRAYJET
14/12/2020
The following article shares with you the most outstanding advantages of the Vogele S1800-3 SprayJet emulsion sprayer. This is considered the only line of pavers in the world with many modern features and excellent working performance. We hope you enjoyed this article!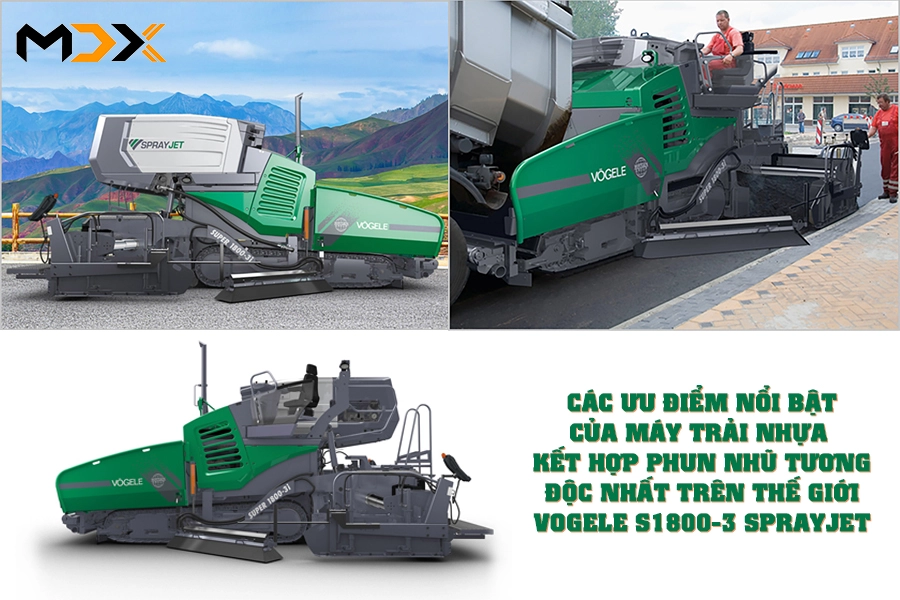 View S1800 SprayJet at: HERE
OVERVIEW - WHAT'S NEW ON THE SUPER 1800-3 SPRAYJET?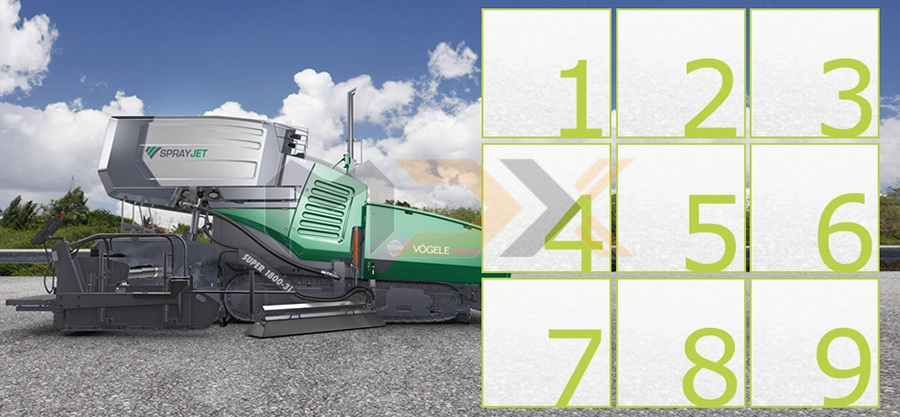 | | | | | | |
| --- | --- | --- | --- | --- | --- |
| 1 | "Dash 3" features | 2 | Can be replenished from both sides for greater flexibility when refilling emulsion on the job site | 3 | Emulsion tank with 5% additional capacity (2,100 litres) |
| 4 | Separate tank for liquid preservative after cleaning | 5 | Function monitoring of the front spray bar for the spray nozzles which are hidden from view | 6 | Improved direct access for servicing |
| 6 | Control panel for the SprayJet module in ErgoPlus 3 design | 8 | Compressed air system integrated into the spray module | 9 | Process safety is enhanced by automated sequences for preparation, spraying and maintenance |
6 HIGHLIGHTS OF VOGELE S1800-3 SPRAYJET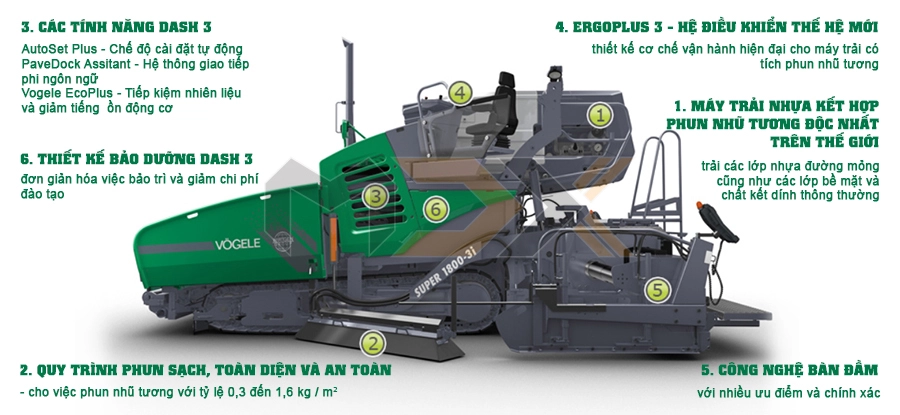 1. UNIQUE SPRAY PAVER WORLDWIDE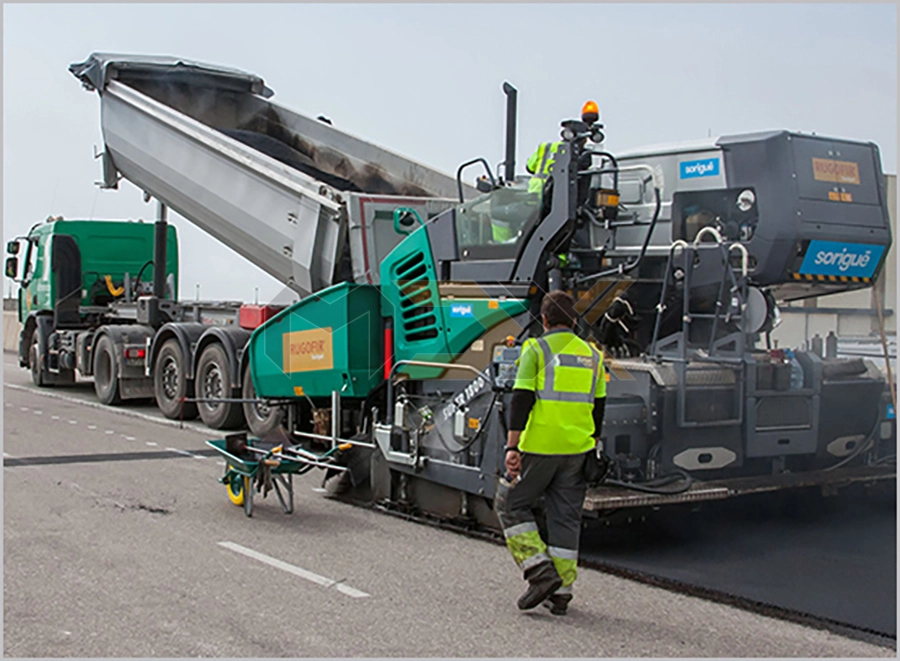 Paver for a whole variety of applications
- Modular machine concept
- Can be used as spray paver and as a conventional paver
- For paving thin layers hot on spray seal or tack coat
- Can be used for paving conventional surface and binder courses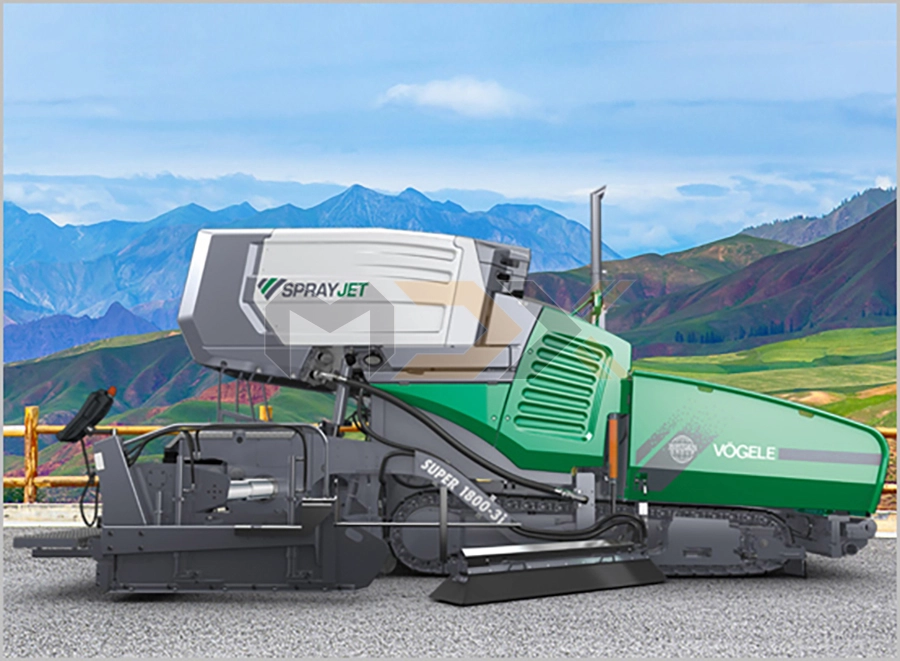 At a glance
- Maximum spray width: 6m
- Maximum pave width: 9m*
- Maximum laydown rate: 700t/h
- Transport width: 2.55m (AB 500), 3.00m (AB 600)
- Engine output: 127kW at 2,000 rpm, 116kW at 1,700 rpm (ECO Mode)
* As standard paver for conventional paving.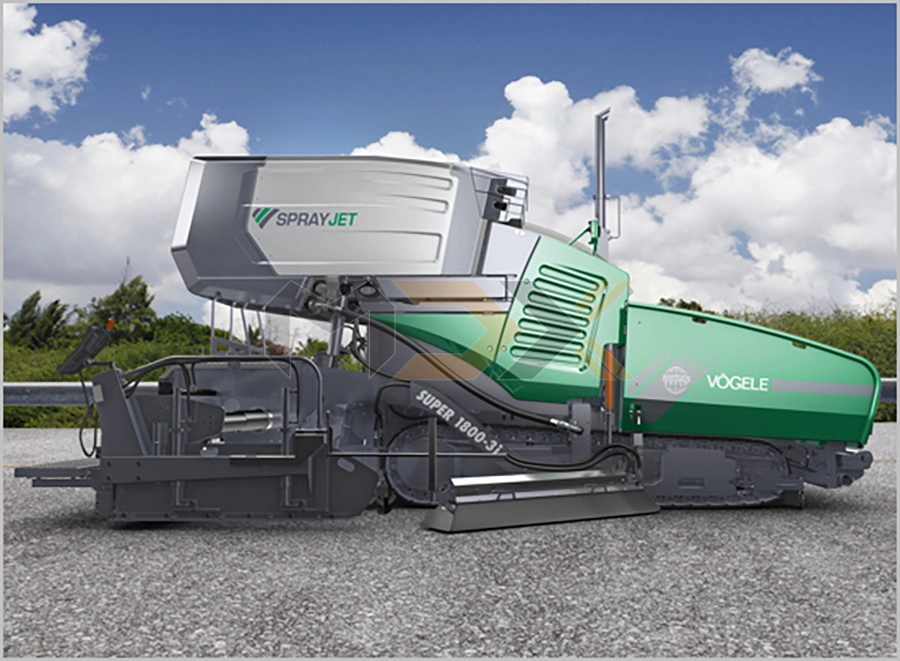 Paving thin overlay hot on a spray seal or tack coat
- Low-cost asphalt paving process for rehabilitating and replacing surface courses
- Suitable for all traffic areas
- Layer thickness is normally no more than 1.2 to 2cm
- No costly cleaning of roadway edgings or fittings required
- Pave speed is three to five times higher than with conventional asphalt paving
- Bitumen emulsion is sprayed and the asphalt paved in a single pass
- Neither construction vehicles nor the paver drive over and damage the emulsion film
What happens when the bitumen emulsion "breaks":
- The water begins to evaporate as soon as the hot bitumen emulsion is sprayed at a temperature of 70 to 80 °C.
- The remaining water evaporates when the emulsion comes into contact with the hot mix of more than 100 °C. In this way, the emulsion "breaks" when using SprayJet technology from VÖGELE.
- Any water still remaining in the emulsion can evaporate through the "open pores" in the hot asphalt pavement.
SPRAYJET MODULE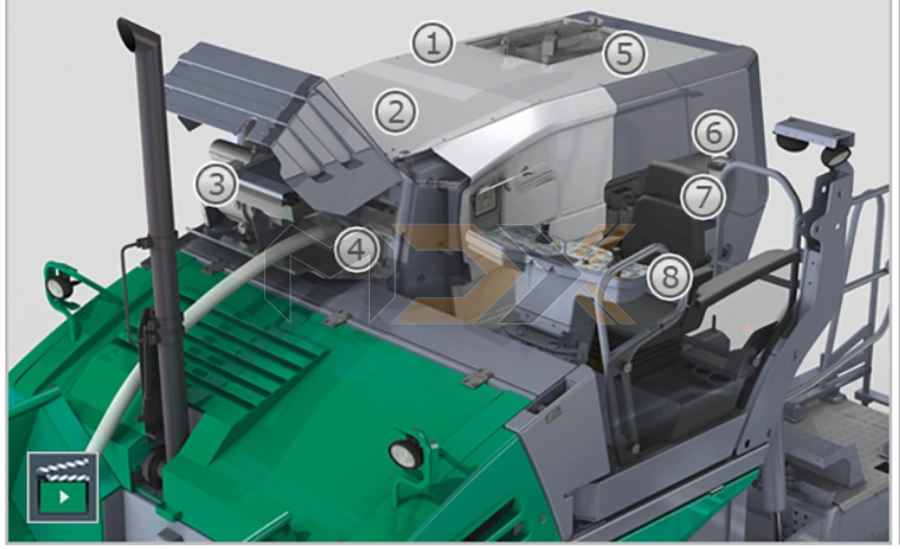 1. Insulation and the integrated electric heating (2 x 7kW) keep the emulsion at the temperature required for processing
2. Capacity of the emulsion tank: 2,100 litres
3. Compressed air system integrated into the module
4. Easy access to all the main service points
5. Supplementary gas heating for bitumen emulsion that is delivered cold
6. Heated pump circulates and homogenizes the bitumen emulsion in the tank
7. All circuits are switched automatically via electronically controlled ball valves
8. Additional filler port on the left for flexible replenishment of emulsion from either side
ANIMATED VIDEO CLIP - EMULSION TANK
2. CLEAN AND SAFE SPRAYING PROCESS – SPRAY TECHNOLOGY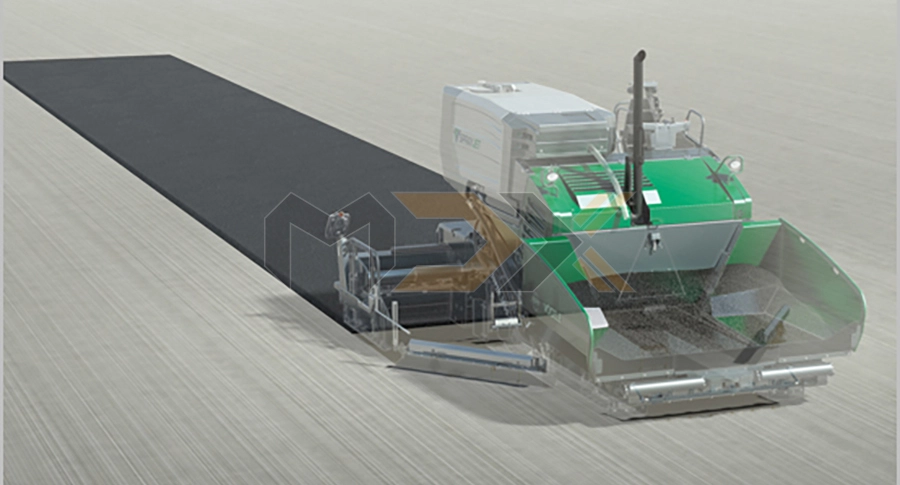 Five spray bars with a total of 24 nozzles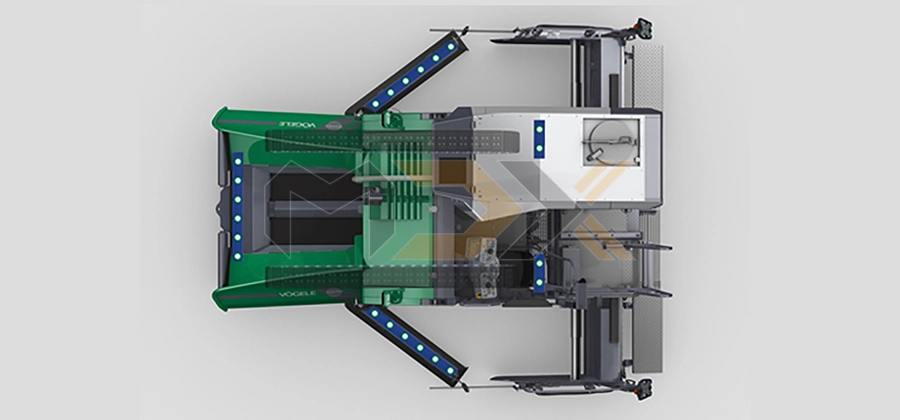 A front spray bar with 6 six nozzles, 2 articulated spray bars with 7 nozzles each and 2 bars with 2 nozzles each.
Spray bar arrangement ensures uninterrupted application of the emulsion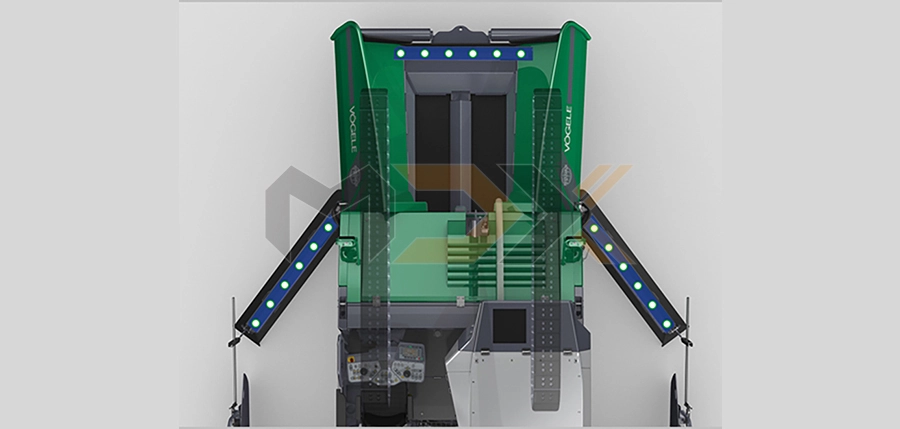 Mechanically coupled width control and angle sensor ensure full coverage of the existing surface with emulsion even when the pave width varies.
Rate of spread can be precisely controlled from 0.3 to 1.6kg/m²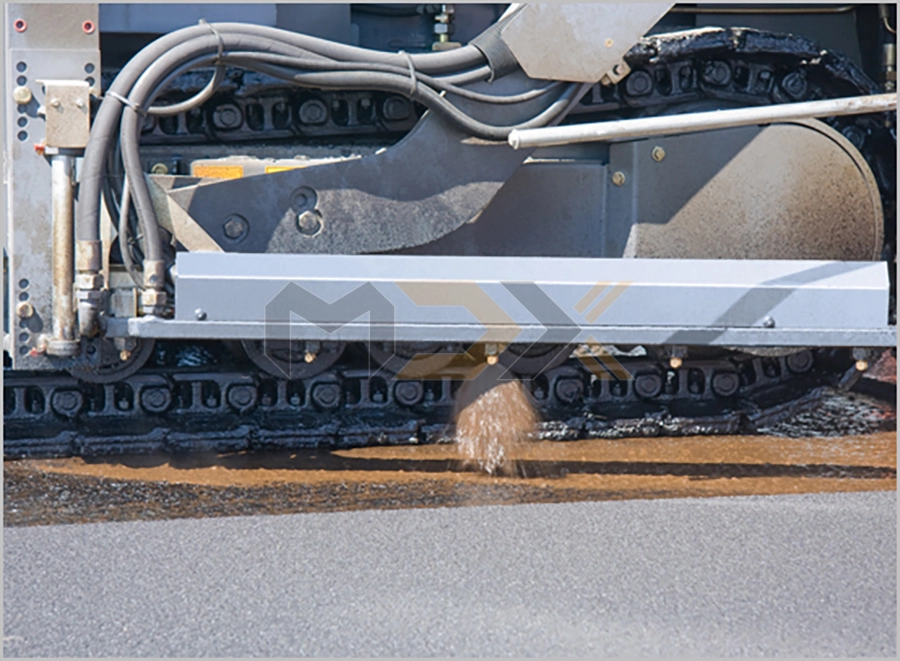 SprayJet nozzles spray the emulsion intermittently, not continuously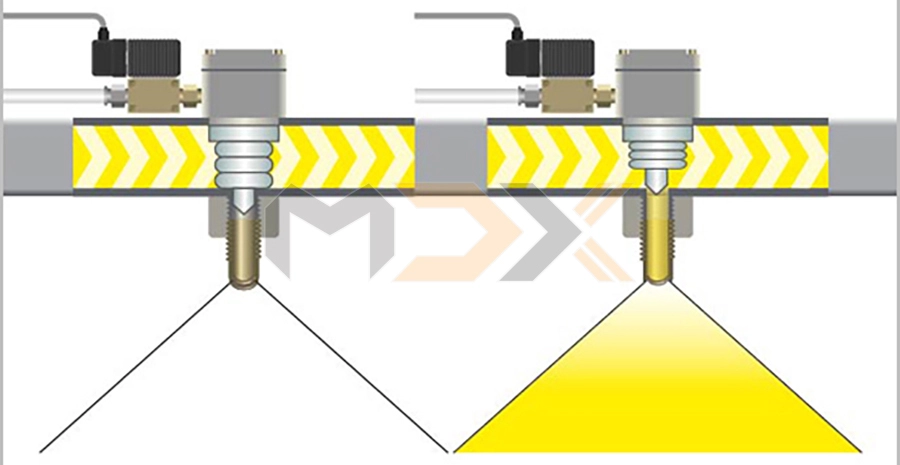 The frequency of the spray pulses is automatically adjusted by a compressed air system as a function of the selected rate of spread, pave speed and pave width.

Uniform emulsion film covering the entire area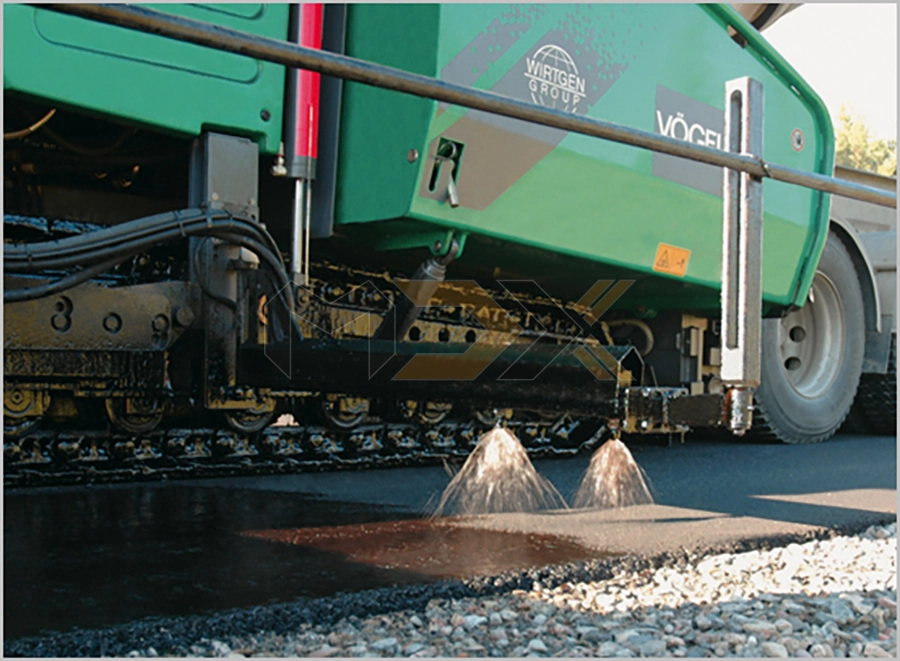 Emulsion is applied at a low spray pressure of no more than 3 bar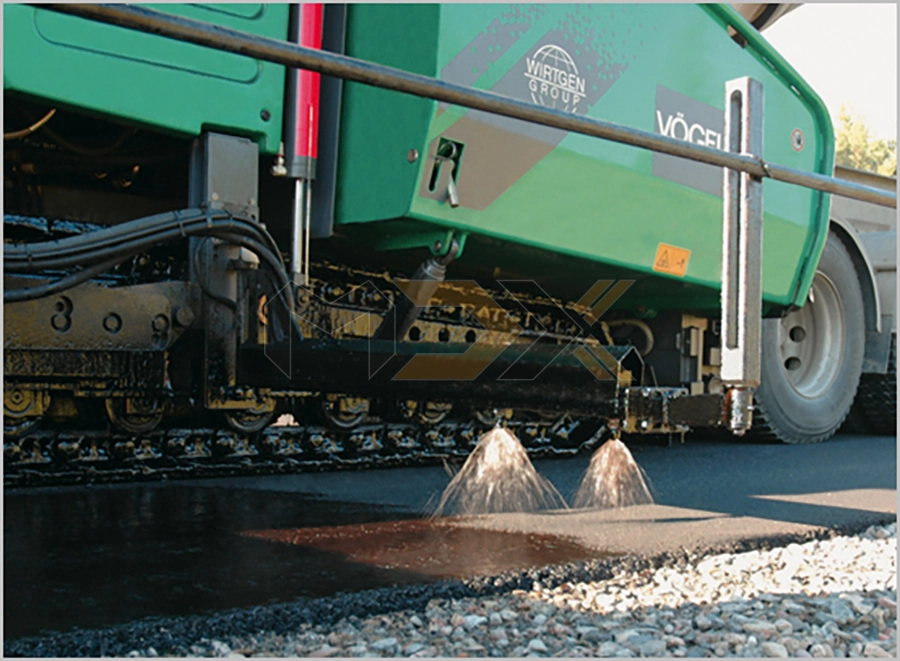 The low spray pressure ensures that the emulsion is sprayed accurately. No need for costly cleaning of the roadway edging.
Two different types of slotted spray nozzles:
- Size 10 nozzles: with 100% throughput (standard)
- Size 16 nozzles: with 160% throughput
The spray nozzles open and close pneumatically. A compressed air system is integrated into the SprayJet module for this purpose.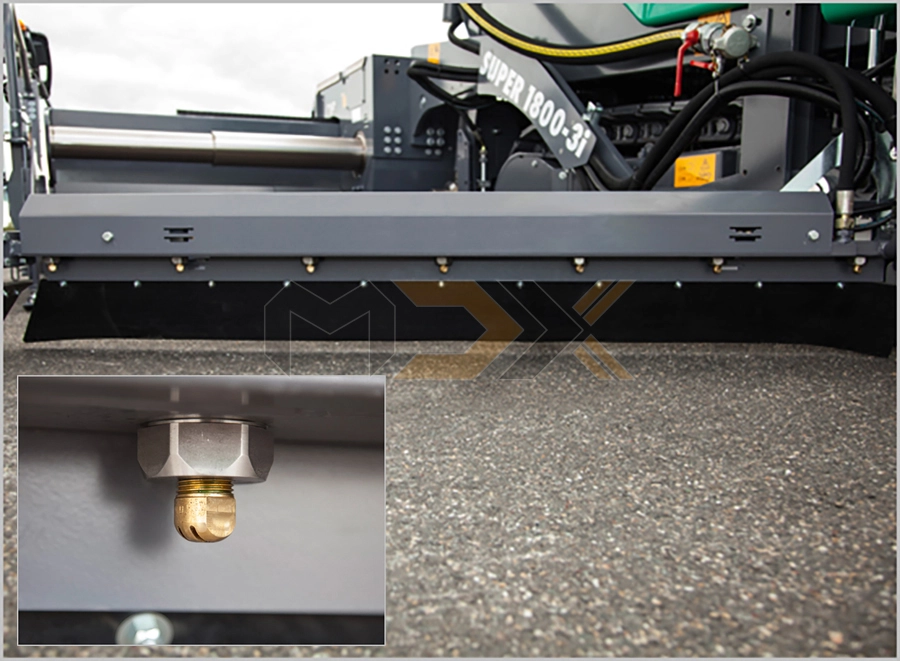 | | | | |
| --- | --- | --- | --- |
| Designation | | Size 10 nozzles | Size 16 nozzles |
| Spray pressure | bar | 3 | 3 |
| Rate of spread | Kg / m² | 0.3 - 0.8 | 0.8 - 1.6 |
| Length of sprayed area in direction of travel | mm | 35 | 35 |
Animated Video Clip - Spray Nozzles
The 5 spray bars are supplied with emulsion via. 3 separate circuits. This arrangement allows the emulsion to be sprayed at a low pressure of no more than 3 bar. All circuits are switched automatically via electronically controlled ball valves.
Animated Video Clip - Sprayed Result
3. "DASH 3" FEATURES
AUTOSET PLUS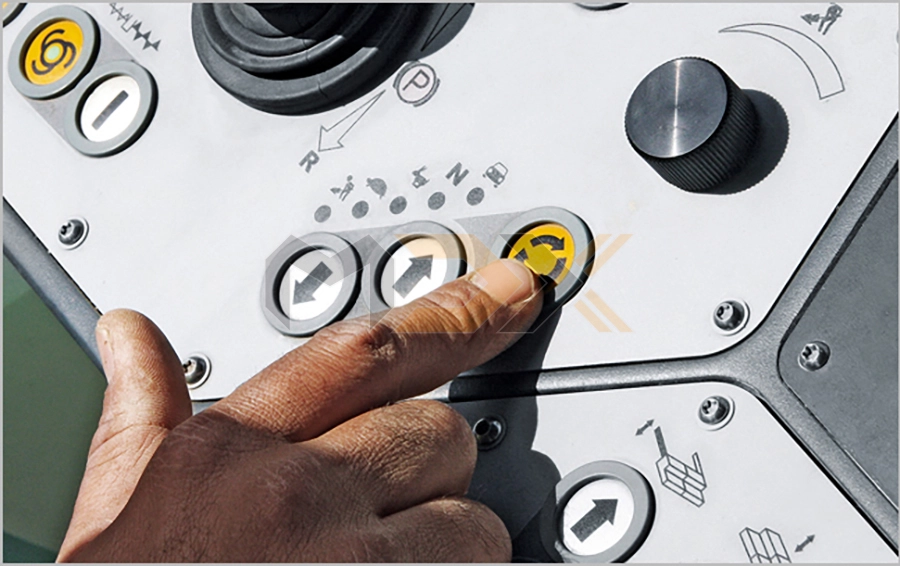 "AutoSet Plus" incorporates two handy automatic functions:
- The "Repositioning function" makes it easier to change between work sections on the job site. The paver is automatically set to transport mode at the push of a button and the current settings are saved.
- Current paver and screed settings are saved with the function "Paving programs" and can be retrieved whenever required at a later date, for instance on job sites with comparable conditions.
PAVEDOCK ASSISTANT
"PaveDock Assistant" is the communication unit between the paver operator and the feed vehicle driver. It allows particularly fast and reliable transfer of mix to the paver. Signal lights on the paver and the associated controls on the paver operator's ErgoPlus 3 console are key components of the "PaveDock Assistant".
VÖGELE ECOPLUS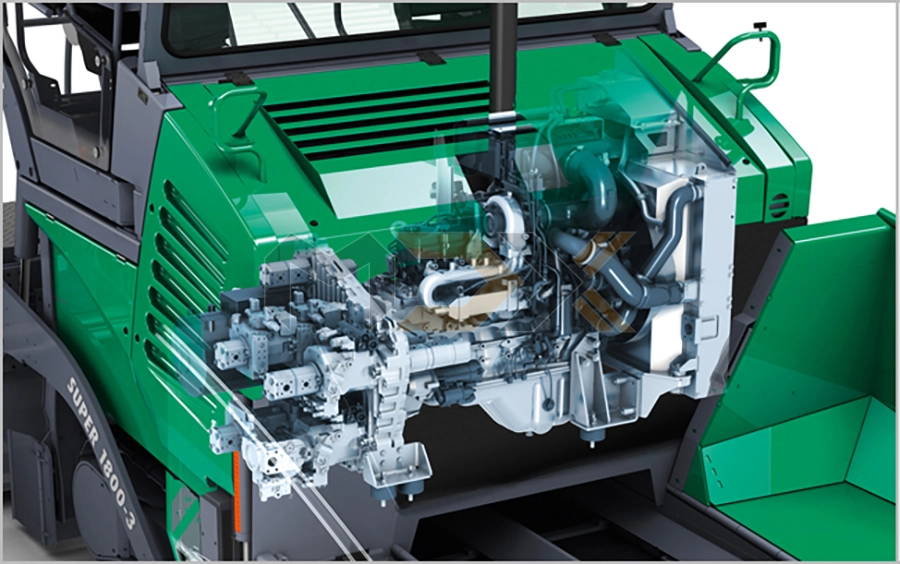 The innovative "VÖGELE EcoPlus" low-emissions package includes a number of features for reducing both noise levels and fuel consumption. Fuel costs are reduced by up to 25% through the combination of an energy-optimized tamper drive, variable-speed fan, controlled hydraulic oil temperature circuit and splitter gearbox.
4. ERGOPLUS 3 AND SPECIAL FEATURES OF SPRAYJET OPERATION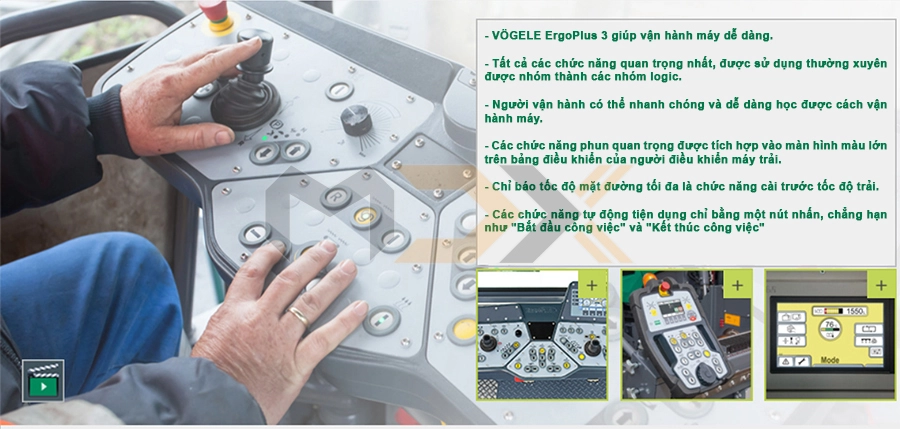 - VÖGELE ErgoPlus 3 operating concept for easy machine operation
- All the most important, regularly used functions are clustered in logical groups
- Operation of the machine can be learned quickly and easily
- Important functions for spraying are integrated into the large colour display on the paver operator's console
- Indication of the maximum possible pave speed as a function of the set rate of spread
- Handy automatic functions at the push of a button, such as "Start of job" and "End of job"
Animated Video Clip - ErgoPlus 3
ErgoPlus 3 Operating Concept - Paver Operator's Console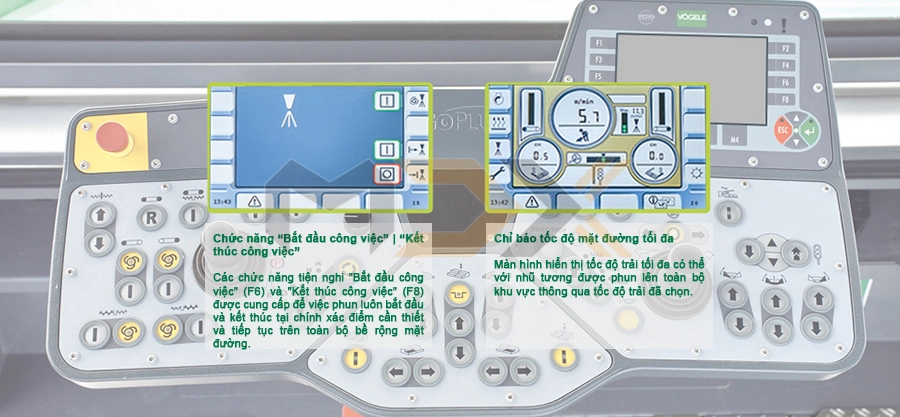 Functions "Start of job"|"End of job": The comfort functions "Start of job" (F6) and "End of job" (F8) are provided so that spraying always starts and ends at exactly the required point and continues over the full pave width.
Indication of maximum pave speed: The display shows the maximum possible pave speed with which emulsion can still be applied to the full area at the selected rate of spread.
Animated Video Clip - Automatic Job Site Programs
ErgoPlus 3 Operating Concept - Paver Operator's Console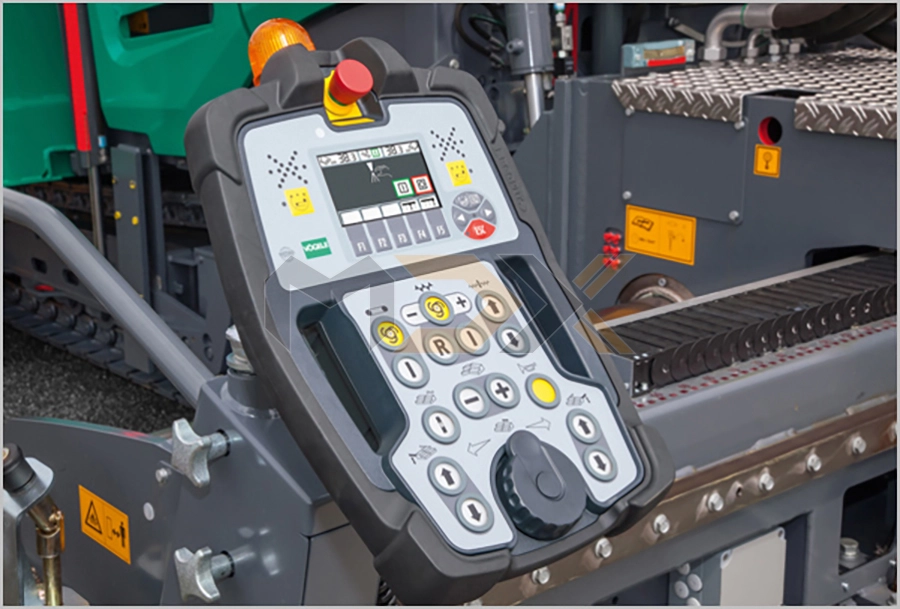 1. Outer spray nozzles
- The screed operator's console is used to switch the two active outer spray nozzles on and off.
- In this way, even more challenging job sites can be controlled by the screed operator and a perfect result achieved.
2. "SmartWheel"
Both the pave width and the spray width are conveniently adjusted at two speeds by means of the easy-grip "SmartWheel".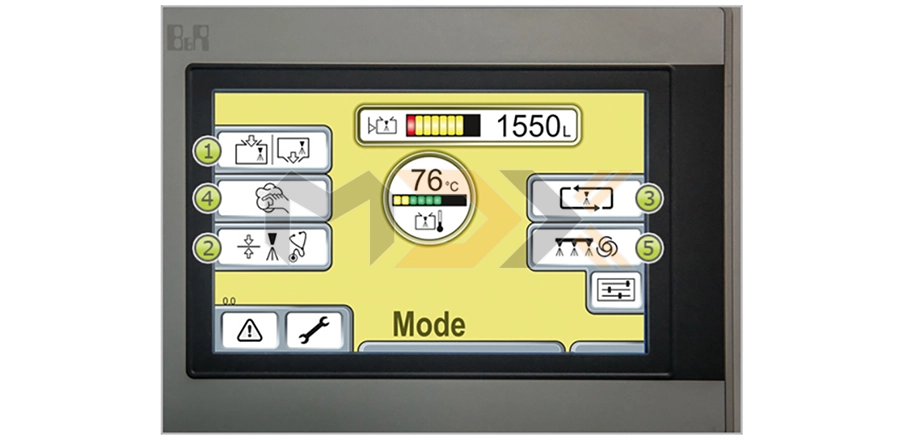 Preparation
All the function needed to prepare for spraying can be set via the menus 1 to 3:
1. Controls the replenishment of emulsion
2. is used to select the spray nozzles
3. adjusts the heating and circulation of emulsion
Cleaning:
4. Fully automatic cleaning program for thoroughly cleaning lines and valves
Spraying
5. Setup and monitoring of all relevant spraying parameters, such as the tank filling level, temparature, spray pressure, rate of spread and nozzle activity
Animated Video Clip - Cleaning Program
Animated Video Clip - Spraying
5. SCREED TECHNOLOGY - PRECISE AND ULTRAMODERN
Available screeds: AB 500, AB 600
Compacting systems: TV, TP1
Heating of the screed and emulsion tank are controlled separately for more efficient energy consumption
S1800-3i SprayJet
Maximum Spray Width 5m
Maximum Spray Width 6m
Additional Emulsion Tank, 5000 Litres
AB 500 TV Extending Screed
Yes
Yes
Yes
AB 500 TP1 Extending Screed
Yes
Yes
Yes
AB 600 TV Extending Screed
Yes
Yes
AB 500 TP1 Extending Screed
Yes
Yes
TV = with tamper and vibrators
TP1 = with tamper and 1 pressure bar
Screed technology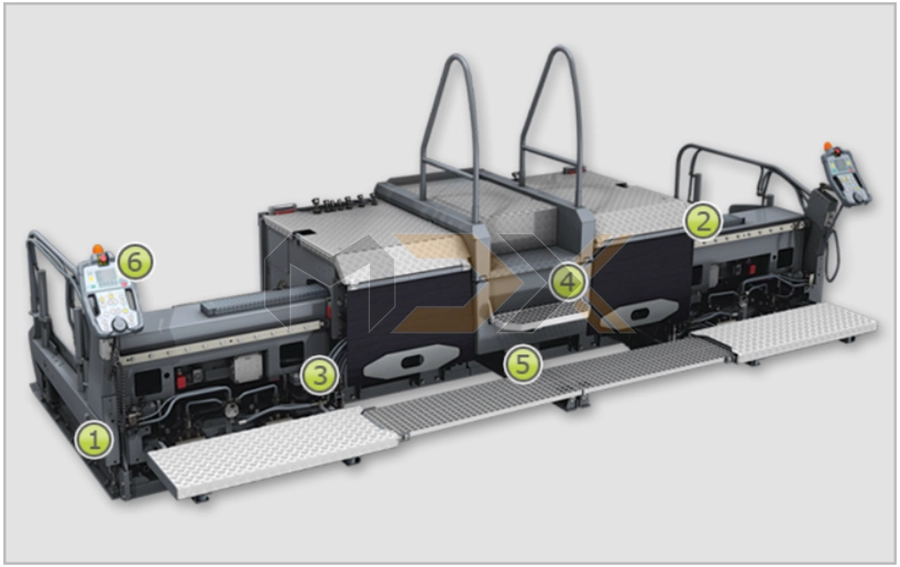 Newly developed side plates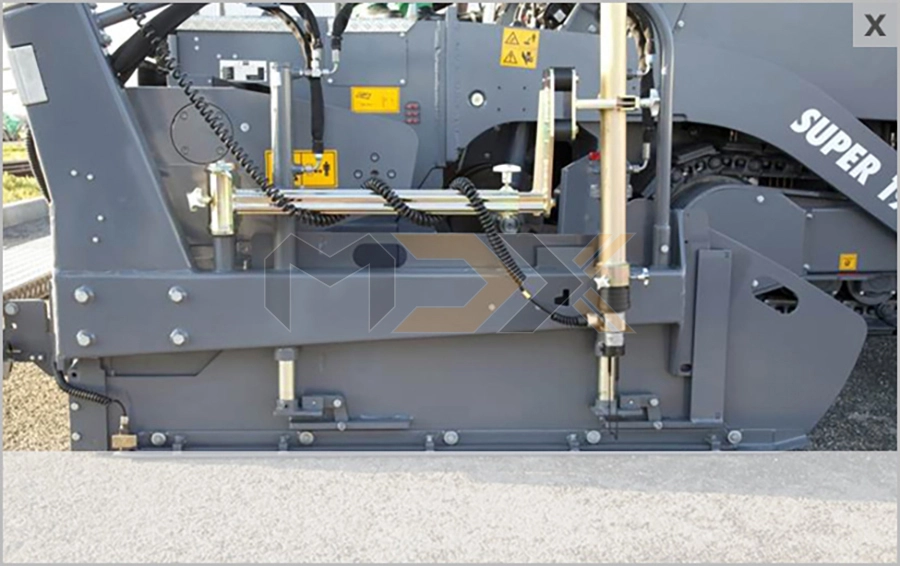 All settings can be made safely and conveniently from the walkway thanks to the highly ergonomic and hydraulically adjustable side plates. The operator easily adjusts the height of the mechanical side plates.
Excellent floating and paving performance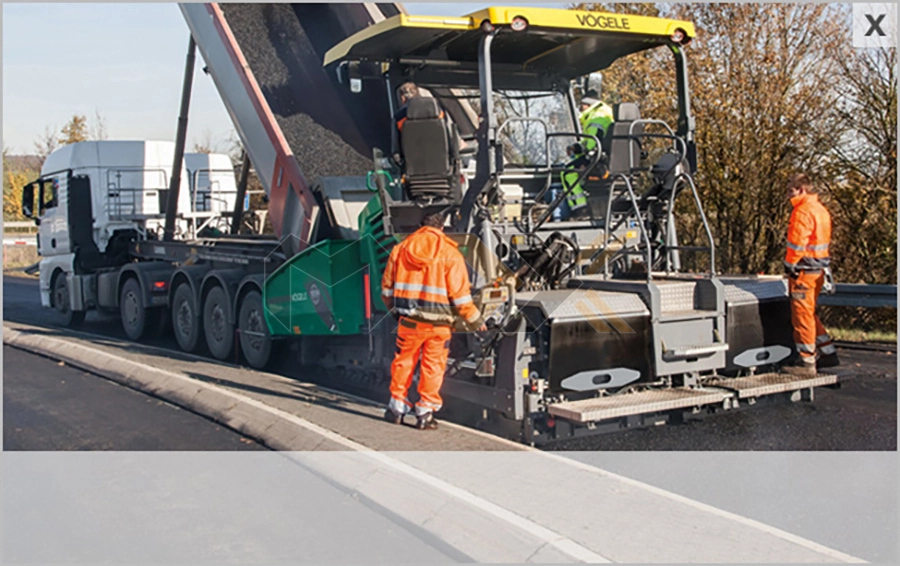 The optimized geometry of the tamper bar and the screed plates allows an even flatter screed planing angle, which improves the floating properties of the screed. The result is outstanding compaction with improved pavement evenness.

Highly efficient screed heating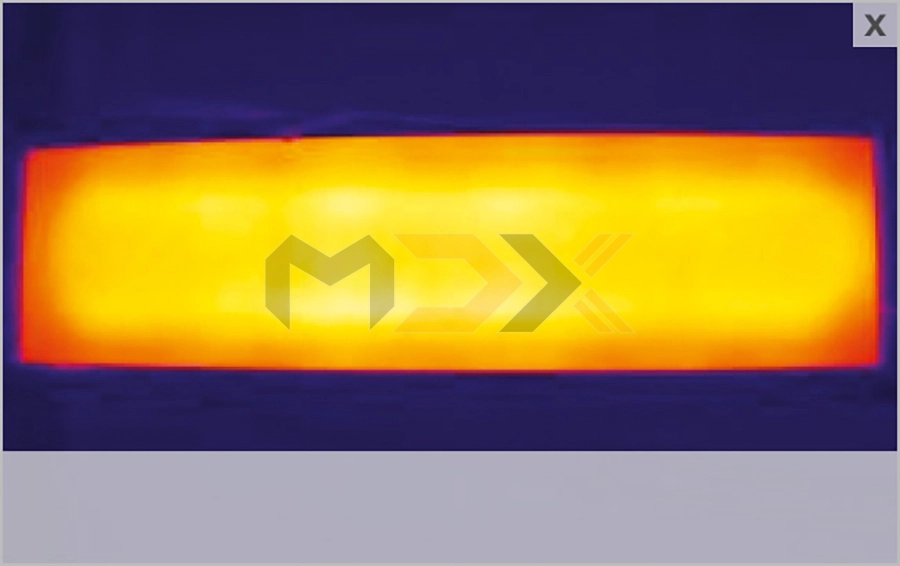 Powerful new generators provide even more heating performance. The increased heating dynamics result in faster and more uniform screed warm-up.
Safe and convenient screed ascent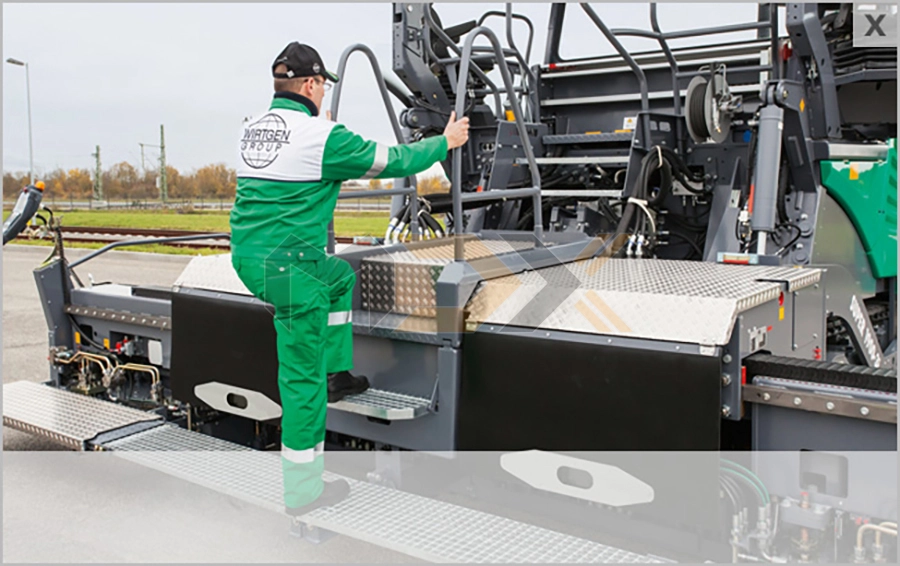 The centrally positioned screed ascent allows quick and convenient access to the operator's platform. A particularly wide, vibration-damped walkway allows safe and convenient operation.
Hydraulic crown control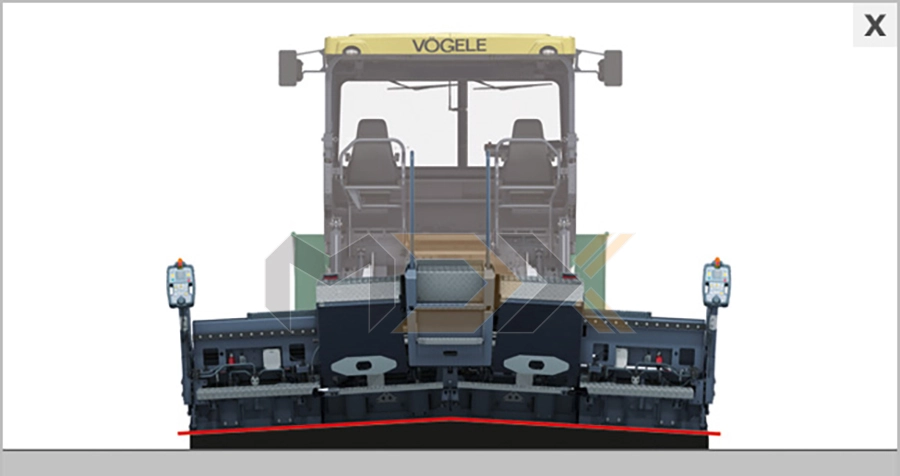 The crown can be adjusted hydraulically as standard with the AB 500 and AB 600 Extending Screeds. This is realized quickly and precisely via push-buttons on the screed consoles. The crown value is indicated on the consoles' displays.
Ergonomic screed operator's console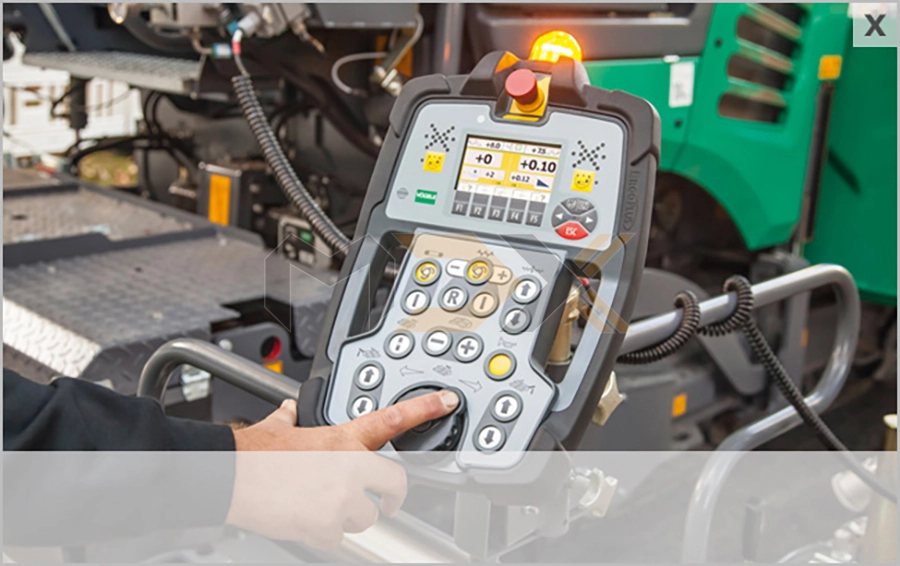 The high-contrast colour display guarantees optimum visibility from all angles and provides a brilliant display of all information. The "SmartWheel" has two speeds for precise screed width control.
6. "DASH 3" SERVICE CONCEPT
A wide engine hood and large hinged panels give convenient access to all service points on the machine.

All hydraulic pumps are located on the splitter gearbox and provide maximum service-friendliness thanks to their clear arrangement and easy accessibility

Centralized lubrication system automatically supplies the bearings of conveyors and augers with the required amounts of grease

Sturdy, durable components of highly wear-resistant materials minimize downtimes

Rapid, direct access to service points on the SprayJet module

A standardized service concept for all VÖGELE pavers simplifies maintenance and cuts expenditure on training
SOME ACTUAL CONSTRUCTION PICTURES OF S1800-3 SPRAYJET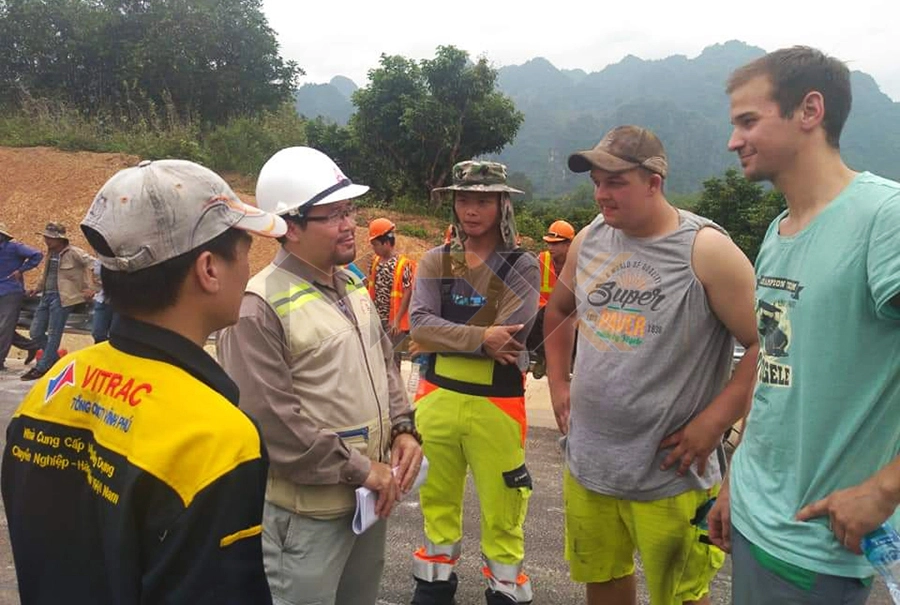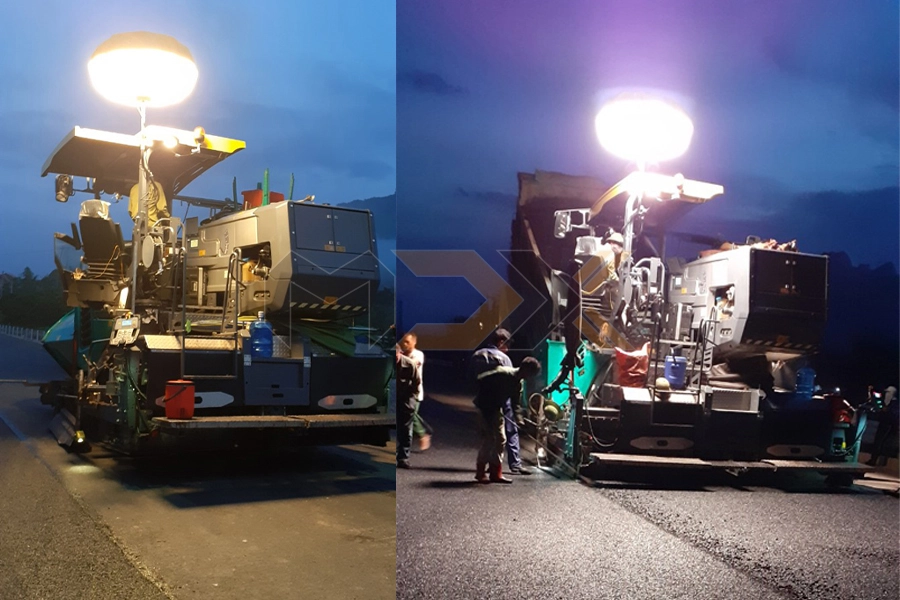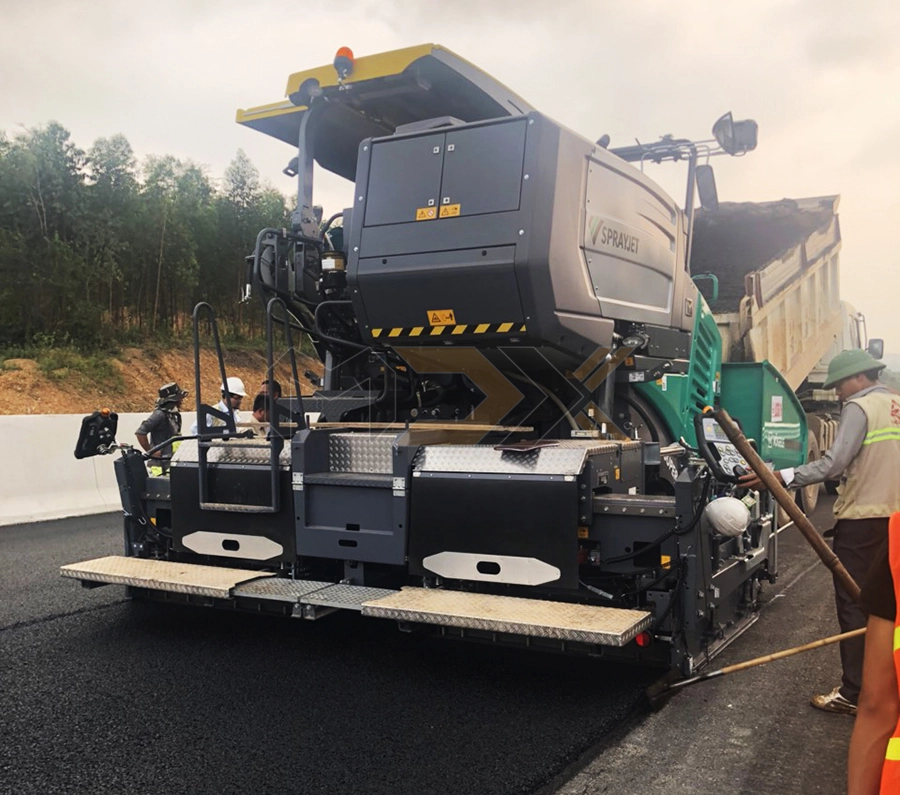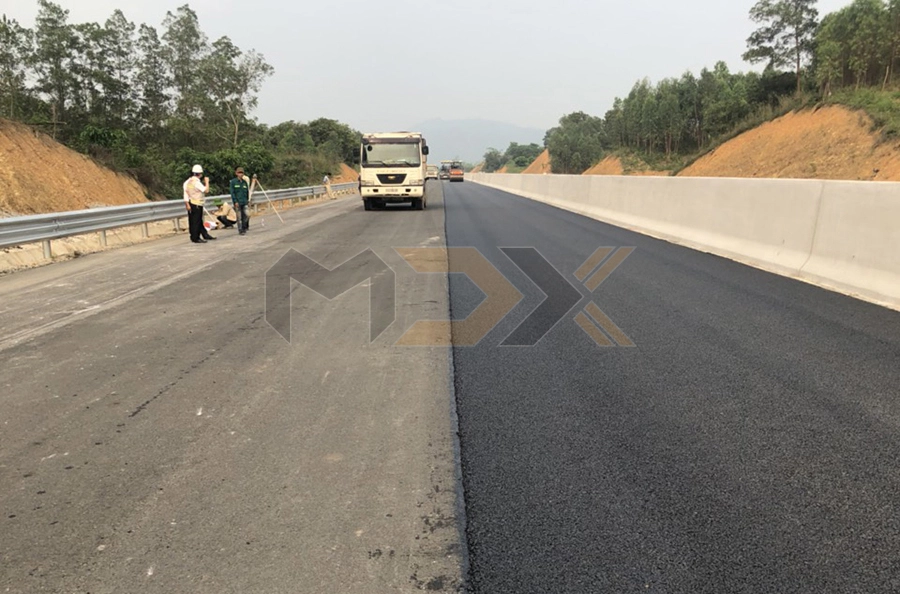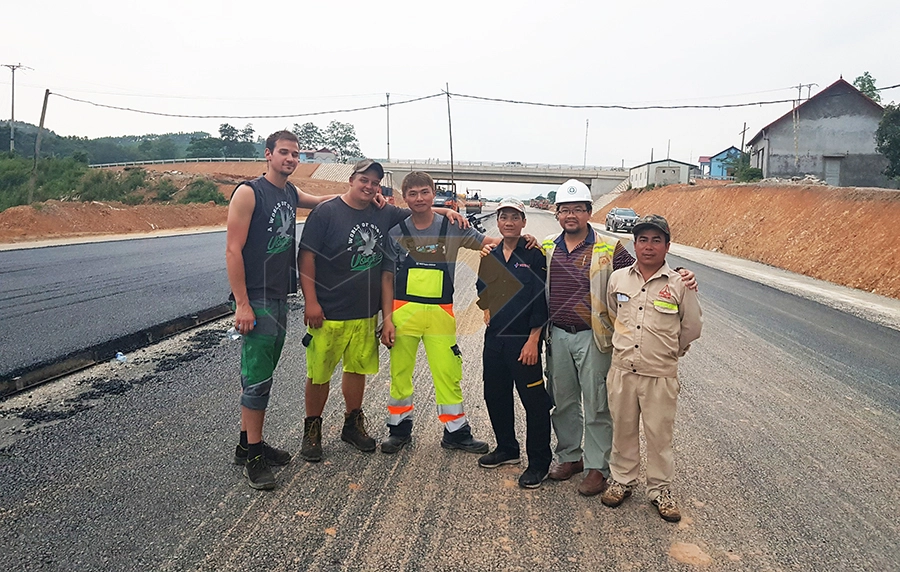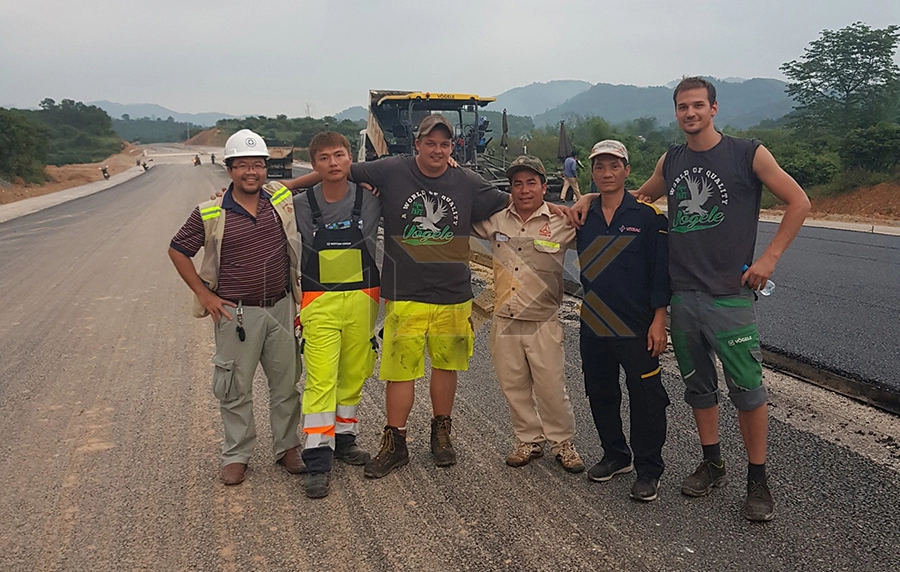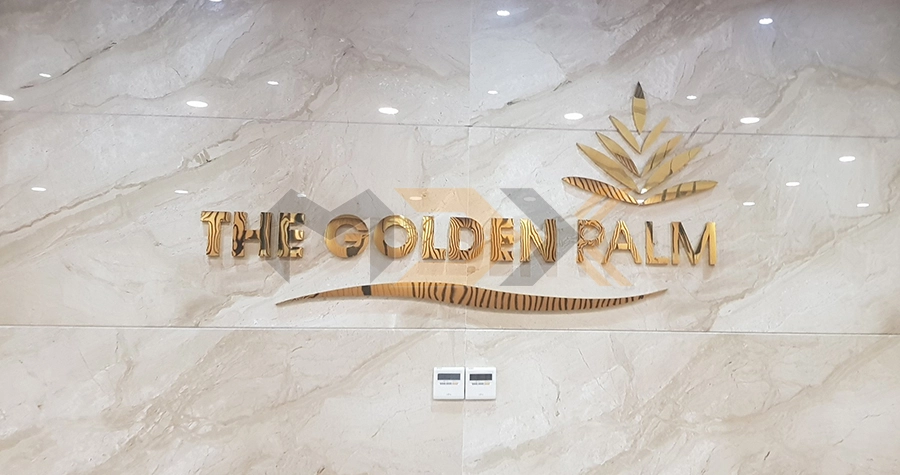 Vogele S1800-3 Spray Jet on Bac Giang Lang Son construction site 05-2019
---
---
News Related
Tags: Vogele S1800-3 SprayJet
---